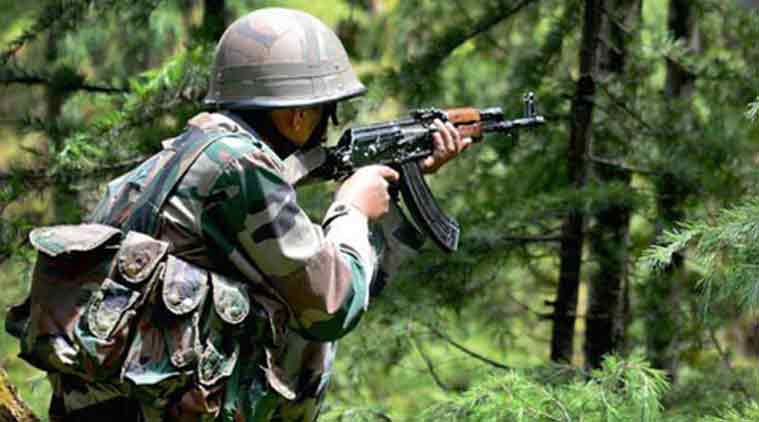 A Bill with almost similar provisions was earlier blocked by Presidents
APJ Abdul Kalam
and
Pratibha Patil
, and Governor
Kamla Beniwal
, mainly due to provisions for
interception
.
Gujarat Governor O P Kohli last week sent the Gujarat Control of Terrorism and Organised Crime (GCTOC) Bill, 2015 for the President's assent. A Bill with almost similar provisions was earlier blocked by Presidents APJ Abdul Kalam and Pratibha Patil, and Governor Kamla Beniwal, mainly due to provisions for interception. PARIMAL DABHI compares GCTOC — which aims to curb terrorism and organised crime — with two similar acts — Unlawful Activities (Prevention) Act (UAPA) and Maharashtra Control of Organised Crime Act (MCOCA) — that are already in force.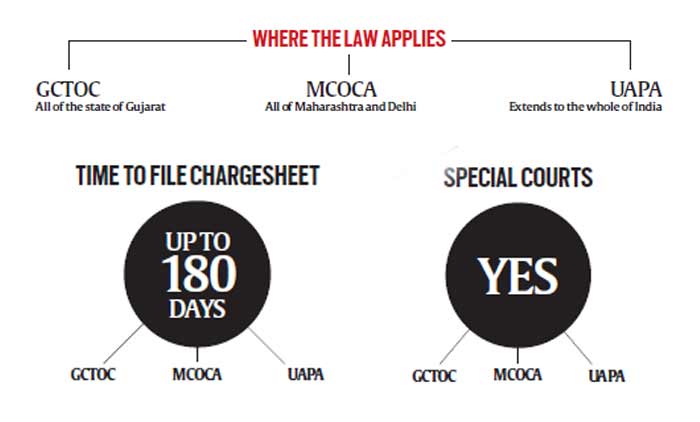 Compared: GCTOC, MCOCA, UAPA
Definition of Terrorist Act
GCTOC: An act "committed with the intention to disturb law and order or public order or threaten the unity, integrity and security of the State or to strike terror in the minds of the people or any section of the people by doing an act using bombs, dynamite or any other explosive substance or inflammable material or firearms or other lethal weapons or poison or noxious gases or other chemicals or any other substance (whether biological or otherwise) hazardous in nature in such a manner so as to cause or likely to cause death or injury to any public functionary or any person or loss due to damage or destruction of property or disruption of any supplies or services essential to the life of the community or detains any person and threatens to kill or injure such person in order to compel the State Government to do or abstain from doing any act."
Read: Gujarat anti-terror bill, an old wine in new bottle
Also covers economic offences like ponzi schemes, multi-level marketing schemes and organised betting; extortion, land-grabbing, contract killing, cyber crimes having severe consequences, largescale gambling, human trafficking.
MCOCA: Is used in terror-related offences, but does not expressly define a 'terrorist act'. Defines "organised crime" as continuing unlawful activity by an individual, singly or jointly, either as a member of an organised crime syndicate or on behalf of one, by use of violence or threat of violence or intimidation or other unlawful means, with the objective of gaining pecuniary benefits, or undue economic or other advantage for himself or any other person promoting insurgency.
UAPA: Similar to GCTOC.
Interception of communication
GCTOC: Evidence collected through interception of wire, electronic or oral communication admissible in court. Requires accused to be furnished with copy of order authorising interception at least 10 days before trial. But the trial judge may waive this "if he comes to the conclusion that it was not possible to furnish the… information ten days before the trial…"
MCOCA: Same provision, but permission process more stringent.
UAPA: Same as GCTOC.
Presumption of guilt
GCTOC: Court to draw adverse inference if arms or explosives recovered from the accused or fingerprints of the accused found at the site of the incident, unless proven otherwise.
MCOCA: Similar to GCTOC.
UAPA: Similar to GCTOC.
Confessions to the police
GCTOC: Admissible as evidence.
MCOCA: Admissible as evidence.
UAPA: No such thing.
Provisions for bail
GCTOC: Only after public prosecutor is given an opportunity to oppose the bail application.
MCOCA: Similar to GCTOC
UAPA: Only after public prosecutor has been heard. Special proviso that foreigners being tried for criminal acts under this Act will not be entitled to bail unless court is satisfied that there are grounds to believe accused is not guilty.
http://indianexpress.com/article/explained/terror-laws-compared/99/