CHAITANYA MALLAPUR (IANS)  04/05/2015 10:39 AM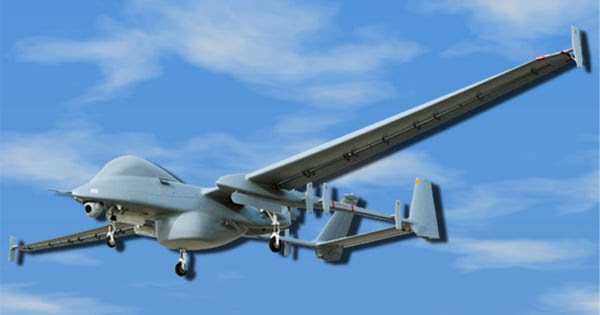 India's first UAV delivery came from Israel in 1998. The UK, on the other hand, imported its first UAV in 1972 from Canada. But Japan was the first country in the world to import a UAV, it got one from the US in 1968
The decision by India's National Disaster Response Force to use drones to help Nepal map the scale of devastation caused by last month's earthquake indicates how India has enthusiastically taken to these pilot-less aircraft — the so-called eyes in the sky.
With 22.5 percent the world's
unmanned aerial vehicle (UAV)
imports, between 1985 and 2014, India ranks first among drone-importing nations, followed by United Kingdom and France. UAVs, or drones as they are commonly known, are pilotless aerial vehicles used for reconnaissance, surveillance, intelligence gathering and aerial combat missions.
The advantage of UAVs is that they come at a fraction of the cost of manned aircraft with no risk to human lives. The data here relate to drone/UAV transfers (imports/exports) between countries. There are also drones that have been indigenously developed, so the actual number of UAVs possessed by each nation may be different.
UAV trade recorded an increase of 137 percent between 1985 and 2014. The period between 1985 and 1990 saw sales of 185 UAVs globally, which increased to 439 between 2010 and 2014. Egypt and Italy are among the other large importers. The last decade also registered sales of 16 armed UAVs.
India's first UAV delivery came from Israel in 1998. The UK, on the other hand, imported its first UAV in 1972 from Canada. But Japan was the first country in the world to import a UAV, it got one from the US in 1968.
India's UAV imports, have almost all been from Israel, according to SIPRI data. Of 176 UAVs, 108 are Searcher UAVs and 68 are Heron UAVs. Israel is the leading exporter of drones, accounting for 60.7 percent 1985 and 2014.
The US, with a 23.9 percent of UAV exports, ranks second, followed by Canada with 6.4 percent. Israel shipped has shipped 783 drones since 1980.
Some of India's eyes in the sky:
Netra: An autonomous UAV developed jointly by ideaForge Technologies and
Defence Research and Development Organisation
. Can take off and land vertically, like a helicopter. It can also fly and return to base on its own. Currently used by Indian armed and paramilitary forces.
The National Disaster Response Force used the Netra drone during the 2013 Uttarakhand floods to identify survivors and assess damage. It was also deployed during the Bhuj floods in 2013 by the Gujarat government.
Nishant: Used for day/night reconnaissance, target tracking and extraction of target coordinates, artillery fire correction and damage assessment. Nishant is being inducted into the Indian army, with 4 UAV units.
Panchi: Wheeled-version of Nishant. Capable of taking-off and landing from small airstrips. First flight in December 2014.
Rustom I: All-weather, medium-altitude, long-endurance UAV. It will operate at medium-to-long ranges and gather near real-time high-quality imagery and radio signals. It will perform a range of military missions.
Rustom II: Being designed to operate at up to 30,000 feet for 24 hours at a stretch.
Aura: A combat drone capable of flying at 30,000 feet and launching missiles, bombs and guided missiles.
Lakshya: Remotely operated and used as a target to train gun and missile crew and air-defence pilots for the three services.
Armed UAVs were exported for the first time in 2007, when US delivered two
MQ-9 Reapers
to the UK. The MQ-9 was used by the UK forces in Afghanistan. China became the second-largest exporter of armed UAVs in 2014, when it delivered five drones to Nigeria, which deployed UAVs against Boko Haram, a terrorist outfit.
Drone attacks have been criticised around the world for accidentally killing civilians while hunting suspected terrorists. More than 2,400 people (273 civilians) have been killed in 390 drone attacks in 5 years (2009-14) under the Obama administration, according to a report by The
Bureau of Investigative Journalism
.
The use of drones/UAVs in India is mainly confined to surveillance and reconnaissance, unlike the US, which uses armed drones in Pakistan, Afghanistan and Yemen, according to Sameer Patil, associate fellow on national security, ethnic and terrorism studies at Gateway House and former assistant director at the National Security Council Secretariat in the Prime Minister's Office.
Drones used along the India-Pakistan border are simpler than the ones used on the Chinese border in Ladakh, where they require long endurance and high-altitude capability, Patil said.
UAV squadrons in India mainly operate with Herons and Searcher MK IIs from Israel. However, there are also some UAVs/drones that have been indigenously developed or are under development. As use grows, more drones are coming, also the armed ones.