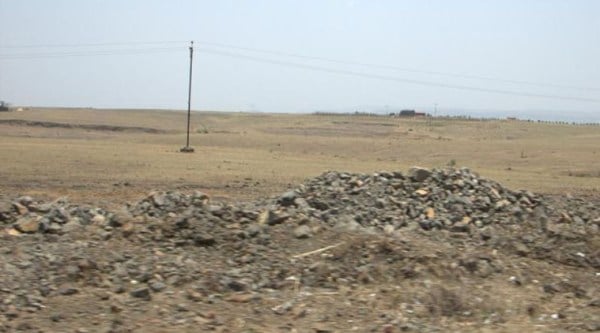 Introduce penalties to prevent deliberate flouting of the Forest Rights Act, such as (through) exception to linear projects, and (through) decisions of the Cabinet Committee on Investment.
Written by 
Jay Mazoomdaar
 | New Delhi | Posted: October 9, 2014 2:01 am
* "Amend the new Land Acquisition Act to safeguard tribal land and disallow acquisition by a non-tribal, including private companies."
* "Make gram sabha consent mandatory for acquisition of land, even by the government for its own use."
* "Introduce penalties to prevent deliberate flouting of the Forest Rights Act, such as (through) exception to linear projects, and (through) decisions of the Cabinet Committee on Investment."
* "Appoint a judicial commission to investigate cases of 'Naxal offences' filed against tribals and their supporters."
These are some of the key recommendations of the high-level committee constituted by the UPA to study the socio-economic, health and educational status of tribal communities, and to "identify areas of intervention by government" and "suggest policy initiatives". The NDA government has been sitting on the report for four months now.
Set up in August 2013 in line with the Sachar Committee, the seven-member panel chaired by Virginius Xaxa, a member of the UPA's National Advisory Council, submitted its report on May 29, three days after the Narendra Modi Cabinet took oath. Sources in the Ministry of Tribal Affairs said the report was forwarded to the Prime Minister's Office in the second week of July and the PMO sent it back to the ministry in August.
Since then, the Tribal Affairs Ministry has been tightlipped about it. Tribal Affairs Minister Jual Oram told The Indian Express, which has accessed the report, that "the HLC (high-level committee) report is still under consideration". He refused to say if his ministry had received any specific instruction from the PMO.
"When I met the minister in August, I was told the government was studying our report. I wrote to the ministry three weeks ago but I am yet to hear from them," Xaxa said.
Tribal Affairs Secretary Hrushikesh Panda was the member-secretary of the Xaxa committee and contributed one chapter to the report. Dr Usha Ramanathan, Dr Joseph Bara, Dr K K Mishra, Dr Abhay Bang and Sunita Basant were the other members.
The government's dilemma, say ministry sources, is over certain observations and recommendations in the report that challenge the policy push to clear bottlenecks and road blocks in land acquisition for development projects, mining, large dams etc.
The thrust of the panel's recommendations:
Land acquisition
* Prevent all kinds of tribal land alienation and restore alienated land to tribal owners as per the PESA — Panchayat (Extension to Scheduled Areas) Act — and confirmatory Acts by states.
* Halt measures of institutions such as the Cabinet Committee on Investment that pursue priorities in direct breach of law.
* Limit exercise of 'eminent domain' and definition of 'public purpose'.
* Review the practice of signing MoUs with companies, that takes away the neutrality of the State.
* Curb government agencies acquiring land to transfer it to private companies for "public purpose". The public-private partnership mode is simply a backdoor method of alienating land in violation of the provision restricting transfer of tribal land to non-tribals in Scheduled Areas.
* Government officials should not be seen as negotiators on behalf of project authorities.
* Government must have the mandate to return unutilised tribal land with it or PSUs, or use the same for resettlement of displaced tribals. The suggestion of the Vijay Kelkar committee (2012) that "unutilised and underutilised land resources" be used for "raising resources" to "finance infrastructure needs" is against the purpose and intent of the land acquisition law.
* Stop forthwith the move to notify rural areas as urban areas in order to nullify PESA provisions.
Mining
* Amend the Coal-Bearing Areas (Acquisition and Development) Act, 1957, to provide for return of land to original land holders post-mining.
* States must adopt the amended Andhra Pradesh Scheduled Areas Land Transfer Regulation, 1959, to facilitate Registered Scheduled Tribe Cooperative Societies taking up mining activities. Minerals in Scheduled Areas should be exploited only by tribals.
Large dams
* Large dams have harmed tribals. Evolve strategy for water-harvesting structures on various small and large water sources, including big rivers.
* Development projects lead to influx of outsiders to tribal areas. Don't allow reduction of areas declared Scheduled further.
Gram Sabhas
* Cases of consent of gram sabhas being fraudulently obtained should face penalties, and such projects should not be allowed to proceed.
* Gram sabhas should be empowered to restore alienated land pending a long legal battle, to discourage a prospective non-tribal buyer.
* Public policies should learn from the experience of Niyamgiri and adverse lessons of Salwa Judum.
Grassroots movements & Naxalism
* State should engage with grassroots movements against exploitation of tribals instead of crushing them.
* There is no legal basis for terming anything a "Naxal offence". Many are charged in areas where there is resistance to projects, and the acquittal rate is "extraordinarily high", leading to the belief that law is being used as a tool to suppress dissent. Appoint a judicial commission to investigate cases filed against tribals and their supporters.
– See more at: http://indianexpress.com/article/india/india-others/upa-panel-set-tough-norms-for-tribal-land-nda-sits-on-report/99/#sthash.z1eV5TH5.dpuf