Baigas in court against order issued by govt of undivided MP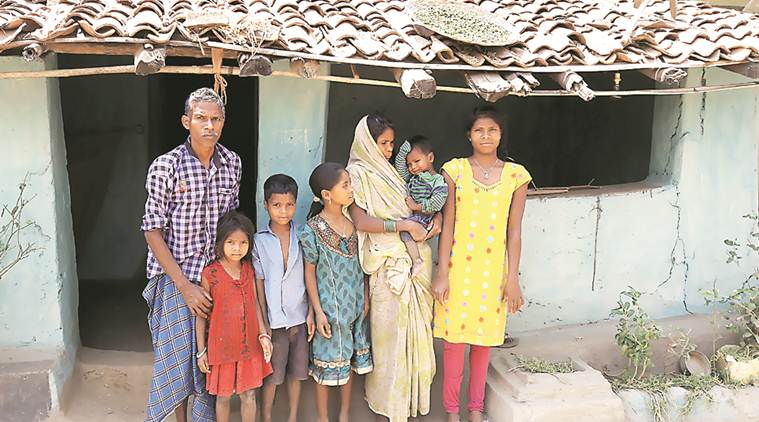 Somaru, his wife and five of their 11 children outside their home in Achanakmar Tiger Reserve, Chhattisgarh. Express Photo"THAK GAYI (I am tired)," says Ranichand Baiga, 26. She was married at 15, and in a tribe where non-surgical contraceptives are still unheard of, has since had eight children. Two, she says, died of illness. On her arm, outside her one-room home in the core zone of the Achanakmar Tiger Reserve, is her youngest son, Surya, who is a month old. He is hungry and she struggles to provide him nourishment. Ranichand is among ten Baiga families from Particularly Vulnerable Tribal Groups (PVTG) who are challenging a 38-year-old order passed by Madhya Pradesh, which bars them from undergoing sterilisation.
An order passed by the erstwhile undivided Madhya Pradesh government on December 13, 1979, issued by the Public Health and Family Welfare Department, placed restrictions on the availability of sterilisation services to certain tribes called Primitive Tribal Groups at the time.
The PIL, filed by the Baiga families and members of two health-related organisations in Chhattisgarh, the Jan Swasthya Sahyog and Jan Swasthya Abhiyan, says that the order was passed at a time when the state followed an "aggressive target based population policy", and violates the right to life and liberty.
As she sits on her haunches, feeding her son, Ranichand laughs at the irony of where she lives. "We live inside the Achanakmar Tiger Reserve where they want to preserve tigers. They treat us like them, too. Their order says I can't get an operation. But what good is more children if I can't feed them, can't get them to school. My family earns Rs 500 a month from the forest. Do I not have the right to decide at all?" she says.
The Baiga is among seven tribes in Chhattisgarh listed under PVTG. And, while social workers say other tribes often change their names to get the procedure done, the Baiga women have traditional tattoos on their hands and back, which identify them. Over three years ago, when Ranichand had given birth to five children, she went to a local hospital with sterilisation facilities but was turned away. Ask if her husband has tried to get sterilised, Baiga says, "It is always the woman who gets affected the most. The toll is on our bodies. We take care of the children. The men go away to earn, and come back home. He will never get sterilised."
Of the Baiga families that have petitioned the Bilaspur High Court, the only male petitioner is Somaru Baiga Netram, 50 years old, and father to 11 children. In a sparse hut in Nevsa village, on the outer periphery of the Reserve, he says both him and his wife Chaiti have been turned away by doctors.
"My eldest daughter is 25 years old and married. Four of the 11 are now married, and even though I only sell baskets for a living, I am proud to say that I could manage that. Most go to school, but the elder ones had to drop out. I needed more hands to feed the younger ones. Seven live with me, and we eat sparse meals. Some days we get nothing, but what else can we do?" he says.
Ask how he had agreed to undergo sterilisation, and he says, "Gyaara bacche ho gaye hain…. Gyaara. Aur honge toh mujhe bhi takleef hogi, aur Chaiti ko bhi (I have had 11 children… 11. If we have more, it will be difficult for us)."
Part of the petition, is a report in 2014 by a "High Level Committee on Socio-Economic, Health and Educational Status of Tribal Communities of India constituted by the Centre.
"This policy originated in an order passed by the Madhya Pradesh government in 1979 to exclude vulnerable tribal communities from the wave of sterilisation drives taking place across north India. However, even decades later, this order continues to be followed," the report says.
"Such a policy denies members of PVTGs the autonomy to make free and informed reproductive choices, and particularly denies any agency and bodily autonomy to women of these communities, who have to bear the burden of the denial of access to sterilisation facilities," it says.
Dr Yogesh Jain, from Jan Swasthya Sahyog that runs a hospital for the poor in Bilaspur, says, "Every pregnancy, especially with a maternal mortality rate of 2000 per one lakh, is a life risk in itself. It puts a toll on the body, there is loss of calcium and other factors. In areas where health indicators are low, such as rampant anaemia and malnutrition, repeated pregnancies are a massive danger. Regulating someone's own fertility is against basic human and reproductive rights."
Rajni Soren, lawyer with the Human Rights Law Network, says the petition was filed in February, and the court issued notices to the state government. But the government is yet to respond, with the next date of hearing set for April 26.
Senior Chhattisgarh government officials say the issue was discussed in a Tribal Advisory Council meeting earlier this month. Says Reena Kangale, Secretary, Tribal Affairs, "Research by the tribal research centre on issues like fertility and decadal growth rate will have to be closely looked at. This order was issued at a time when there were very few options of non-permanent contraceptives, which may not be necessarily true now. Further discussions will take place in the next TAC meeting in July or August."
The Baiga adivasis, meanwhile, continue to resort to all forms of non-standardised medication.
Two months ago, Chaiti Bai, Somaru's wife, went to a local doctor, a "jhaad phunk wala (a traditional healer)." "He put some ointment on a stick, and inserted it in her private parts. It happens often among our tribe, and sometimes women get severe infections and stomach aches. I live in fear that her stomach will rise for the twelfth time, and there will be another mouth to feed," says Somaru.
http://indianexpress.com/article/india/baigas-tribals-want-govt-to-scrap-1979-order-denying-sterilisation-access-achanakmar-tiger-reserve-pvtg-4625607/