Pune has give an army of mostly Dalit ('untouchable') women the sole rights to collect and recycle the city's mountains of trash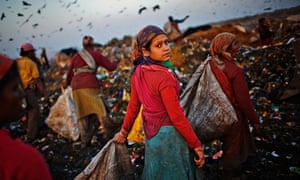 Massive solid waste accumulation has become an environmental, health and aesthetic hazard for India's cities. Urban India generates 188,500 tonnes of trash a day. In the absence of infrastructure to handle the issue, a large, informal waste-picking and recycling industry has developed among the urban poor. This unpaid, unprotected 'army of green workers' collects, sorts and recycles the city's discards to trade for small returns.
Their labour fills a valuable role in municipal responsibility but city officials across the country have nearly unanimously overlooked the waste pickers' contributions. However, in Pune, just 150km from Mumbai, a quiet revolution is taking place: the city's poorest have fought their way into the municipal system and have been given the sole rights to collecting the city's garbage – a move unprecedented in a country increasingly opting for privatised waste management.
Suman More, a waste picker from Pune, is one of the thousands of women who have benefitted from the partnership with the Pune Municipal Corporation (PMC). Like many in her position, she started rag picking when she was a teenager to help her parents, also rag pickers, who were new migrants to the city. 90% of Pune's waste pickers are women – many of whom are the sole breadwinners – and nearly all are from India's 'untouchable' caste.
In 1993, a newly-formed union of waste pickers, Kagad Kach Patra Kaghtakari Panchayat (KKPKP), came to her neighbourhood offering benefits that appealed to her but seemed "utopian" to skeptical friends. Exhausted from daily harassment from both city officials and residents not to mention the filthy conditions in which she toiled, More joined.
Today, she is part of a 9,000 strong waste pickers' union who have not only improved the working conditions for its members but have brought dignity to their lives. Importantly, KKPKP laid the foundation for Swach (Solid Waste Collection and Handling), India's first wholly owned cooperative of self-employed waste pickers. In 2008, Swach and the PMC entered into a memorandum of understanding.
Pune's door-to-door garbage collection service owned and operated by the waste pickers themselves is one of the only examples of a pro-poor public private waste management partnership in India. Swach services 400,000 households in the city – from slums to the more affluent – for a user fee ranging from 10-30 rupees (US$0.15-US$0.50) per household per month – the fee is fixed at 15 rupees (US$0.25) for slum dwellers. The women now wear uniformed green saris and the municipality has provided protective gear as well as rolling bins and sometimes even motorized carts to make their work easier.
"I work only four hours for more money," says More. "Since I collect the waste from door to door, the quality and condition of waste is much better."
Fewer working hours means that the women can undertake supplemental employment or have more free time to spend with their children, providing them with an education and a future outside their work. Swach has also expanded its operations and opportunities for the women to learn new skills in the growing waste sector, including composting and operating bio-methane plants.
"The unique aspect of this cooperative is that it is completely owned by the waste picker members themselves," says Aparna Susarla of Swach. "They are the decision-makers; they decide for themselves and run the cooperative on their own. They are invisible environmentalists and entrepreneurs in the truest sense."
In Mumbai, Vinod Shetty, a lawyer and head of Acorn Foundation, which advocates for waste pickers, says that Pune has set an example for the country of a workers' rights-oriented model, but there are many barriers to replication. "The biggest challenge to incorporating rag pickers into the municipal system in Mumbai is the corruption in the garbage collection system," says Shetty. "The nexus between contractors and politicians will not allow the rag pickers to enter the system." This sentiment is echoed throughout the country.
Swach believes there is opportunity for its model to work elsewhere, but attributes its success to a strong pre-existing waste pickers union and sees a need for more unionisation in other cities. This starting point, says the organisation, is often overlooked by NGOs working in the sector. A policy brief on the Pune model by Women in Informal Employment Globalizing and Organizing (Wiego) cites the union as an important foundational step. The difference in this public sector union is that it set its priorities beyond just workers' rights and focused on the larger public benefit.
The wider focus has achieved an unthinkable triumph: women from the lowest caste – those who are barred from drinking from the same water tap as others – now interact with the households they service and, for now, have beaten out powerful competitors for the right to collect the city's refuse. They now clean the city with a sense of dignity and purpose – a feat that goes beyond what the economics of the low-cost model could ever have predicted.https://www.theguardian.com/global-development-professionals-network/2014/jul/01/india-waste-picking-women-waste-cities-urban