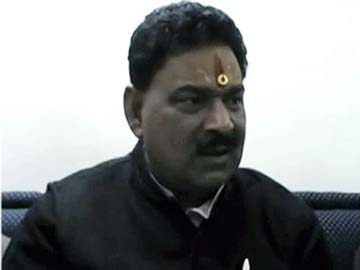 TNN | Jan 12, 2014,
LUCKNOW
: The latest insensitive remark on
deaths
in relief camps of
Muzaffarnagar
and
Shamli
comes from state 
sports minister
Narad Rai
who said on Saturday that death occurs everywhere, even in palaces. "Death of children, adults or elderly is inevitable. It isn't necessary that only those living in camps are dying. People die in palaces too. It isn't that children in our homes don't die. Deaths occur everywhere," Rai said.Some days back the
Akhilesh Yadav
government had accepted that 34 children living in relief camps have died in riot-hit Muzaffarnagar and Shamli. The admission of deaths by the state government was based on a report by a high-level official panel formed by it to probe the fatalities in relief camps.
Officials said that these deaths took place between September 7 and December 20, when winter chill set in. While 12 children died in the camps, the remaining 22 died in hospitals or nursing homes where they were taken for medical care.
Speaking to TOI, Narad Rai justified his statement, saying "my intention was not to hurt the feelings of the victims of riot relief camps. I reiterate that best possible efforts were made by the UP government in terms of shelter, clothing and food for the victims staying in the relief camps."
Minister for geology and mines, Gayatri Prasad Prajapati had said on Friday that the Muzaffarnagar riot issues were not as serious or big as being made out in the media. The minister's comment came during an interaction with the media in Jalaun on Friday.
Opposition parties are already cornering the Akhilesh government over poor handling of riot victims at relief camps in Muzaffarnagar. SP government in UP has been in the eye of a storm for neglecting riot victims and focusing on annual celebrations held at his native village Saifai in Etawah. Allegations are that the government had spent crores of rupees to host the Saifai Mahotsava at the cost of neglecting riot victims.
On December 27, principal secretary (home) AK Gupta invited criticism from various quarters, while forcing CM to intervene on the official's antics. "Nobody dies of the cold; if people did, nobody would survive in Siberia," said AK Gupta, one of the most senior bureaucrats in the state government. Chief Minister Akhilesh Yadav said hours later, "In this age of television and cameras, people from our party and government should choose their words carefully so they don't hurt anyone's feelings."
Related articles