A suicide last month at a land reform protest comes alongside a recent rise in deaths in rural India. Is the bill the final straw for the country's farmers?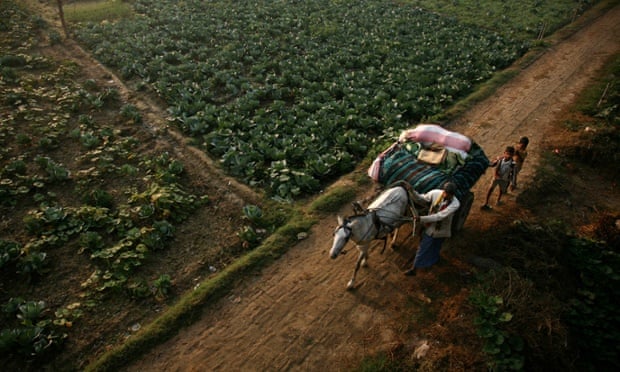 After a few chaotic moments during a political rally in New Delhi last month, Gajendra Singh, a farmer from Rajasthan, was found dead, dangling from a tall neem tree by his shawl. 
Moments before the suicide, Singh had been just another face in a crowd of raucous, chanting protesters demonstrating against the land acquisition bill (pdf)currently being pushed through Parliament by the Indian government.
The bill aims to streamline the currently cumbersome process of land acquisition. But critics argue that this will come at the cost of the country's poorest and most vulnerable – its forest-dwelling tribes and farmers. The bill, say economists and rights campaigners, does away with hard-won protections that require the consent of those who would be affected by the loss of land, and lifts an exemption on the acquisition of productive, irrigated multi-crop land.
And the Indian government could not have chosen a worse time to push through a bill thought to be unfriendly to farmers. Farmers' suicides have been an ongoing issue over the past two decades. Between 1997-2006, according to analysis (pdf)by economist Prof K Nagaraj, "every seventh suicide in the country was a farm suicide". The situation worsened early this year, after a spate of hailstorms and unseasonal rains destroyed crops across northern India, and close to 100 farmers committed suicide. News reports show that, in just the first three months of this year, 601 farmers have committed suicide in the state of Maharashtra. It's difficult not to see Singh's death in the context of this recent rise in suicides.
While the reasons behind the suicides are many and complex, the proposed land bill – introduced as an ordinance last December – has undoubtedly spread fear and unrest among farmers. Since then, they have agitated against the bill across the country, from Karnataka in the south to Madhya Pradesh in the north. Campaigners against the bill, such as the human rights lawyer Usha Ramanathan and activist Devinder Singh, say that if implemented, it will drive farmers into deeper distress and destitution, and endanger food security.
"We're devaluing our primary producers without a thought to food security, natural self-reliance, or their own person," says Ramanathan, a legal researcher who has raised several criticisms of the bill. Ramanathan is particularly concerned about the potential elimination of the need of the consent of communities affected by the loss of land and the removal of a provision to return land that remains unused or uncompensated after five years. "We're losing not just farming land, but a whole generation of farmers," she says.
There's no question that Indian farming is in crisis, and that most of India's 248 million farm workers struggle to sustain themselves and their families. A 2013 nationwide survey of agricultural households found that farming provided barely 60% of their average monthly income.
Farmers and researchers blame numerous factors, ranging from the lack of cheap, reliable credit and insurance, fluctuating market prices, to the absence of a social safety net for when the crop fails or when the returns are too low to cover basic subsistence needs. Devinder Sharma, a trained agricultural scientist and long-time agricultural reporter, says farmer incomes have barely kept pace with inflation in the past five decades. He blames the woefully inadequate "minimum-support price", a guaranteed rate at which the state purchases produce.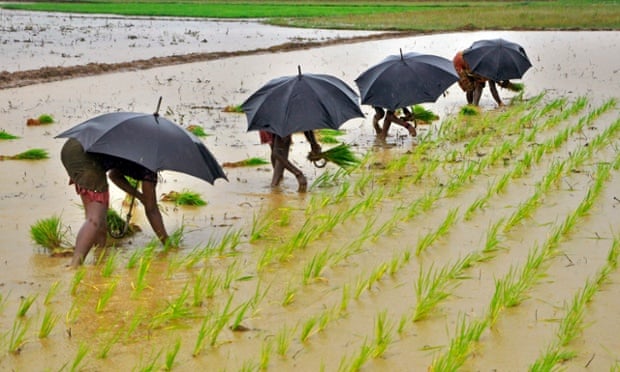 "In 1970, the minimum-support price for wheat was Rs 76 per quintal," Sharma says. "Today, it is Rs 1450 per quintal; an increase of 19 times. In the same time, the salaries of government employees have increased 130 times, those of teachers have increased 200-320 times, and the price of medicines has increased 350 times. How do we expect farmers to survive?"
Vasant Futane, an organic farmer who lives in Maharashtra's Amravati district where farmer suicide rates are among the highest in the country, says farmers reel under social, agricultural, governmental, and meteorological pressures. What makes them especially vulnerable, he says, is the lack of sound agricultural advice from the government, leaving most farmers to the mercy of local shopkeepers who represent the interests of big agribusinesses.
"They force them to go away from farming which is based on soil, size of land holding, access to irrigation, and their own needs, and give them a one-size-fits-all industrial farming 'package': high-yielding seeds for cash crops like cotton, and expensive pesticides and fertilisers. They buy all this on credit, and when their crops fail, they're trapped," says Futane.
Futane's assessment chimes in with a 2014 study of farmers' suicides, which concluded that those at highest risk cultivated cash crops — crops destined to be sold, not eaten, like coffee, rubber, cotton, and sugarcane — had tiny landholdings and debts. This exceptionally vulnerable group is, according to developmental economist Maitreesh Ghatak, also likely to get hardest hit by the sort of forced land acquisition that the new land bill is proposing.
"For poorer farmers, land is their insurance option, credit line, old age pension; the only asset they have," he says. It's also a strong part of their identity. "Land is a huge part of the self-image of farmers I've met in the course of my fieldwork in West Bengal and Karnataka," adds Ghatak, "So selling their land and joining the workforce would be socially the last straw."
If the land bill goes through, Ghatak's poor tenant family would find themselves out on the street. "They'd be without the only form of economic security they have," adds social scientist Reetika Khera. "And the landless are much more vulnerable to economic exploitation in the labour market, and food insecurity." Without their fields, their homes, and their food, most of them are likely to land up in construction sites; perhaps where their fields once were.
http://www.theguardian.com/global-development-professionals-network/2015/may/12/agriculture-in-india-collapse-farmer-debt-land-acquisition-bill