Published: Monday, Jan 7, 2013, 10:00 IST
By
Dilnaz Boga
| Place: Mumbai | Agency:
DNA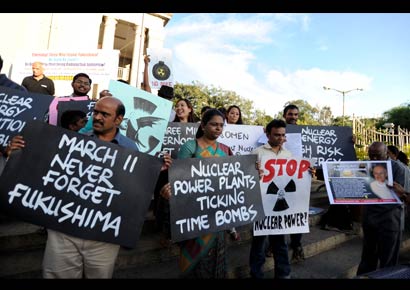 Members of New Socialist Alternative protest against
nuclear power
in Bangalore on Wednesday, October 24, 2012.
(Pic used for representational purpose only)
Anantha Subramanyam K | DNA
Poonam Hambire, a resident of Ghivali village, 12km from Boisar in Thane district, is at the forefront of the anti-nuclear agitation against the Tarapur Atomic Power Station (TAPS). "Women have to come forward as false cases are slapped against the male protesters in Tarapur," she alleges.
Her village lies within the 1.6km radius around one the country's oldest nuclear reactors built by General Electric in the 1960s. It's the same model as Japan's Fukushima reactor. The effects of radiation are obvious in every home not only in Ghivali but also in the neighbouring villages.
At Hambire's home, her eight-year-old nephew's garlanded photo adorns the wall. "He died of lung cancer, but we couldn't get his medical reports from the government heath centre. It's hard to talk about it as his father who is employed at the plant will lose his job. None of the sick villagers get their medical papers," she claims.
Grievances galore
Most of India's 20 reactors are on the list of the most unreliable 50 in the world and are being monitored by the IAEA, says former navy captain Dr Buddhi Subbarao, who has a PhD in nuclear technology from IIT-B and is an advocate in the Supreme Court.
The decommissioning cost of a nuclear reactor (about $300 million-5.6 billion) is more than the cost of construction and commissioning. That's why TAPS hasn't been decommissioned despite the American manufacturers' advice to the government to do so in 1995, Subbarao adds.
Ramakrishna Tandel, secretary, Maharashtra Machimar Kruti Samiti, who has led the fishermen's community in the area for years, says, "The mangroves have dried due to the hot water released from the plant's cooling system. We have found boiled fish 2km away from shore. The breeding patterns of the fish have also changed and our businesses have collapsed."
"Forget listening to our grievances, they don't even let us stand at the gate. We are sandwiched between TAPS and the sea. Earlier, we had 28 boats, and 10 families would live off each boat. Now, we have just one," he adds. The government has proposed 14 more nuclear plants in the area.
The discharge has increased considerably after TAPS 3 and 4 started, say villagers. The adjoining sea and creek continue to bear the brunt and many species of fish have diminished completely. Chronic illnesses are on the rise, observes environmentalist Girish Raut.
Nuclear troubles
All nuclear-spent fuel from India is being brought to BARC, Tarapur, for reprocessing and later, cooling, storing and intermediate burial-storage, amounting to high concentration of nuclear activity material in Tarapur. Tandel explains that NPCIL has no evacuation routes for the villagers in case of emergency, or even any medical facilities, food or a shelter plan. Also, residents of Palghar and Dahanu are also at high risk. "Hence, we are opposing the expansion of the facility and the port that Jindal is going to build here," says Tandel.
Every fortnight, the authorities take samples of soil and water for testing from the villages in the plant's vicinity, but the results are never shared with the inhabitants.
A 40-year-old maintenance mechanic from the neighbouring village of Pofran, who works at TAPS, complained about pain in his joints. "About 29 of us have been employed on contracts so we get no medical treatment. I earn Rs300 a day; how will I spend on doctors? We have to live with what we suffer from," he says.
"People don't talk about cancer here due to the stigma. Who will give their daughter's hand in marriage to such a family?" asks deputy sarpanch of Ghivali Sunil Prabhu. Take the example of Prakash Ambhire, 47. He died of eye cancer last November. "He worked as a helper in the plant. He didn't get any treatment and there are no case papers. He is survived by his aged mother, a son and three daughters," Prabhu adds.
RK Gupta, 73, who worked with BARC's fuel reprocessing division of the plutonium plant as an engineer and has been exposed to radiation, is suffering from its after-effects.
"Labourers and contractuals are appointed from the roadside. There is no proper health procedure. They die on the roadside after their contracts are through. But employees are treated differently. I was over-exposed and I am handicapped now. I was diagnosed early but I am suffering because of medical negligence. I have psoriasis," he says.
Apathetic state
Rajendra Gavit, minister of state for tribal development and labour affairs, who addressed the fishing community on World Fisheries day last month, said, "Project-affected people will get permanent jobs in the plant. We are fighting to make 200 workers permanent every year."
Gavit added, "I realise the issue about cancer and radiation. Doses (radiation) for the employees need to be reduced. We have been trying for their safety all these years. Now, we are trying to decrease their exposure." At TAPS, contractual labourers may be exposed to 1,500 doses in two months and employees to 1,000 a year.
Vivek Sundara, an anti-nuclear protester, says, "Studies from all over the world show that any kind of radiation is bad. If it's harmless like the government says, then why are women told not to breastfeed after mammogram? Government needs to stop using nuclear energy and switch to more sustainable and eco-friendly forms. This toxicity will last for millions of years," he adds.
Scientist Dr V Pugazhenthi, who had conducted a survey in Chinchani village, 8km from the plant two years ago, said cases of neuroblastoma can be attributed to radiation. "Even 40km away from the plant cases of unexplained anaemia, Down's Syndrome, tumours, high rate of abortions and miscarriages and multiple myeloma are seen."
Related articles