Friday, Nov 29, 2013, 19:55 IST | Place: Delhi | Agency: DNA Webdesk
In a handout poster, Delhi BJP MLA takes blame for lacuna in women safety. Quite literally! The pamphlet issued by the opposition party leader questions why women don't feel safe on Delhi roads, followed by a response—we are the answer!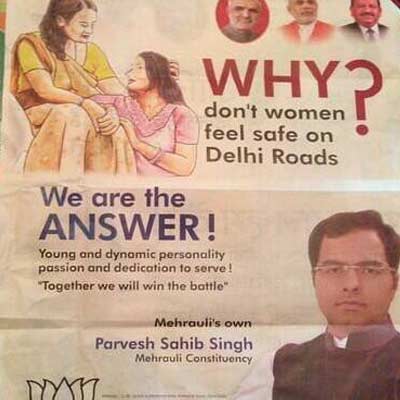 As the race to the state assembly elections picks up heat in Delhi, candidates intensify their campaign efforts in an attempt to reach out to a cross section of the Delhi population.
And after the Delhi gang-rape case last year, there seems to be an increased interest in addressing the issues of women safety in a city now popularly referred to as the rape capital of India.
But in an embarrassing guffaw, a pamphlet issued by Pravesh Sahib Singh, representative from the Mehrauli Constituency in Delhi, makes an unintended implication of the party taking the blame for lax in safety of women in the city.
The handout poster eloquently puts forth the burning question of our day—Why don't women feel safe on Delhi roads?
The pamphlet then wastes no words in responding to its own question with "We are the answer!"
It didn't take long for social media to pick up this blunder, and an image of the poster has gone viral on Facebook and Twitter.
Why don't women feel safe on Delhi roads? The unlikely answer… seems more like a confession 🙂 /Via @Forever_Tarun pic.twitter.com/yhJ2dawOIr

— Karthik Srinivasan (@beastoftraal) November 28, 2013
ROTFL RT @gsurya: BJP admits they are the cause of women harassment on roads of #Delhi pic.twitter.com/tCkYCSbZnQ

— Austin Fernandes (@quickbug) November 28, 2013
Why don't women feel safe on Delhi roads? pic.twitter.com/DkWagFSBLa(courtesy @scotchism @jairajp)

— Priya Ramani (@priyaramani) November 28, 2013
The text below this extremely awkward Q & A reads, "Young and dynamic personality passion and dedication to serve!" referring to Singh, the candidate in question. It concludes with much confidence – "Together we will win the battle".
Attempts to get in touch with the party officials for explanations received no comments from party officials.
However, in an article by Wall Street Journal the candidate from Mehrauli is found giving an explanation that "it wasn't meant to sound like the BJP was responsible for women feeling unsafe on the streets of Delhi".
But if one were to take a look at the Hindi version of the pamphlet, you'd realise how the intended message was lost in translation. The answer in the vernacular pamphlet roughly translates to "We will provide the solution".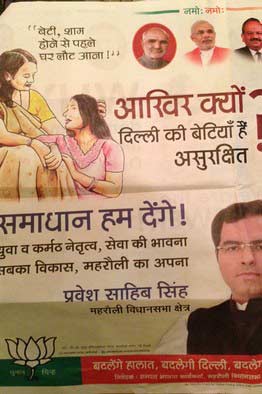 (Pic: http://blogs.wsj.com)
While one can't deny that their intentions were honourable, considering the sensitivity of the issue that plagues the city, a little copy check before finalising could have saved Singh and the BJP from embarrassment.