Written by 
Harish Damodaran
 | New Delhi | Posted: February 16, 2015 4:03 am | Updated: February 16, 2015 10:02 am
The current rabi crop season has been a nightmare for farmers affected by a shortage of urea, amidst reports of black-marketing, "rail roko" agitations, and district officials distributing the fertiliser through police stations.
But official data on the import and sale of major fertilisers, accessed by The Indian Express, shows that the Centre is no less to blame — a lack of planning in the import of urea appears to be at the core of this situation.
Unlike other fertilisers, urea imports are undertaken solely through the Centre-run State Trading Corporation, MMTC Ltd and Indian Potash Ltd. And, during April-January of 2014-15, India's urea imports totalled 73.02 lakh tonnes (lt), which was more than the 67.98 lt for the corresponding 10 months of 2013-14.
But the real story lies in the data on month-wise imports.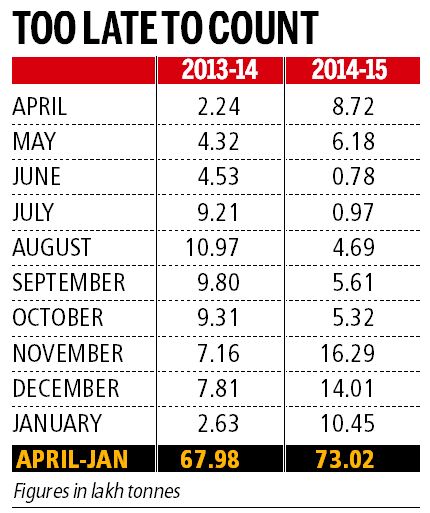 The five months from June to October in 2014-15 saw only 17.37 lt being imported, as against 43.82 lt during the same period of the previous year. In other words, imports did not happen in time for planting for the rabi season, from November.
There was a flood of imports after November. But by then, farmers had already planted their wheat, mustard or chana.
"The Centre is to blame here because how much and when to import is solely its decision. Further, only its three designated agencies are permitted to import," an industry source said.
India consumes over 300 lt of urea annually, of which 220-225 lt is produced domestically and the rest imported. And, timing really matters because urea is largely applied within 50 days of sowing.
"Imports on government account require floating global tenders each time. Also, there is no guarantee of getting the entire tendered quantity, as not every bidder may be ready to supply at the lowest price offered. That means having to re-tender, by which time global prices, too, would have moved up," the source said.
A Department of Fertilisers official admitted that the existing urea import regime does not allow for quick and timely contracting. The problem is magnified when governments change and decision-taking is further delayed, which is what appears to have happened this time, although the official refused to say so.
However, he added, "I personally feel we must de-canalise urea imports and open it up for private players, just as in other fertilisers where we are hardly seeing shortages or black-marketing. But this is a call that the government has to take."
When contacted, Union Chemicals and Fertilisers Minister Anantha Kumar blamed the UPA regime for the shortfall.
"The outgoing government should have placed a tender in May. We floated one in June, which unfortunately failed. Despite that, we managed to contract record low prices of US$266-277 per tonne in subsequent tenders," he said.
Kumar also attributed the shortage to the UPA government's decision to stop extending subsidies to naphtha-based urea plants, after June 30, if they did not switch over to natural gas.
Either way, farmers are the ultimate sufferers. Cumulative urea sales during April-December 2014 — at 225.85 lt — were below the 233.79 lt for April-December 2013. In contrast, during the same period of comparison, sales were higher for di-ammonium phosphate (61.04 lt and 55.33 lt) and complex fertilisers (59.64 lt and 52.72 lt), implying no shortage in their supply.
"The urea requirement for wheat is three bags per acre, whereas 50 per cent farmers got only two bags. Even for that, they had to make two or three extra trips to the market, costing additional money and time," said Wazir Singh, who farms 60 acres in Theri village of Haryana's Fatehabad district.
There have also been allegations of private dealers forcing "useless" pesticides or chemicals on farmers as a pre-condition for supplying urea.
"They would offer, say, 10 bags of urea at the stipulated maximum retail price, provided we also bought 5 kg of triacontanol, a so-called plant growth regulator that no scientist recommends. Effectively, it doubled the cost of urea," said Pritam Singh, a farmer from Urlana Khurd in Madlauda tehsil of Panipat, Haryana.