Campaigners in drought-hit Tamil Nadu say it is unsustainable to use 400 litres of water to make a 1 litre fizzy drink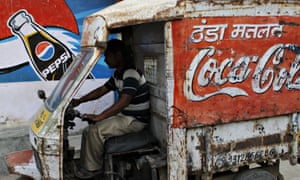 More than a million traders in India are boycotting fizzy drinks including Coca-Cola and Pepsi after claims from from two Indian trade associations that foreign firms are exploiting the country's water resources.
Traders in the south Indian state of Tamil Nadu, which has a population bigger than the UK, will replace big brands with locally produced soft drinks.
"These foreign companies are using up scarce water resources of the state," said K Mohan, secretary of the Vanigar Sangam, one of the associations supporting the boycott.
Concerns about excessive water usage by companies such as Coca-Cola and PepsiCo were heightened after low rainfall during the last monsoon.
In January, Tamil Nadu's interim chief minister O Panneerselvam declared the state "drought-hit" and asked the central government for funds to help farmers.
Vikram Raja, president of the Vanigar Sangam trade association, said: "[Foreign companies] are exploiting the state's water bodies to manufacture aerated drinks while farmers were facing severe drought."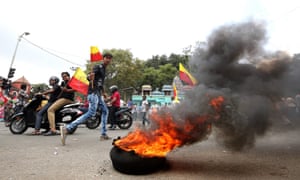 Amit Srivastava, director at the NGO India Resource Centre, estimates that it takes 1.9 litres of water to make one small bottle of Coca-Cola. He says demand for sugar from fizzy drinks companies is also hugely problematic in India. "Sugarcane is a water-guzzling crop. It is the wrong crop for India," he said.
"According to our research Coca-Cola is the number one buyer of sugarcane in India and Pepsi is number three. If you take into account the water used for sugarcane, then we're using 400 litres of water to make a bottle of Cola."
The Indian Beverage Association (IBA), which represents many soft drinks manufacturers, said it was disappointed with the boycott.
"Coca-Cola and PepsiCo India together provide direct employment to 2,000 families in Tamil Nadu and more than 5,000 families indirectly … IBA hopes that good sense will prevail and that consumers will continue to have the right to exercise their choice in Tamil Nadu," it said.
Pepsi and Coca-Cola have not directly commented on the ban.
The anti-fizzy drinks movement in Tamil Nadu gathered momentum in January, during protests against the supreme court's decision to banjallikattu, an Indian version of bullfighting.
The protests offered many citizens the opportunity to air their grievances publicly, and galvanised the fizzy drinks boycotts after farmers complained big companies were using up precious resources in the water-stressed state.
Raja said demand for fizzy drinks had dropped significantly since January, and many traders who were not part of his trade association had voluntarily stopped stocking foreign brands.
The boycotts may only be the beginning of Coca-Cola and PepsiCo's woes as they try to expand in India. The Indian government has dropped hints that it may introduce a "sin tax" on sugary drinks, which could further hit growth figures.
"It is extremely unfair on the part of certain individuals and organisations to propagate misinformation," said Arvind Varma, secretary general of the IBA. "These actions are detrimental to the image of the country and to the long-term interests of the Indian economy."
https://www.theguardian.com/world/2017/mar/01/indian-traders-boycott-coca-cola-for-straining-water-resources