Tragic rape cases have shocked the country. But the everyday suffering of 650 million Indian women and girls goes unnoticed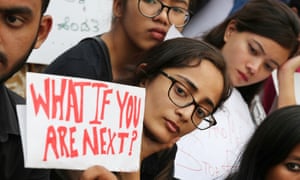 India is at war with its girls and women. The planned rape of eight-year-old Asifa in a temple by several men, including a policeman who later washed the clothes she was wearing to destroy evidence, was particularly horrific. Asifa's rape has outraged and shaken the entire country. Yet sexual abuse in India remains widespread despite tightening of rape laws in 2013. According to the National Crimes Records Bureau, in 2016 the rape of minor girls increased by 82% compared with the previous year. Chillingly, across all rape cases, 95% of rapists were not strangers but family, friends and neighbours.
The culturally sanctioned degradation of women is so complete that the prime minister of India, Narendra Modi, launched a national programme called Beti Bachao (Save Our Girls). India can arguably be accused of the largest-scale human rights violation on Earth: the persistent degradation of the vast majority of its 650 million girls and women. And this includes the middle classes, as I found when interviewing 600 women and men in India's cities.
India's women are traumatised in less obvious ways than by tanks in the streets, bombs and warlords. Our oppression starts innocuously: it occurs in private life, within families, with girls being locked up in their own homes. This everyday violence is the product of a culture that bestows all power on men, and that does not even want women to exist. This is evident in the unbalanced sex ratios at birth, even in wealthy families. But India also kills its women slowly. This violence is buried in the training of women in some deadly habits that invite human rights violations, but that are considered the essence of good womanhood.
The first teaches girls to be afraid of their own bodies. When a girl is not supposed to exist, 1.3 billion people collectively pretend that girls don't have bodies and especially no sexual parts. If girls do not have bodies, sexual molestation is not possible, and if it does happen, it has to be denied, and if it cannot be denied, the girl must be blamed.
Denial of sexuality in homes is another habit that is deadly to girls. Almost every woman I interviewed had experienced some form of sexual molestation. Only two had told their mothers, only to be dismissed, "Yes, this happens in families," or "No, this did not happen." Indian government surveys show that 42% of girls in the country have been sexually abused.
Speech is another basic human right. To have a voice, to speak up, is to be recognised, to belong. But girls are trained in silence. They are told to be quiet, to speak softly, dheere bolo, to have no opinions, no arguments, no conflicts. Silent women disappear. They are easy to ignore, overrule, and violate without repercussions. Impunity flourishes.
It serves a culture of violence to create pleasers, another habit that further erodes a woman's sense of self. Pleasers compromise and sacrifice, all disguised through the ubiquitous phrase beta thora adjust kar lo – "darling, please adjust a little". It means to be punished to force you to fit in, to do what others want you to do and never say no.
Women whose sense of self has been worn down, by definition must depend on others, which only serves to breed fear and violence. Over 50% of Indian men and women still believe that sometimes women deserve a beating. One woman is killed every hour for not bringing enough dowry to a husband. But dependency is still presented as a virtuous habit and independence as a bad characteristic. Dependent women have no separate identity and are legitimate only as mothers, wives and daughters. Such women are trained to put duty over self – the suicide numbers are highest for housewives.
The right to assemble is a right taken away by dictators. In India it is the culture that subverts women's desire to organise. The cultural design of oppression is so clever, that it instils a habit of distrust and trains women to demean, dismiss and discount other women. Almost no woman I interviewed belonged to a women's group. They said, "I don't have time for gossip."
The real genius of this system lies in the fact that oppression has been recast as a virtue. So erasure of self – the most treacherous human rights violation – hides in plain sight, sanctified by loving families, perfumed by our definitions of goodness. And the private sphere, the family, remains impenetrable and untouchable.
We have underestimated the power of culture in creating violence within our families. To reclaim our humanity we need a national conversation about what it means to be a good woman and a good man in India today.