The suicide of a student prompted grief among relatives and friends … and anger that India's caste system still wrecks lives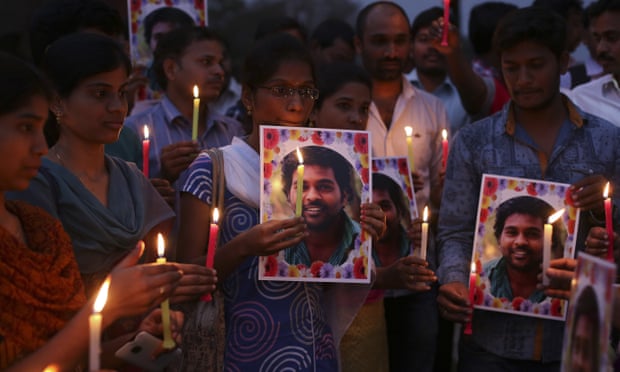 Rohith Chakravarti Vemula never lost his poetic flair, even when writing his suicide note. "Never was a man treated as a mind, a glorious thing made up of stardust," he wrote. "Uma anna, sorry for using your room for this thing."
Copies of his final letter are stuck to every wall at the University of Hyderabad, where the 28-year-old dalit, or Untouchable, PhD scholar hanged himself from the ceiling fan of a friend's hostel bedroom, some time during the night of Saturday before last. The Indian government launched a judicial probe into his death and the prime minister, Narendra Modi, said: "Mother India has lost a son."
Hours before he died, Rohith sat in the university's main square and sang old dalit songs with his friends. For the last 12 days of his life, he had slept in a tent he called the "dalit ghetto", along with the four students who had been suspended with him. They were protesting at their treatment by the university after being accused of attacking the leader of a rightwing student group and excluded from campus life.
Rohith and his friends had been suspended from classes for three months, expelled from their university residence and told they were not allowed to enter any campus buildings, eat at the mess or vote in student elections. Rohith's friends compared the exclusion to the old practice of villevarda, in which people of Untouchable castes were forced out of their villages. The death sparked protests on campuses worldwide last week and prompted a national debate about the treatment of dalit students and academics at Indian universities. The main square on the campus, where Rohith spent his final days, was littered with posters and leaflets carrying images of the young scientist with slogans such as "We shall overcome".
The Hindu caste system's tradition of excluding Untouchables was outlawed by the post-independence constitution, but dalits still face discrimination, exclusion and extreme poverty in modern India.
Rohith was a passionate defender of civil liberties for dalits and a member of the Ambedkar Students Association (ASA), named after a prominent anti-caste activist in India's freedom struggle against the British empire. After Rohith's death, hundreds of students at the University of Hyderabad gathered to protest at the administration's decision to exclude the five dalit students.
A friend of Rohith's explains: "This is not just a dalit movement; it is a movement for democratising higher educational institutions. It is a movement to keep the values of the constitution of India. We are ready to die for these values." Another chips in: "They are trying to erase our history as dalits by this uprooting. We don't believe his death is a suicide. It is a part of this erasing. His death is a martyrdom, a sacrifice."
A member of the Communist party of India addressed the crowd: "Rohith is not dead. Rohith is an idea. Rohith is an ideology. You cannot kill an idea."
Rohith's younger brother, Raja Chakravarti, told the Observer: "I am not as clever as Rohith. My biggest mistake in my whole life was that I didn't try to understand what he was fighting for. I wish that, when I have children, Rohith will come back as my son," he said, referring to the Hindu belief in reincarnation.
Sitting on a cot in a hostel dormitory, Raja politely refuses the plate of food offered to him as we speak. "Rohith was excluded from eating at the canteen here for the last few days of his life. The university didn't give him any food. So I'm not going to eat a morsel here." His mother, Radhika, sobs next to him. "I am a tailor. I earn 150 rupees (£1.50) per day. With that money, I brought my children to this level. We only had enough to eat one meal a day. Even in those conditions, he got so far," she says, wiping her tears. His family heard about the death at around 7pm last Sunday. "He was supposed to come to see us the day he died. He told us he was coming home for a festival, Sankranti. We didn't get news from him all day. He didn't have a phone. We tried calling his friends three times before we found out."
"I was the one who lit the pyre for his cremation," Raja says, his voice shaking. "Rohith had said that once he got a job he'd pay for me to do a PhD abroad. I wanted to study geology, but since he died all those dreams are broken. My mother is scared to let me go back to university. And I've lost the desire to do it. That dream is over now."
Dickens Leonardo, a dalit student named after great cultural figures by unlettered parents, was one of the last people to speak to Rohith before his death. "It haunts me. He would speak about death and the life of death. He must be sitting somewhere here laughing at the drama that's happening," he says. "He must be thinking, 'I couldn't do this in life, and now look at all this, after I'm gone.' It was only through death that he could spread this message."
"I ran when I got the news," says Prabhakar, one of seven students on hunger strike. "I was one of the first to hear about it. We all ran together. We saw the body and we were screaming and crying. I lost all my confidence when I saw that." Sitting next to him,Uma Maheshvar Rao, in whose room Rohith died, says: "This university is a graveyard of dalits. This is not the first death of a dalitstudent here. It is the 11th [since 2002]. We want it to be the last."
Students such as Rohith who come from dalit backgrounds are often educated in Telegu, a regional language, at government schools. Many get places at top universities through India's reservation system of positive discrimination, which favours "scheduled caste" students from low-caste backgrounds. Dalits find themselves unprepared to compete with their peers who come from private schools. Some struggle to read course material in English. "We have ideas," Uma says, "but we can't express them."
As students mobilised on campus, the country's leaders and the university's administration appeared on television screens across the nation. They argued that there is no evidence that Rohith's death was linked to caste discrimination. The education minister, Smriti Irani, said Rohith's suicide was misrepresented with "malicious intent" as "a dalit v. non-dalit issue". She argued that the students' campaign was an attempt to demonise the incumbent Hindu nationalist Bharatiya Janata party (BJP) and its campus representatives. Campaigners accused the BJP of pressuring the vice-chancellor to take action against the dalitstudents. The BJP has denied any wrongdoing.
The university pointed out that there was no mention of caste or maladministration in Rohith's suicide note. His final words were: "This is my decision and I am the only one responsible for this. Do not trouble my friends and enemies after I am gone."
The vice-chancellor told the Observer that he offered his deepest condolences to Rohith's family and had made an attempt to see them, which they had refused.
Rohith's friends said he was completely normal, even jovial, in the days leading up to his suicide. Sesaeiah was one of the only people who may have understood what Rohith was going through. He was one of the five excluded dalits excluded on campus andwho slept in the dalit ghetto with Rohith for 12 consecutive days before he died. He suggested that Rohith did not die defending an idea, but because he was overwhelmed with emotion and a sense of defeat. "He was going through some kind of depression. We told him this is not the way. Don't be like that, everything will be OK. We didn't expect it."
A scratched-out line in Rohith's suicide note suggests that his disillusionment with the minority rights student group he belonged to may have contributed to his death: "ASA… anything and everything exist for their own sake and seldom the interest of a passion. These organisations march to get power or to become famous or to be important and we think we are up to changing the system."http://www.theguardian.com/world/2016/jan/24/student-suicide-untouchables-stuggle-for-justice-india?CMP=share_btn_link