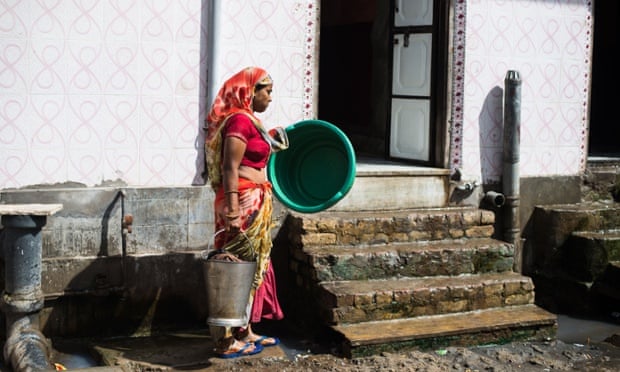 Bespangled, sari-clad women thrust their hips and jab their hands in the air to the Hindi pop that blasts from nearby speakers. Mid-afternoon sun catches their faces as they laugh and dare each other to copy increasingly risqué moves.
It is the annual social gathering for female domestic workers in Kolkata – organised by Parichiti, a local NGO – and I am crouched down next to Anjali, one of the handful of women enjoying the festivities.
Anjali lives beyond the urban sprawl, in a village in the district of South 24 Parganas. She commutes into the city each day, cramming herself into the packed local trains that rattle back and forth between Kolkata and its rural outposts, reaching the suburban neighbourhood where she works as a cook after an uncomfortable 35 minutes.
I was surprised to see Anjali at the gathering. On my last visit to her village, she had confided that she had recently undergone surgery for breast cancer, using up her monthly holiday entitlement to attend check-ups at the hospital. Like most other domestic workers in Kolkata, Anjali works seven days a week, with only three days off a month and no sick leave.
Understandably, she had been torn about whether to come to the gathering, knowing that if she did she would have to forfeit holiday from the following month. What if one day she was particularly unwell, or if her daughter was sick and she could not go to work? Her wages could be docked or, worse, she could be fired.
I ask her how she manages day after day, in the heat and in the crowds on the train. "It is extremely difficult," she sighs wearily. "After I come home, I just lie down under the fan. I don't even have the energy to have a bath or wash my clothes."
There are more than 4 million men and women working in or for private households across India, as cooks, cleaners, drivers, gardeners and caregivers, without the basic protections and entitlements afforded to workers in other sectors.
Employment laws do not apply to domestic workers and, while there has been a shift away from traditional "live-in" forms of domestic service (where workers reside with employers, often working around the clock) – resulting in increased bargaining power for some workers – paternalism continues to shape employer-employee relations.
On 18 March this year, India decided not to ratify the International Labour Organisation's Domestic Workers Convention, 2011 (No 189) – the first international labour standard laying down basic protections for domestic workers, such as the right to a written contract and minimum wage, limited working hours, and paid annual leave in accordance with national laws and regulations.
A national policy on domestic workers is under consideration, but, for now, the responsibility for regulating domestic work and improving conditions for workers lies with state governments – only 10 of which have so far attempted to address the issue.
According to Anchita Ghatak – one of the founders of Parichiti – the importance of down time for the incredibly busy women she works with is grossly under-appreciated, both in the households where they work and in their own communities.
"The idea of women having time for themselves is not popular," says Ghatak. "And the poorer you are, the harder it is to get time away from your responsibilities – be it at home or work."
The annual social gathering organised by Parichiti provides a rare opportunity for women like Anjali to socialise and relax away from the stresses and demands of daily life.
Because Kolkata's domestic workers are scattered, invisible and, in many ways, far from achieving the level of organising that other informal workers have managed, attending such events also enables women to find out about government schemes and initiatives, and constitutes an important first step towards worker mobilisation.
However, to attend, women must negotiate time off, using up one of the three or four days of holiday that are given to them by employers each month. With such little time off and no additional sick leave, using holidays to attend social gatherings is a risky option – especially for those with health problems and family members to care for.
Meandering back to the main road that evening, exhausted, I wondered what Anjali would still have to do tonight, what time she would get up again tomorrow, and how tired she would be.
The day had provided some much-needed respite for women whose daily struggle for survival too often overshadows their need to rest. But as long as their labour remains undervalued and unregulated, the wait for a better future continues.
Anjali's name has been changed to protect her identity
http://www.theguardian.com/global-development/2015/jun/10/india-domestic-workers-labour-need-break-rest-sick-pay?CMP=share_btn_link