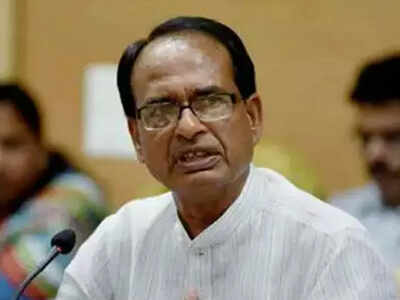 Madhya Pradesh CM Shivraj Singh ChouhanBHOPAL: Madhya Pradesh chief minister Shivraj Singh Chouhan on Wednesday announced a 'cow cabinet', yoking together six departments — animal husbandry, agriculture, panchayat, forests, home and revenue. It's the first such step in the country.
The first meeting will be held at noon on November 22 — Gopashtami — at the 'cow sanctuary' set up in Agar Malwa in 2017, tweeted Chouhan. The 'gau cabinet' will work towards conservation and welfare of cows, the CM said.
The announcement came when Chouhan had gone to offer prayers to Lord Venkateswara at the Tirumala temple. Details of the cow cabinet are yet to be announced. Five ministers will be part of this group — Narottam Mishra (home), Prem Singh Patel (animal husbandry), Mahendra Singh Sisodiya (panchayat), Kunwar Vijay Shah (forest) and Kamal Patel (revenue and agriculture).
"BJP is the guardian of Indian culture. It believes that there are three means of contentment — Gita, Ganga and Gaumata. That inspired the decision to form a gau cabinet. The BJP government under Shivraj Singh Chouhan has set an example before the country," Mishra said. BJP state chief V D Sharma retweeted the CM's announcement. Minister for agriculture development Kamal Patel welcomed the decision. "The Congress government promised construction of a thousand cow shelters, but not a single one was built. The Chouhan government has started not only working for protection of cows but also for its conservation." PCC chief Kamal Nath dismissed it as "just another announcement" by Chouhan. "Before the 2018 assembly elections, Shivraj Singh announced formation of a cow ministry. He had also promised a network of cow-sanctuaries and cow-shelters all over the state. Forgetting his earlier announcements, he is now talking about a cow cabinet," Nath tweeted.

Congress didn't build 15 gaushalas in 15 months in power, says Narottam Mishra

The former CM alleged that the Shivraj government had done nothing for protection of cows. "In contrast, he reduced funds for fodder, which the Congress government had raised to Rs 20 per cow," Nath said. As CM, Nath had promised to build 1,000 gau shalas in Madhya Pradesh.

Narottam Mishra took a dig at Congress on Wednesday, saying: "The Congress government kept talking but didn't build 15 gaushalas in 15 months. Whatever progress has come in Madhya Pradesh has been under Shivraj Singh Chouhan."

The cow sanctuary — Kamdhenu Gau Abhayaranya — had come up during Chouhan's third term as CM at a cost of Rs 32 crore. It is spread over 472 hectares in Salaria village of Agar Malwa, about 210km from Bhopal, and can hold over 4,000 cows. It shelters cows that are old, diseased or can't give milk any longer.
In 2004, the Uma-Bharti-led BJP government passed an Anti-Cow-Slaughter Act that severely restricted transport of cows through Madhya Pradesh.

Cow protection returned to the poll arena ahead of the 2018 assembly elections, when Congress, led by Kamal Nath, made construction of cow-shelters in every panchayat a manifesto promise. Congress also promised a law against cowvigilantism.
Congress came to power for 15 months during which time it claimed to have started construction of a thousand cow shelters. In 2019, two major incidents of cowvigilantism led the Congress government to amend the anti-cow slaughter law, making provisions for six months to three years' imprisonment for cow vigilantism and allowing transport of cows with permission. BJP said it would endanger cows.

On Wednesday, Nath said the Congress government had fulfilled its promise and started construction of cowshelters on a large scale across the state. "At least the BJP government has acquired some wisdom from the Congress government's work for cow protection and they started taking some interest in protection of Gau-Mata," Nath tweeted.

"But if they want to work the right way for cow support, then like the Congress government, BJP should start construction of cowsheds across the state and fulfil all previous announcements made regarding cows. Only then can protection and conservation of cows be done in the right manner," he added
agencies