Women in West Bengal can earn a significant income by weaving silk in their homes, but the welcome cash has brought them little by way of independence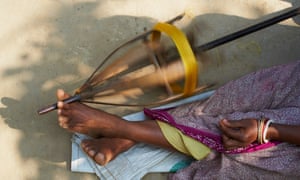 In the small village of Bakipur in the east Indian state of West Bengal, Rajbhanu Khatun is famous. The 30-year-old has a knack for making silk, a skill that many women come to her to learn. "For the first two hours, you'll be fine," says Khatun, whose job involves removing silkworms' cocoons from boiling water. "Then your fingers start to burn. The water is hot, 100 degrees, but I have to keep going."
The silkworms spin cocoons for 90 days of the year, throughout which Khatun works day and night to maximise the amount of silk she can produce. "I start my day at 4am and work all day until after the sun sets. There are only five periods in the year when the season is right, and, during those days especially, I work very hard. It is difficult, but I like it very much," she says.
Khatun's earnings are important for the family, who rely on good harvests on their paddy farms for the rest of the year. "I earn around 500 rupees [£5] a day – that's around 50,000 a year, which is a lot for the people here.
"I use the money to send my children to school, to feed my family. When the family is going through a difficult time, I can support them with my earnings. Sometimes I buy nice things for myself like earrings or bangles or dresses."
Many women in Bakipur have taken Khatun's lead and are running small-scale silk factories. "Almost all the homes in the village produce silk now," she says.
In a small hut near her home, large straw trays are kept in the dark. Inside the trays, thousands of small black worms chew on mulberry leaves. "Now, they are very young," says Khatun. "After a while, they'll become bigger and white, and then they'll start spinning cocoons."
Khatun's skills have won her accolades from the Central Sericultural Research and Training Institute in the nearby town of Berhampore, and women from the village often come to learn from her. "I am a teacher now. It takes a woman around five to six months to learn everything, but then she can make silk in her own home," she says.
Khatun started weaving silk when she was a child. "I learned by watching. My parents and grandparents all used to do this work. A long time ago, our family would have made silk for princes. I learned by watching them."
For centuries, the villages around Bakipur, in the district of Murshidabad, were famous for making some of the finest silks in the world. The nawabs who ruled Bengal and governed the fertile provinces of eastern India made Murshidabad their seat of power. They were patrons of the flourishing industry of high-quality silk, which was shipped around the globe. Silk weavers had a special place in society, and were even traded between India's royal families as gifts or dowries.
When the British colonised India, the nobility fell from power, and demand for silk declined. Silk weavers were encouraged to switch to making cotton. In the past few decades, the Indian silk industry has suffered because of competition from China.
Now, a government-backed campaign is encouraging villagers to revive the craft. Government officials have toured villages in Murshidabad and Malda running silk-making courses. Villagers like Khatun can get certified, which allows them to buy tools at a subsidised rate. "It's mostly women who do this work," says Khatun. "The men work in the paddy fields, they find other jobs as tuk-tuk [auto-rickshaw] drivers or whatever. The men help, but it's usually women. The women can do this work from their homes."
As part of prime minister Narendra Modi's Make in India campaign to boost local manufacturing, traditional silks are enjoying a small revival. India remains the world's second largest producer of silk, employing more than 8 million workers, including handloom weavers, designers and retailers.
To support Modi's campaign, fashion designers are using traditional fabrics and women in Bakipur have felt the impact. "A few years ago, it was harder to sell silk. Now, people are buying a lot of it. We still want to be paid more, but we're happy to see that people are buying it," says Muharram Shaikh, a relative of Khatun's.
The women make traditional silk saris, or silk material that can be used in dresses. Each region is known for a specific quality of material, used in different types of saris and dresses.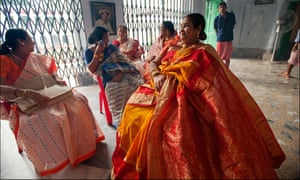 Raw silk is sold to handloom weavers in the local markets, who turn the silk threads into fabric.
Though it is too early to judge whether silk production has improved the lives of workers in the silk villages, government figures show that production increased significantly. India churned out more than 28,000 tonnes of raw silk in 2014-15, up 8.4% on the previous year, according to the Ministry of Textile's Central Silk Board.
However, despite their crucial role in the manufacturing process, few women are allowed outside their homes to buy or sell silk.
Chandan Roy, assistant professor and head of the economics department at Kaliyaganj College in West Bengal, says old attitudes to women's work continue. "My work in this field explored that women workers are displaced by their male counterparts as the level of income generation rises and the working women in this sector are not empowered," he says.
"More of the major decisions of the household as well as their business activities are being taken by their male counterpart."
https://www.theguardian.com/global-development/2016/sep/05/india-silk-road-prosperity-not-equality-female-weavers-west-bengal