By: 
PTI
 | Toronto | Published:October 20, 2015 6:33 pm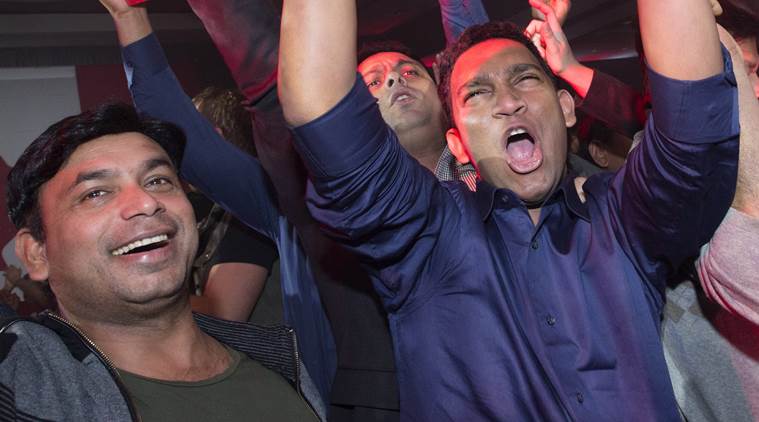 Supporters cheer as they watch results at Liberal party headquarters in Montreal on Monday, Oct. 19, 2015. (Source: AP)Indian-origin candidates today won a record 19 seats in Canada's general election, more than doubling their numbers in Parliament as the Liberal Party decisively defeated Conservatives, ending its decade-long rule.
15 Indo-Canadian Liberal candidates won, while only 3 from Conservative Party got elected in the general elections to 338 seats. An Indo-Canadian belonging to New Democratic Party (NDP) also won.
Deepak Obhrai, a 65-year-old Conservative lawmaker won for the seventh time from Calgary Forest Lawn.
"I have a strong record both as a representative of the constituency as well as working in government and in the opposition over the years I have been in Parliament," Obhrai, who began his career as a Reform Party lawmaker, was quoted as saying by the Calgary Sun.
A former two-term Liberal lawmaker Darshan Kang made history in Calgary by winning the Calgary Skyview seat by beating fellow Devinder Shory of the Conservative Party and Sahajvir Singh Randhawa of the NDP.
Conservative lawmaker Tim Uppal retained his seat in Edmonton Mill Woods.
Moreover, Liberal Party candidates Raj Grewal of Brampton East, Ramesh Sangha of Brampton Centre, Kamal Khera of Brampton West, Ruby Sahota of Brampton North and Sonia Sidhu of Brampton South have won.
Other Liberal Indo-Canadians who won include, Navdeep Bains from Mississauga-Malton in Toronto, Gagan Sikand from Mississauga Streetville, Raj Saini from Kitchener Centre, Bardish Chagger from Waterloo and Bob Saroya of Conservative from Markham- Unionville.
Other Liberals who won are, Yasmin Ratansi from Don Valle East, Chandra Arya from Napean, Harjit Sajjan from British Columbia, Sukh Dhaliwal from Surrey-Newton, Jati Sidhu from Mission- Matsqui-Fraser Canyon.
Jasvir Sandhu of NDP from Surrey Centre also won.
The Liberals are poised to get parliamentary majority that will allow them to govern without relying on other parties.
Indian-Canadians make up over three per cent of Canada's population of about 35 million and have become a significant political force. There were eight lawmakers of Indian-origin in Canada in 2011.
See more at: http://indianexpress.com/article/world/world-news/indo-canadian-candidates-win-record-19-seats-in-parliamentary-elections/#sthash.oI28cOUe.dpuf