Iran executes Reyhaneh Jabbari despite global appeals for retrial
Activists say designer killed man in self defence after he tried to sexually assault her, and confession came under duress
Chris Johnston and agencies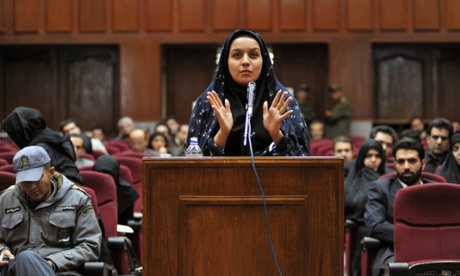 Iran has ignored an international campaign to spare the life of a 26-year-old woman convicted of murder by hanging her at dawn on Saturday.
Reyhaneh Jabbari had spent five years on death row for stabbing a 47-year-old surgeon who had previously worked for the intelligence ministry, the official IRNA news agency reported.
The UN and bodies including the European Union and Amnesty International had said that the interior designer's confession for killing Morteza Abdolali Sarbandi in 2007 was obtained under intense pressure and threats from Iranian prosecutors, and she should have had a retrial.
Ahmed Shaheed, the UN's human rights rapporteur on Iran, said in April that the killing was an act of self defence. Sarbandi had offered to hire Jabbari to redesign his office and took her to an apartment where he tried to sexually abuse her.
Iranian actors and other prominent figures had also appealed for a stay of execution.
Efforts for clemency had intensified in recent weeks. Jabbari's mother was allowed to visit her for one hour on Friday, Amnesty said – a custom that tends to precede executions in Iran.
However, Sarbandi's family insisted the murder was premeditated and that Jabbari had confessed to buying a knife two days before the killing.
According to Jalal Sarbandi, the victim's eldest son, Jabbari testified that a man was present in the apartment where his father was killed but she had refused to reveal his identity.
He said in April that his family "would not even contemplate mercy until truth is unearthed".
"Only when her true intentions are exposed and she tells the truth about her accomplice and what really went down will we be prepared to grant mercy," he said at the time.
Jabbari's plea of self-defence failed to persuade judges at various stages of the appeal process up to Iran's Supreme Court and she remained in prison throughout.
Her last chance of reprieve lay with the supreme leader, Ayatollah Ali Khamenei, but he failed to intervene.
After the execution was carried out, the Tehran state prosecutor's office issued a statement that appeared aimed at countering sympathy for Jabbari. It said: "Jabbari had repeatedly confessed to premeditated murder, then tried to divert the case from its course by inventing the rape charge.
"But all her efforts to feign innocence were proven false in various phases of prosecution. Evidence was firm. She had informed a friend through text message of her intention to kill. It was ascertained that she had purchased the murder weapon, a kitchen knife, two days before committing murder."
Amnesty said Jabbari had admitted stabbing the man once from behind, but she inisted another man killed him. The human rights group said her claim was never properly investigated.
According to the UN, more than 250 people have been executed in Iran this year.
Britain said it is "concerned and saddened" by the execution. Foreign Office minister Tobias Ellwood said there were "questions around due process" in the case, which he warned would not help Iran revive relations with the rest of the world.
The hanging comes at an inopportune time for President Hassan Rouhani, who was elected last year partly on promises of liberal reform. He has been treading a precarious path to rapprochement with the West after decades of mutual hostility largely rooted in Iran's disputed nuclear programme and human rights practices.
Rouhani has come under fire from secular Iranians, his main political constituency, over a spate of acid attacks on young women deemed by their attackers to have insufficiently covered their hair in accordance with sharia law.
Many Iranians believe the attacks have been provoked by Islamist hardliners in a continuing campaign to thwart the political and social reforms pledged by the president during his electoral campaign.
However, many of Iran's more secular voters have also voiced frustration that domestic reforms appear to have taken a back seat to foreign policy under Rouhani, in particular the tortuous negotiations with world powers to resolve the nuclear stand-off.
http://www.theguardian.com/world/2014/oct/25/iran-reyhaneh-jabbari-executes-appeals