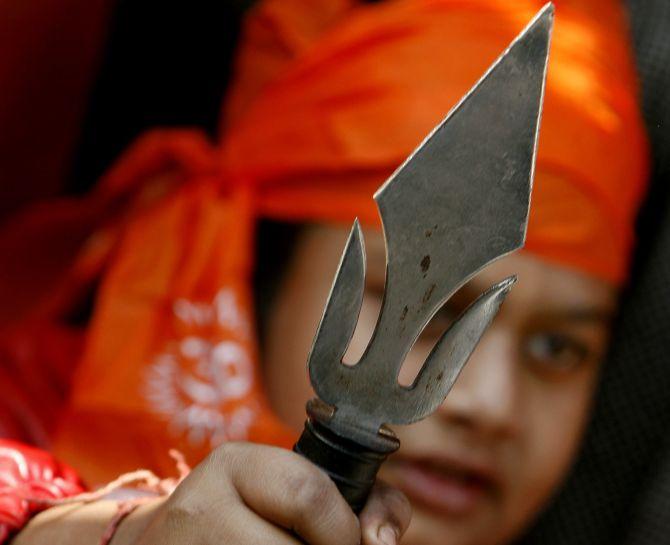 Expressing anguish over the move to recite "Hanuman chalisa" at an AIDS awareness programme, the Bombay high court has asked the BJP-ruled Nagpur Municipal Corporation if, according to it, "India is for Hindus only".
The Nagpur bench of the court, while hearing a public interest litigation on Tuesday, asked the NMC "whether India is for Hindus only" and expressed strong reservations over the plan to recite 'Hanuman Chalisa' at its AIDS awareness event, in association with Poddareshwar Ram Mandir Trust.
The event is planned at KasturchandPark ground in Nagpur on Thursday. "Why only the recital of Hanuman Chalisa and why not from Quran, the Bible or other religious literature? What is the nexus of AIDS awareness and Hanuman Chalisa recital? Is it only Hindus who contract AIDS? Is chanting of Hanuman Chalisa the only remedy for eradication of this deadly disease? The division bench of justices Bhushan Gavai and Swapna Joshi said.
"If people can come for this event, they will also come for recitation of Quran and Bible," they observed. The judges disposed of the PIL filed by former corporator Janardan Moon, after both the NMC and programme convener Dayashankar Tiwari, who is the ruling party's leader in the civic body, agreed to disassociate with the two events (AIDS awareness and Hanuman Chalisa event), and pay the cost of stage and ground (used for the event) on pro-rata basis.
The judges asked the respondents (NMC and the temple trust) to keep at least an hour's gap between the AIDS awareness programme and the Hanuman Chalisa recitation, which over 1.5 lakh people are expected to attend.
The court further directed to ensure that separate banners are put up backstage during both the programmes, with individual names of organisers. The NMC was also asked to give wide publicity to its AIDS awareness programme, without mentioning the Hanuman Chalisa event.
"We dispose the PIL after accepting statements of NMC and Tiwari, that they would totally disassociate with Hanuman Chalisa recital and only hold AIDS programme," the court said.
The judges said that they were not against any religious programme, but only concerned with government agencies associating with it.http://www.rediff.com/news/report/is-india-for-hindus-only-bombay-hc-asks-nagpur-civic-body/20160406.htm