Ishrat Jahan missing papers: 'Mere ko ye poochna hai ki aapne ye paper dekha? Aapko kehna hai ki maine ye paper nahi dekha…seedhi si baat hai'
Ishrat Jahan encounter case: I will have to ask you, 'Did you see the (Ishrat) paper.' You have to say, 'I didn't see the paper'… it's as simple as that: Additional Secretary, Home, B K Prasad to Ashok Kumar, former Director in Home Ministry.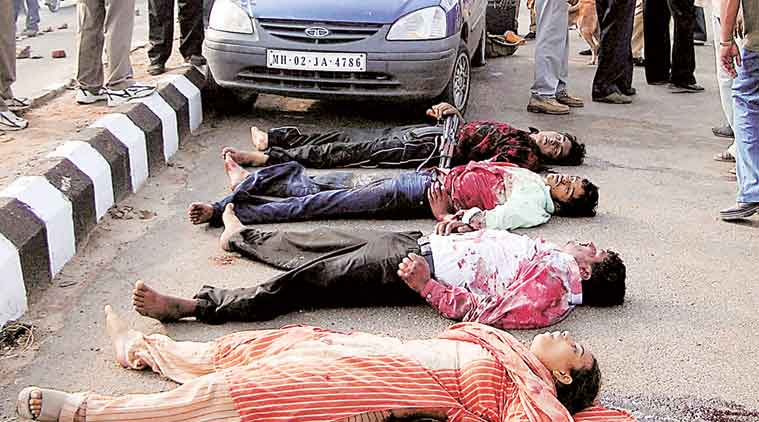 Ishrat Jahan and three others were killed on June 15, 2004.B K Prasad, the Union Home Ministry official who headed the probe into the "missing documents" in the Ishrat Jahan encounter case, not only told a witness the questions he would ask but also suggested to him what answers he should give — that he had not seen any of the documents.
This coaching of a witness by the man heading the investigation puts a question mark on the integrity of the probe announced in Lok Sabha by Union Home Minister Rajnath Singh on March 10.
The ostensible purpose of that probe was to identify the circumstances around the UPA government's second affidavit that dropped references to Ishrat's alleged Lashkar links and allowed for a CBI probe into her June 15, 2004 killing.
Prasad submitted his probe report today which remained inconclusive on the missing papers.
On April 25, at around 3.45 pm, The Indian Express had called Prasad — he is Additional Secretary (Foreigners) — to ask him why the Government had denied a visa to Chinese dissident Dolkun Issa who had been issued an e-tourist visa. (Red faces in Govt…Dolkun Issa's visa cancelled after Chinese protests, April 26, 2016).
To ensure accuracy and to be able to quote verbatim, Prasad's remarks were recorded by this reporter.
AUDIO: Listen In To Home Ministry Official Coaching Witness In Ishrat Jahan Missing Papers Case

While speaking to The Indian Express, Prasad put the reporter on hold and had another telephone conversation regarding the Ishrat missing papers probe. This conversation was also recorded by The Indian Express.
From what he was saying, it was evident that Prasad was speaking to an officer who was scheduled to give his statement the next day as part of the probe.
Also Read: Express report completely vindicates position I took: Chidambaram 
Subsequently, The Indian Express confirmed that the officer Prasad spoke with was Ashok Kumar, Joint Secretary (Parliament, Hindi Division and Nodal Officer for monitoring of court cases) in the Department of Commerce.
Between March 1, 2011 and December 23, 2011, Kumar was Director in the Internal Security division of the Home Ministry that dealt with the Ishrat Jahan case.
Ishrat Jahan missing papers: The timeline of the casePrasad told Kumar that his probe into the Ishrat Jahan missing papers required him to pose a question to all officers who may have dealt with the matter: "Aapne ye paper dekha? (Have you seen that paper?)"
Also read: Here's what has happened since 2014 in the case
Prasad then told the officer: "Aapko kehna hai ki 'Maine ye paper nahi dekha.' Seedhi si baat hai (You have to say, 'I have not seen that paper.' It's as simple as that)."
Prasad told Kumar that the consequences of giving a different reply would be that doubts would be raised about the officer having played a role in the disappearance of the papers.
Watch Video Ishrat Jahan Fake Encounter Case: All You Need To Know
"Aapko itna toh kehna hoga ki ya toh woh file hi maine kabhi zindagi mein deal nahi kiya, kabhi file ko dekhne ka kabhi mauka hi nahi mila (You will have to, at least, say that either you have never dealt with that file in your life, or have never had a chance to see it)… I don't think you have seen that file at any point… Bas, that is what I want from you: 'I have not seen that file at all'," Prasad told the officer.
Prasad also told the officer: "And another question will be, 'Did anybody give you these documents to be kept separately with you?' Aap bologe, 'Nahi, mere ko kisi ne nahi diya.' (You will say, 'No, nobody gave them to me')."
When contacted, Kumar confirmed that Prasad had called him as part of the inquiry but declined to give any details.
The Indian Express sent an email questionnaire to Prasad and apprised him of the recording. Asked about his suggestions to Kumar and whether they raised questions of propriety and legality, Prasad replied: "You have stated that during my conversation with a senior officer on 25.4.2016 I have told him that I will ask him question on the missing Ishrat Jahan file papers and he should answer 'I have not seen that paper.' I would like to clarify that on 25.04.2016 I have sent a questionnaire to Mr Diptivilasa, the then Joint Secy and after 25.04.2016 I have enquired the following officers only: Mr Dharmendra Sharma, the then JS; Mr Rakesh Singh, the then JS; Mr Ashok Kumar, the then Director. None of the officers, whom I have enquired on 25.04.2016 or thereafter, have replied to any of the queries as quoted by you, i.e., 'I have not seen that paper'".
"Of course, in the course of enquiry, I have contacted many of these officers over phone or personally requesting them to appear for enquiry or fixing a mutually convenient date/time for enquiry, during which they might have asked about the nature of questions which might be asked. However, I must mention that the officers enquired by me are all senior officers and have worked in various capacities and are fully capable of answering the questions relating to this kind of probe on their own understanding. The conversation, if any, would have been in the context of clarifying the nature of enquiry. I must add that I have conducted a free and fair enquiry and all witnesses were given total freedom to express whatever they felt."
Prasad, a 1983 batch IAS officer of Tamil Nadu cadre, has also been heading the Home Ministry's crackdown on NGOs who have allegedly violated foreign funding norms. He was due to retire on May 31, but was granted an extension in service for a period of two months until July 31.http://indianexpress.com/article/india/india-news-india/ishrat-jahan-fake-encounter-case-inquiry-ashok-kumar-2855542/