Oh and by the way, his dad fights terrorism for a living.
I'm done with the U.S.," Zeeshan-ul-hassan Usmani's wife told him on Friday.
Seeing her youngest son, just 7 years old, walk off the school bus bruised and battered that afternoon outside their apartment building in Cary, North Carolina, was the final straw.
Little Abdul Aziz, a first-grader and the youngest child of Usmani and Binish Bhagwanee, was traumatized. He told his parents a classmate had tried to force him to eat food that wasn't halal. When Abdul Aziz refused, five of his classmates ganged up on him, making fun of his name. They punched him in the face, kicked him in the stomach, and twisted his arm while calling him "Muslim" again and again, Usmani said.
"He was born and raised [in the United States]. He was born in Florida. As American as you can think of. He likes Captain America. He wants to be president of the United States of America," Usmani told The Huffington Post on Tuesday, speaking over Skype from Pakistan.
Bhagwanee landed in Islamabad on Monday with their three sons. Usmani has an apartment there, and it's where they all plan to live now, because America doesn't feel safe.
"It's very heartbreaking and sad," said Usmani, twice a Fulbright Scholar and an award-winning computer scientist who uses big data to save lives from terror attacks.
It's not the America we know about, care about and want to live in," he said.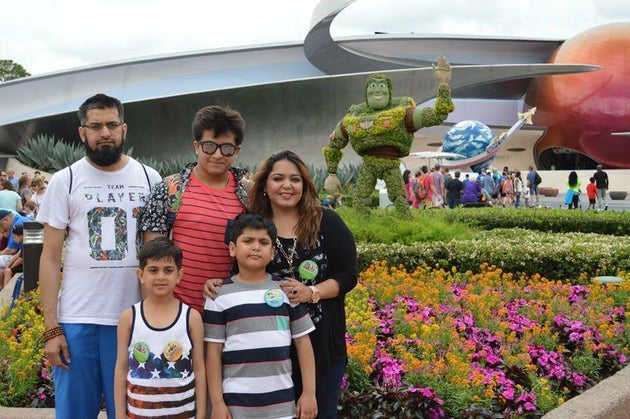 Usmani remembers his middle son, 8 years old, being very angry one day after being picked up from school. Apparently his classmates had told him his dad ― a Pakistani man with a beard ― was a terrorist.
"He asked me if I was a terrorist," Usmani recalled. After that, Bhagwanee asked him not to go to the school anymore, "just so my children would not face any discrimination because of my face."
There was the time Usmani's eldest son, 14, saw a classmate bring a knife into school that his dad had bought in Colombia. When Usmani's son brought a knife into school that his dad had bought in Pakistan, students called him "ISIS" and "terrorist." The school went on lockdown and he was suspended for six months, Usmani said. He added that the experience was traumatic for his son, who's been homeschooled ever since and now suffers from depression and anxiety.
Earlier this year, there was the neighbor that constantly harassed them, once calling them "motherfuckers" and threatening Usmani's wife.
"He came to our apartment twice at midnight and at 2:00 AM, passing racial slurs, teaching us how to 'behave' and "'live in this country,' mentioning Donald Trump and his desire to vote for him to kick us out of this country," Usmani wrote in an email to the Cary Police Department in July. (That type of harassment from neighbors is sadly familiar to Muslims or people perceived to be Muslim, and has culminated in the murders of three people in Chapel Hill, North Carolina and one person in Tulsa, Oklahoma in the last two years.)
The neighbor eventually moved, Usmani said, adding that the local police department was "really great" in handling the situation.
In June, a man brandished a handgun at the mosque the Usmani family attends in nearby Fayetteville, telling parishioners there that was going to kill them and bury them behind the mosque. The man allegedly behind the threats, Iraq War veteran Russell Thomas Langford, also left packages of bacon outside the mosque, a common insult to Muslims, whose faith forbids them from eating pork. When police arrived and arrested Langford, they found multiple guns inside his truck along with 500 rounds of ammunition.
While Usmani's family wasn't at the mosque that day, the event still left them shaken, he said.
In September, the Fort Pierce, Florida mosque where Usmani says he used to attend Eid services when he was a student, was set on fire. The alleged arsonist, Joseph Screiber, had made anti-Muslim and pro-Trump Facebook posts in the months leading up to the attack.
All that happened in just the last year.
Over the course of that year, the Republican nominee for president, Donald Trump, proposed a ban on Muslims entering the U.S., called for the creation of a national database of Muslims, said that mosques should be surveilled and Muslims should beprofiled, told an apocryphal story about shooting Muslims with bullets dipped in pig blood, suggested that the Muslim mother of a fallen American soldier wasn't allowed to speak at the Democratic National Convention because of her faith and said: "Islam hates us."
Anti-Muslim hate crimes have surged nationwide. A recent report from the Center for the Study of Hate and Extremism at the California State University, San Bernardino, documented at least 260 hate crimes targeting Muslims in 2015 ― a nearly 80 percent rise from 2014 and the highest annual number of such crimes since 2001.
So far in 2016, The Huffington Post has documented nearly 290 acts of anti-Muslim violence, discrimination and political speech in the U.S.
After Abdul Aziz walked off the school bus Friday, Usmani said he and Bhagwanee reported the incident to the school. Lisa Luten, a spokeswoman for Wake County Public School System, said Principal Tim Chadwick immediately launched an investigation into the alleged attack, but said that initial interviews with other students and the bus driver didn't corroborate Abdul Aziz's version of events.
No students on the bus, nor the bus driver, reported seeing an altercation, Luten said. One student, however, did remember seeing "play-fighting" on the bus.
Luten also said the Usmani family did not report that students made references to Islam, Muslims and Pakistan, as the Council on American-Islamic Relations said they did in a Monday press release.
But in an email Usmani sent to Chadwick early Tuesday, he explained that he had talked to Abdul Aziz "in detail" about the alleged attack.
"The kids who beat him up mentioned Muslims, makes fun of his name starts with Abdul and reference his preference of eating only certain (halal) food," Usmani wrote. "My son is very traumatized and shocked as he has just celebrated his birthday with his classmates few days ago."
Luten, the spokeswoman, emphasized that the school's investigation is ongoing and that the principal wants to interview the Usmani family.
"The behavior alleged in this complaint is not tolerated in our schools," Luten said. "We have policies that specifically prohibit bullying. Any incident that is brought to our attention is fully investigated."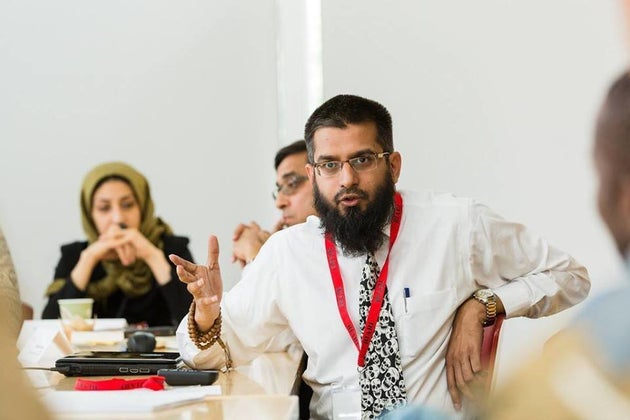 Usmani said his family had planned on moving out of Cary anyway, perhaps to Berkeley, California, where his current employer is based. But after what happened to Abdul Aziz on the school bus, Bhagwanee decided it was time to go back to Pakistan.
Usmani said there was an irony in having to get his two youngest sons ― both of whom were born in America and are U.S. citizens ― visas to get into Pakistan.
And still more ironic, after a year of such anti-Muslim vitriol, is the award-winning workUsmani does to protect people from terror attacks around the world. Formerly the chief technology officer of the data company PredictifyMe, he's used big data to help better understand who in Europe and the U.S. is vulnerable to being recruited by ISIS. And in acollaboration with the United Nations Special Envoy for Global Education, he's developed software that models the damage of suicide bombings, in an effort to protect schools and other buildings in Pakistan, Sudan, Nigeria, and Syria from terror attacks.
His 21-page resume lists two Fulbright scholarships, an Eisenhower fellowship, four degrees including a Ph.D., visiting professorships across the world, a slew of awards and links to profiles of his work in the Wall Street Journal, CNN and many other major news outlets.
While his family stays in Islamabad, Usmani, because of his work, will have to split his time between Pakistan and the U.S., he said. He also said his family would consider moving back to the U.S. if Donald Trump loses the election next month. They would "absolutely" feel safer in the U.S. if Trump loses, Usmani said.
That said, Pakistan hasn't always been safe for the Usmani family either.
In 2013, Usmani was part of a team that won the TiE StartUp Cup Pakistan, a business model competition organized by StartUp Cup USA with TiE and the U.S. Embassy in Pakistan.
"On our way back from the competition, we got robbed," Usmani wrote in an email to friends and colleagues at the time. "They were 9 Dacoits, they beat me up very badly, beat my wife and 10 years old son and took away all the cash, mobiles, laptop, camera, all debit/credit cards everything. So now I have a lazy eye, injured rib, and few less teeth."
Usmani told HuffPost he believes he and his family were attacked because of his counter-terror work.
"I'm in a very interesting dilemma," he said, noting that his work against ISIS and terrorists around the world makes him feel unsafe when he's in Islamabad. But theIslamophobia in the U.S. has also made him concerned for his and his family's well-being, he said.
He added, "I guess I can't live anywhere in world."
http://www.huffingtonpost.in/entry/muslim-family-fled-america-islamophobia-usmani_us_57fd058fe4b0e655eab7aa3c