PALESTINE / ISRAEL, 30 September 2013
by Apartheid Exists – TRANSCEND Media Service
"What is a bagel seller doing in prison in the first place, let alone with a harsher sentence than a drug trafficker?"
–Haaretz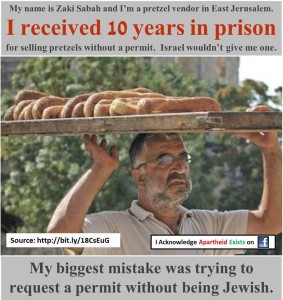 28 Sep 2013 – This is the kind of stuff that is devastating to the average Palestinian.  Most Americans don't really understand just how oppressive the Israeli government is. They require a permit to do anything – have a job, build a home, get water etc but when you file the appropriate paperwork …. it doesn't get approved (if you're Palestinian).  Palestinians live under absolute tyranny even when they're Israeli citizens.  Their government takes a hostile approach to them and does everything possible to ensure they remain in poverty strictly because they're not Jewish.
The plan is simple.  Cut off Palestinians' ability to take care of their families, make them lose their homes and force them into concentration campsrefugee camps.  Refugees don't have legal rights.  It sucks to be them.
It's wrong and Americans fund this oppression.
That's because the Israeli government is engaging in a campaign of ethnic cleansing and this is just one more example out of a plethora of examples.  And it's so bad that even the U.S. State Department has characterized the Israeli government as being guilty of "institutional and societal discrimination" of citizens who they characterize as Arab (I call them Israeli citizens of Palestinian descent).  You can read that report HERE.
Haaretz has the story on how Israel gave Zaki Sabah 10 years in prison for selling pretzels in July 2013 HERE:
The sentence was imposed two weeks ago by Local Affairs Court Judge Tamar Nimrodi. Her decision was a technical one, arrived at by aggregating 254 files opened against Sabah for peddling without a license. The thousands of tickets he received since 2005 had ballooned to fines totaling NIS 731,910.21. Because the nonpayment of any fine has a prescribed option of a few days in prison, the number of days that had accumulated totaled 3,554. Most of the hearings in his case were held in absentia, and since he had not reached a payment arrangement with the municipality, the judge consolidated the cases and approved the cumulative imprisonment orders. Shortly after the ruling, Sabah was imprisoned.
Following his attorney Amir Schneidscher's request to the court, the municipality agreed to release Sabah if he paid 10 percent of the debt, around NIS 80,000. Jerusalem Magistrate' Court Judge Tamar Bar-Asher-Zaban then ruled he could be released for only NIS 8,000, but Sabah said he could not come up with that amount, either, and remained behind bars.
Go to Original – apartheidexists.com