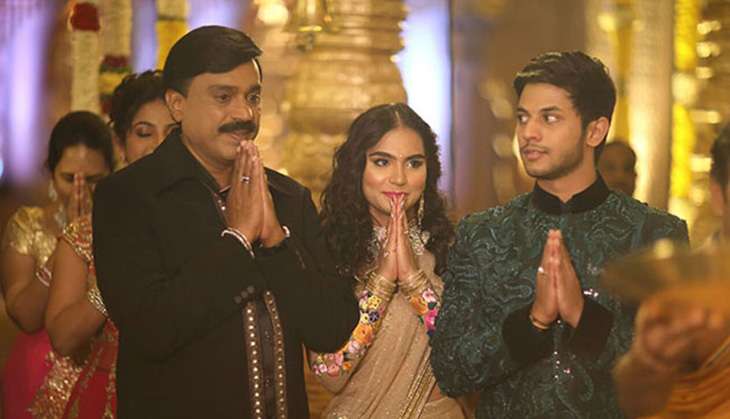 TWEET THIS
The lambasting and ridiculing on social media and other platforms for nearly a week finally seemed to move Prime Minister Narendra Modi to tackle one massive black spot on his alleged war on black money, which is increasingly turning into a nightmare for his government.
The incongruity of the once-jailed mining baron Gali Janardhana Reddy conducting an obscenely opulent wedding of his daughter in Bengaluru when millions of Indians are queuing up at fast-empting banks to withdraw their hard-earned money finally hit Modi as he directed Income Tax officials to launch a massive raid on Reddy's offices and premises.
In a day-long raid, which senior IT officials would rather call "surveys", 20 teams consisting of more than 100 men fanned out in Bengaluru, Hyderabad and Bellary to conduct searches.
While Janardhana Reddy was "grilled" for a few hours in Bellary, where he had returned last night after a reception at Hyderabad Sunday, Reddy's new in-law Vikram Deva Reddy, a businessman, was questioned in Hyderabad.
Sources said the "surveys" primarily related to the expenditure on the wedding, and the sleuths sought details of accounts from various service providers like jewellers, caterers, decorators, transporters, event managers, security teams and so on.
Janaradhana Reddy was given a questionnaire to furnish details of expenses and the sources of how he had made the payments, as he is still facing cases and many of his bank accounts are frozen. The sources said he has been given until 25 November to return the questionnaire with replies and supporting documents.
As public resentment over the botched 8 November "surgical strike" on black money grows, and the opposition stalls the parliament seeking answers from the government, this little drama of tackling Reddy, the "mocking bird" as it were, seemed necessary to assuage public sentiment.
POLITICAL PATRONAGE
Reddy, who allegedly made several hundred crores of rupees through illegal mining of iron ore during the BJP rule in Karnataka from 2008 to 2013, spent over three years in jail before being released on bail last year, as the CBI is still pursuing the cases against him in various courts.
Reddy was tourism minister in the BS Yeddyurappa government, and financed 'Operation Lotus' in which nearly 20 Congress and JD(S) MLAs were paid to resign their seats and re-contest (mostly successfully) on BJP tickets. In return, Janardhana Reddy and his brothers, Karunakara Reddy and Somashekar Reddy, and their henchmen were allowed to loot iron ore from the rich Bellary mines and export it to China, as the state machinery turned a blind eye.
As the then Lokyaukta Justice Sanotsh Hegde turned the heat on the Yeddyurappa regime over illegal mining, the chief minister was compelled forced to tighten the screws on Reddy, driving him to revolt. At one point of time, Reddy nearly brought down the Yeddyurappa government by spiriting away some 40 MLAs to Hyderabad, but ultimately it was the Lokayukta that forced Yeddyurappa to resign.
Reddy was arrested by the CBI in September 2011 on charges of illegal mining and clandestine export of iron ore by his Obalapuram Mining Company. He spent over three years in Chanchalaguda jail in Hyderabad and Parappana Agrahara in Bengaluru but apparently continued to enjoy the good life inside thanks to "cooperative" jailors.
The IT department had assessed his undeclared income at Rs 400 crore, a claim Reddy had disputed and which is now under litigation. The sources, however, insist that was only a fraction of his wealth as he has found many safe havens overseas for his ill-gotten money.
Coming from a middle-class family, Reddy started out in business in the early 1990s with a chit fund – Enoble India Savings – which soon went into bankruptcy. He also made forays into media and hospitality, only to burn his hands. His meteoric rise as a mining baron began only after he joined politics.
ILLEGAL EMPIRE
When he became flush with money, Reddy deluded himself into thinking he was a modern maharaja of the erstwhile Vijayanagar empire (whose seat of power was in Hampi, 15 km from Bellary). He got himself a golden throne made which he used to conduct his royal darbar at home.
During the raids in 2011, the IT department had seized his throne, along with a fleet of limousines (including his favourite Rolls Royce Phantom, which was returned later), a helicopter and several other immovable properties.
The Enforcement Directorate had also attached his assets and shares worth Rs 884 crore under the Money Laundering Act.
Reddy used the wedding of his only daughter, Bramhini, a 19-year-old who was pursuing BBM at a high-profile university in London, to announce to the world that things were "normal" and he was back in business. The bride came riding in the Phantom.
The five-day wedding at the 36-acre plot on the Bengaluru Palace grounds was spectacular by any standards. Reddy had hired event managers to recreate the grandeur of the Vijayanagar and Tirupati, the abode of his favourite lord Venkateshwara.
Reddy reportedly fed around 50,000 people during the wedding celebration, and he had hired hundreds of bouncers to keep the intruders away.
Although Reddy stands expelled from the BJP since he went to jail, the BJP leaders, including Yeddyurappa, were in attendance, defying rumours that the party high command had asked them to stay away.
Chief Minister Siddaramaiah, though invited, kept away, but his senior colleagues, G Parameshwara, DK Shivakumar, HK Patil and Ramalinga Reddy showed up. The Kannada and Telugu film fraternities were also among unabashed attendees.
"Janardhana Reddy expected the raid after the wedding and was fully ready to answer all the questions," said a source.
Now that this drama is done, the aam aadmi will continue to stand in queue to withdraw small amounts of his own money, while the Reddys of this land will continue mocking the so called war on black money.http://www.catchnews.com/india-news/it-raid-on-janardhana-reddy-it-was-just-a-little-drama-directed-by-modi-1479751940.html/fullview