Union minister says it only leads to increased Maoist activity in the areas
Suresh Dharur/TNS
Hyderabad, March 18
Arguing that mining in tribal areas would lead to increased Maoist activity, Union Rural Development Minister Jairam Ramesh has called for a 20-year moratorium on mining projects that affect the livelihood sources of the tribal communities in Andhra Pradesh.
"Nowhere in the country has mining benefited the tribals. Only a few outsiders became rich while the locals remained poor," Ramesh said while addressing a public meeting at GK Veedhi, a remote tribal hamlet in the coastal Andhra district of Visakhapatnam.
He urged state Chief Minister N Kiran Kumar Reddy, who was also present on the occasion, to impose ban on the mining in the region as it might prove counter-productive. "Wherever we have mining, we have Maoists. We need a different approach to the issue of mining," he said at the meeting which was attended by Union Tribal Welfare Minister V Kishore Chnadra Deo, a local leader, who is also opposed to the proposed bauxite mining in the region.
The public meeting was organised to launch 'Rajiv Bala Sanjeevani', a scheme to provide medical care to the tribal children. Interestingly, the official function was organised in the area which has been witnessing public resistance to the mining project.
The environmental activism of Jairam Ramesh in opposing the prestigious bauxite mining project has been a cause of worry for the Congress government in the state for some time now. Though the government is keen on going ahead with mining the bauxite reserves, the Union Minister had made it clear that he would continue to oppose it in the interests of safeguarding the rights of local tribals.
The bauxite mining is a major issue in the region with local tribals, civil rights activists, environmental groups and the opposition parties opposing the project. The state-owned A P Mineral Development Corporation (APMDC) had signed agreements in 2007 to allot bauxite mining leases to Jindal South West Limited, which is part of OP Jindal Group, and ANRAK, a state-owned company of United Arab Emirates (UAE), in Visakhapatnam and Vizianagaram districts.
Those opposing the mining project argue that it would not only lead to environmental degradation but also displace thousands of tribal families.
Stating that it was imperative to protect the interests of those living in scheduled areas, Ramesh noted that Maoists had a strong presence in areas where the tribals felt unhappy and were not content.
Speaking on the occasion, Kishore Chandra Deo called for cancellation of the MoU that the state government had signed with private mining companies.
FACT OF THE MATTER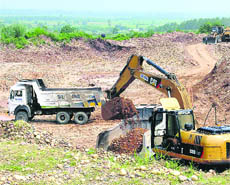 The state-owned AP Mineral Development Corporation had signed agreements in 2007 to allot bauxite mining leases to Jindal South West Limited, which is part of OP Jindal Group, and ANRAK, a state-owned company of UAE, in Visakhapatnam and Vizianagaram districts


Bauxite mining is a major issue, with local tribals, civil rights activists, environmental groups and the opposition parties opposing the projects


Those opposing the mining project argue that it would not only lead to environmental degradation but also displace thousands of tribal families
Related articles