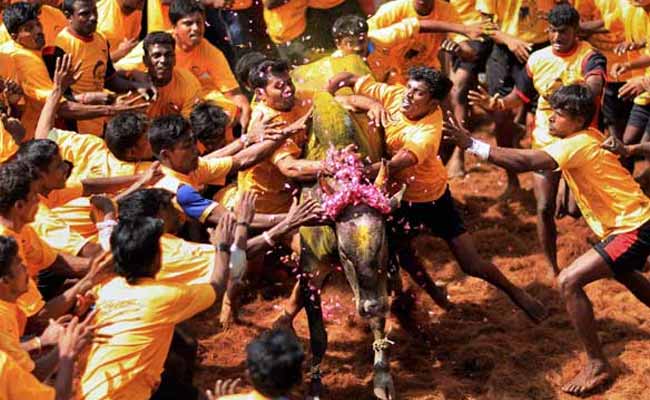 NEW DELHI: 
 The Supreme Court today suspended the
Centre
's notification lifting the ban on 
jallikattu
, the traditional bull-fighting sport of Tamil Nadu. Last week, the 
Centre had lifted the ban
 on the sport circumventing a Supreme Court ruling of May 2014.
Citing cruelty to the animals, the Animal Welfare Board, People for Ethical Treatment of Animals, or PETA, and 11 other organisations challenged the Centre's notification. The Tamil Nadu government has filed a caveat requiring it to be heard before any orders on the bunch of petitions challenging the Centre's move.
The bench headed by Justice Dipak Mishra heard the case after Justice R Banumathi recused herself from hearing the case this morning. She was part of the earlier three judge bench headed by Chief Justice TS Thakur.
The sport is popular in at least four districts of southern Tamil Nadu and is part of the four-day Pongal festival, held in mid-January. Pongal celebrations kick off on January 15 this year. Although it is not a key poll issue, all parties want to be seen in favour of lifting of the ban ahead of the elections later this year, critics say.
Animal rights organisations say there is clear evidence of how the animals are assaulted, intoxicated and subjected to other forms of cruelty. Lime juice is squeezed into their eyes and chilli powder is rubbed on their genitals to make them ferocious.
The Centre had said the traditional sport should be continued but with restrictions that stop cruelty to the animals. The festival was not held last year – it was banned by the UPA government when the DMK was part of the alliance. This time, the DMK had demanded that the ban on the festival be lifted.
After the Centre's announcement last week, Tamil Nadu Chief Minister J Jayalalithaa had thanked Prime Minister Narendra Modi.