Source: PTI –
The Jammu and Kashmir administration has booked former Indian Administrative Service officer-turned-politician Shah Faesal under the controversial Public Safety Act, official sources said on Saturday.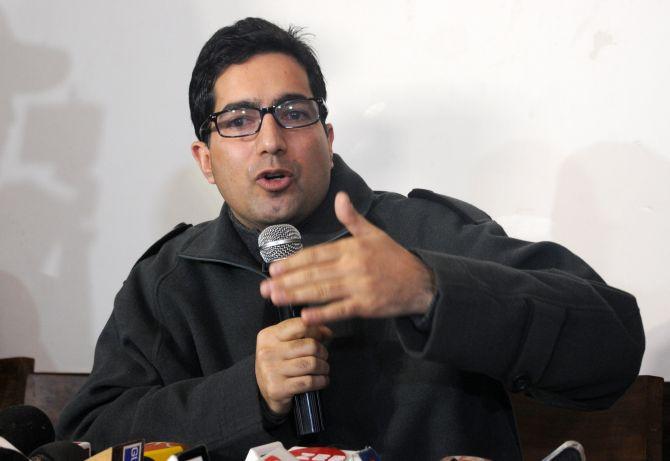 Faesal, who has been under detention after scrapping of Jammu and Kashmir's special status, was booked under the PSA on Friday night, according to the sources.
Former chief ministers Omar Abdullah and Mehbooba Mufti were also booked under the PSA on the night of February 6, barely a few hours before their preventive detention was to end.
The PSA has two sections — 'public order' and 'threat to the security of the state' — the former allows detention without trial for six months and the latter for two years.
Faesal was stopped from taking a flight to Istanbul at the Delhi airport during the intervening night of August 13 and 14 last year and flown back to Srinagar, where he was detained.
Faesal served in various posts in J&K including that of district magistrate of Bandipora, director of school education, and managing director of J&K State Power Development Corporation (JKSPDC). Terrorists shot down Faesal's father, Ghulam Rasool Shah, when Faesal was 19 years old.
The family had to then shift to Srinagar from Lolab in Kupwara district of north Kashmir.
Faesal did his MBBS from the SKIMS Medical College & Hospital in Srinagar. He also has a master's in Urdu and, in 2018, was a recipient of Fulbright-Nehru Master's Fellowship at Harvard Kennedy School.
He quit the IAS on January 9, 2019, citing civil rights issues and "unabated killings in Kashmir and absence of credible political initiative", and started his own political party, Jammu & Kashmir People's Movement. The government detained Faesal on August 14, 2019 at IGI airport, before he was to fly abroad, and took him to Srinagar where he was booked under CrPC.
The J&K administration has already booked seven politicians including three former CMs— Farooq Abdullah (NC president), Omar Abdullah (NC vice-president), and Mehbooba Mufti (president of Peoples Democratic Party)—under the PSA.
The former bureaucrat from Jammu and Kashmir had floated the Jammu and Kashmir Peoples Movement party after resigning from the IAS.
'CALL OF CONSCIENCE'
PDP member resigns from party, says Art 370 was 'dead stock'
Jammu
: PDP functionary Shah Mohammad Tantray has resigned from the primary membership of the party, citing his unhappiness with it over "unnecessary expulsions" of members for meeting Lt Governor GC Murmu in Jammu. The 64-year-old, who was elected to the state assembly on a PDP ticket from the Poonch-Haveli seat in 2014,
said Article 370 had become a "dead stock" as a result of nearly three dozen amendments during Congress rule. On January 9, PDP expelled eight party members two days after they met the Lt Governor. PDP had said, "In view of the development post August 5 and the unilateral move of the government of India which has violated the will and hurt the sentiments of people, it has come to the attention of the party that certain party members have been part of the parleys which go against the interests of the state, official position and core beliefs of the party."
Tantray said the expulsion of the party members was not in a "good taste" as they should have been served a show cause notice first. "After a thought, I decided to say goodbye to the party on the call of my conscience," he said.
Tantray said he was dejected after the party announced expulsion of eight members. He said he had demanded a review of the "wrong decision" but there was no response from the party. AGENCIES