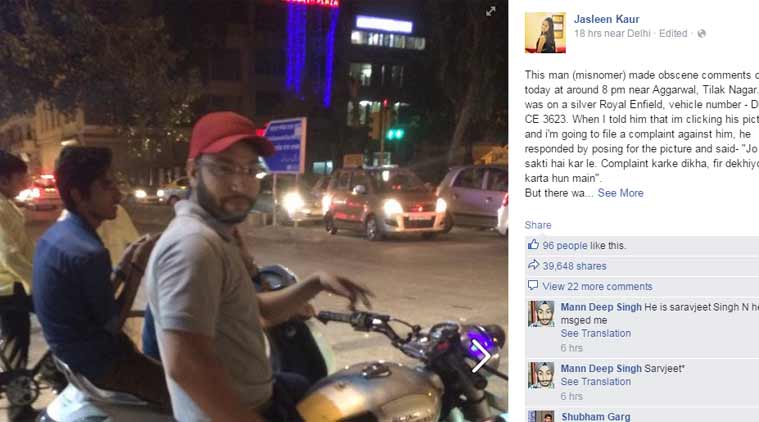 At 8 PM on Sunday, a major traffic intersection in Delhi's Tilak Nagar was far from deserted. There were people milling around and commuters were waiting at the traffic signal when a bespectacled man on a motorcycle rode up next to a young woman.
And in front of at least 20 people who were present at the spot at that time, the man, wearing a red baseball cap, allegedly mouthed vulger abuses at the woman. When she protested and warned him that she'll post his photo on Facebook, he asked her to go right ahead if she dared.
It turns out, she did.
The woman, Jasleen Kaur, took her abuser up on his challenge and on Monday the unknown man's face was on national television and across websites, after a Facebook post by her describing her ordeal went viral.
"This man made obscene comments on me today at around 8 pm near Aggarwal, Tilak Nagar. He was on a silver Royal Enfield, vehicle number – DL 4S CE 3623. When I told him that im clicking his picture and i'm going to file a complaint against him, he responded by posing for the picture and said- "Jo kar sakti hai kar le. Complaint karke dikha, fir dekhiyo kya karta hun main (do whatever you want to do. File a complaint and then see what I shall do)," wrote Kaur on her Facebook page, a post which now has nearly 26,000 shares.
Kaur further observed: "But there was something that is disturbing me much more than his obscene remarks- the fact that it was a red traffic signal and 20 other people heard what he was telling me. Yes, no one minded. No one intervened. No one stood up for me. I decided to stand up for myself and lodged a complaint in Tilak Nagar police station with his photo and vehicle number."
The man is seen wearing a grey T-shirt and jeans and looking directly at the camera while other commuters are seen around him waiting for the light to change from red to green.
"I could've written here exactly what he said in his comments, but i don't want FB to remove my post," Kaur said, alluding to obscene comments the man allegedly made.
TV channels reported that the man was arrested on Monday. Kaur was awarded Rs 5000 for her courage by the Delhi police.
Meanwhile, the Delhi Women's Commission chairperson, Swati Maliwal, said she will meet Kaur and praised her for the stand she took against her abuser.
"We support her and will be meeting her today. Would like to congratulate the girl for standing up and confronting," ANI quoted Maliwal as saying. Kaur, on Monday said that she would definitely meet the DCW chief.
"If she wants I will surely meet her, she is a good lady and I look up to her," Kaur told the media here.
http://www.huffingtonpost.in/2015/08/24/jasleen-kaur-eveteasing_n_8030208.html
In May, this year, another girl named Prerna Pratham Singh had taken screenshots of the offensive Facebook messages she received from one man named Raushan Kumar in her Others folder.
Prerna's post had also gone viral and seen an outpouring of response regarding the harassment that women in India continue to face. Even the Delhi Police had offered her encouragement and asked her to file a complaint. The accused, on the other hand, had claimed that his account had been hacked and he had not really sent those offensive messages.
More recently an IAS officer named Riju Bafna, had shared a Facebook post recounting the trauma she had to go through when trying to record her statement against a Madhya Pradesh Human Rights Commission official, who had sexually harassed her.
"When I said to Judicial Magistrate that he should be careful of presence of other people when a woman is giving statement under sexual harassment case, he said that you are young and that's why demanding such things," she had written.
In her post, Bafna questioned the kind of insensitivity that ordinary women would have to face, given that she, a privileged IAS officer had to face such apathy as well.
For women in India, Facebook appears to be the new way to expose those who are harassing them.
See more at: http://indianexpress.com/article/trending/delhi-girls-facebook-post-of-harasser-goes-viral-police-arrest-accused/#sthash.InPf0c4k.dpuf