NREGA is a demand-driven programme and if the demand vanishes because wages are low and uncertain, nothing will be able to save it.
Written by  | Updated: July 13, 2018 8:47:45 am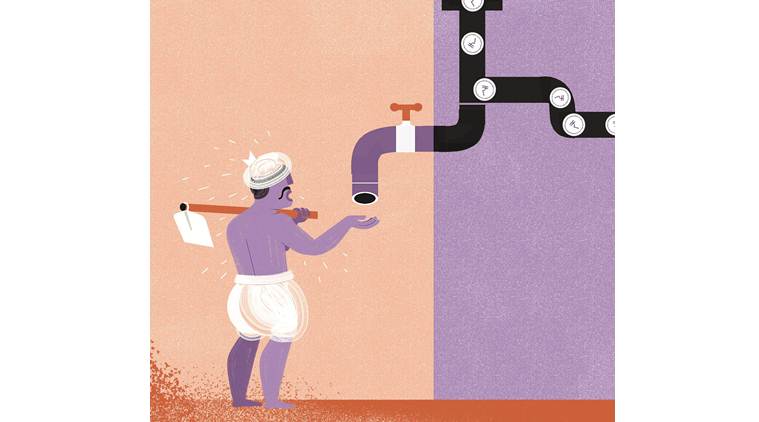 When workers lose interest, corrupt middlemen step in and take advantage of the lack of vigilance to syphon off NREGA funds by fudging the records. (Illustration: CR Sasikumar)The National Rural Employment Guarantee Act (NREGA) is going through a deep crisis of delayed and failed wage payments. The problem is not new, but it is more serious than ever and threatens to undermine the entire programme.
The crisis has at least four manifestations: Delayed payments, rejected payments, diverted payments and locked payments. Let me try to spell them out, one by one.
Delays in wage payments have plagued NREGA ever since bank payments were introduced about 10 years ago. In recent years, there has been some improvement in what might be called first-step delays — the delays that occur before the final signature of a Fund Transfer Order (FTO). First-step delays are reasonably transparent and the system is designed to calculate the compensation due to workers (by the state government) when they occur. But the system hides the second-step delays — the delays that occur when bank transfers themselves are held up. In a recent analysis of NREGA wage payments in 10 states, Rajendran Narayanan, Sakina Dhorajiwala and Rajesh Golani found that second-step delays were as long as two months on average in 2016-17. Repeated demands for second-step delays to be disclosed and compensated for by the central government have fallen on deaf ears so far.
One reason why delays have persisted for so long is that the payment system is constantly being re-designed. First it was cash payments, then post-office payments, then bank payments, then specific banks, then various avatars of what is now called the National electronic Fund Management System (NeFMS), and now the Aadhaar Payments Bridge System (APBS). None of these innovations, so far, has been able to ensure payment within 15 days of the work being done, as prescribed under NREGA.
Even as the delays continue, the latest payment systems are largely responsible for rejected payments, diverted payments and locked payments. Rejected payments were not unknown earlier but they have become endemic ever since the linking of NREGA wage payments with Aadhaar. Linking the bank accounts of NREGA workers with Aadhaar may seem like a trivial matter but in practice it creates endless problems, associated for instance with inconsistencies between different databases — job cards, bank accounts and Aadhaar. Today, "e-KYC" (biometric authentication of Aadhaar-linked accounts) is compulsory for NREGA workers, if not in theory then certainly in practice. That, too, is a fountain of technical glitches. A senior official at the Ministry of Rural Development (MoRD) recently told me that the MoRD had identified more than 200 different possible reasons for a payment to be rejected. Some of the error codes, like "inactive Aadhaar", are beyond the comprehension of the MoRD itself and even of UIDAI — both pleaded ignorance in response to an RTI on this matter. According to the NREGA's management and information system (MIS), nearly Rs 500 crore of wage payments were rejected in 2017-18 alone.
Diverted payments is a pathology of the Aadhaar Payments Bridge System (APBS), the latest — but probably not the last — reconfiguration of the NREGA wage payment system. Under APBS, Aadhaar effectively becomes a financial address and wages are automatically paid into the worker's last Aadhaar-linked account. Most workers, of course, are unaware of this rule, so they often look for their money in the wrong account. Worse, wages are sometimes paid into accounts that workers know nothing about, for example, accounts opened without consent in the initial Jan Dhan Yojana frenzy, or Airtel wallets. Even worse, wages are sometimes sent to the wrong person, because that person's account has been linked to the concerned worker's Aadhaar by mistake (for instance, due to data entry errors). These diverted payments are very difficult to retrieve — most NREGA workers are powerless to do anything about them.
Last but not least, many NREGA workers today are unable to withdraw their wages from their bank accounts even after their wages have been paid — this is the problem of "locked payments". Workers are locked out of their bank account when the bank treats it as "dormant" or "frozen" because it does not meet the current norms. One of these norms is e-KYC, a major hurdle on its own for NREGA workers, but there are others. For instance, if a worker does not use his or her accounts for a specified number of months, the account is often frozen. Similarly, when Pradhan Mantri Awas Yojana money is sent to a worker's bank account (often without intimation or consent), he or she is at risk of the account being frozen because the balance exceeds the current maximum. Sometimes accounts are not just frozen but closed altogether, without even informing the concerned person.
Three further remarks are due. First, many of these pathologies are associated with brazen flouting of consent principles and norms. For instance, moving an account to the APBS system is not supposed to happen without informed consent. In practice, NREGA workers are being herded en masse into APBS without their knowledge let alone consent.
Second, the lack of grievance redressal facilities aggravates all these problems. Even as NREGA workers run from pillar to post to find out whether they have been paid, where their money is, or why their account has been frozen, there is no one around to inform or assist them. Their ordeal is a pathetic sight. What is a worker supposed to do when he or she is told, after hours of queuing in an overcrowded bank, "your account has been closed from the back-end, now move on please"?
Third, aside from causing enormous hardship to NREGA workers, delayed and failed payments are a major source of corruption. When workers lose interest, corrupt middlemen step in and take advantage of the lack of vigilance to siphon off NREGA funds by fudging the records. I am not sure about other states, but in Jharkhand at least, the crooks have found ways to game the bank payments. Linking bank accounts with Aadhaar makes little difference. In fact, to the extent that Aadhaar contributes to the payments crisis, it means more corruption not less.
Having said this, the worst part of the payments crisis is the damage it does to NREGA itself. NREGA is a demand-driven programme and if the demand vanishes because wages are low and uncertain, nothing will be able to save it. Averting this requires a reliable payment system, higher wages, compensation for delays, effective grievance redressal and — last but not least — stopping the constant redesign of payment systems. If that means staying one step behind in the financial technology race, so be it.
Indian Express