Jharkhand lynching: At 5 am on May 18, the four started calling their relatives in Haldipokhar to tell them that they were surrounded by a mob and feared for their lives.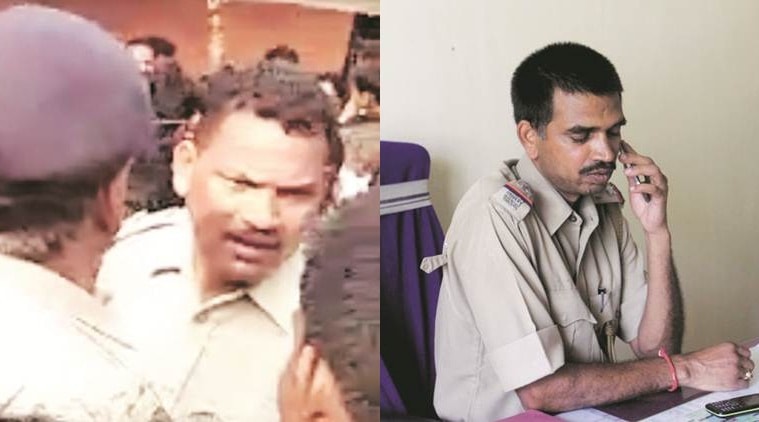 Video grab (left) show ASI Gope, his face to camera; (right) in-charge T P Kushwaha. Subham DuttaIt was not just a mob that witnessed the lynching of four men in a village near Jamshedpur for nearly five hours early on May 18, following rumours of child-lifters being present in the area. Present at the spot were also a Deputy Superintendent of Police, a Circle Inspector, two Assistant Sub-Inspectors and at least 30 policemen, including those from the local station in Rajnagar. The Indian Express tracked down two of the policemen who are seen speaking to the mob in videos of the incident and spoke to several eyewitnesses to piece together the sequence of events that ended with the deaths in Shobhapur of Naim (35), Sheikh Sajju (25), Sheikh Siraj (26) and Sheikh Halim (28).
It's not a story of policemen looking the other way. Here, they were watching the lynching unfold in front of their eyes. On the night of May 17, Naim, Sajju, Siraj and Halim, all residents of Haldipokhar, reached Shobhapur, 15 km away, to visit Halim's brother-in-law Sheikh Murtaza.
At 5 am on May 18, the four started calling their relatives in Haldipokhar to tell them that they were surrounded by a mob and feared for their lives. "Halim told me the mob would kill them and that we should rescue them. I gathered a few people from my village and left for the spot on motorbikes wearing helmets to conceal our identities. But when we saw hundreds of people beating them, we fled. The calls kept coming till 6 am, then they stopped," said Sheikh Salim, Halim's elder brother.
At 6 am, policemen at the Rajnagar station received calls from some villagers in Shobhapur about the assault. By 6.30 am, T P Kushwaha, the officer in charge, two ASIs and five constables reached Shobhapur. "We saw people beating up a youth, alleging that he was a child-lifter. For the next 45 minutes, we spoke to some members of the mob, trying to pacify them. But what can you do if the rest of them go on a rampage? There were so many people and more kept pouring in. There was so much commotion. I had never faced such a situation in my career," said Kushwaha. "Please, I beg you. Don't talk to me, I am just a small officer. I was there but I cannot talk to you. Please contact my superiors," said Sashibhusan Gope, the ASI on duty at the Rajnagar station on Monday. Gope is seen in one of the videos of the lynching with another ASI Manoj Kumar Singh. Singh is now on leave due to ill health.
At around 7.30 am, reinforcements, including a DySP, CI Rajiv Niraj and 20 policemen, arrived at the spot from the Seraikela district headquarters, 14 km away. "There has never been such an incident in Seraikela. It is easy to say things sitting in an office, but the ground reality is different. Till 11.30 am, we thought there was only one victim, we did not know there were others. There was a huge crowd and some people were instigating the mob. When we first received information about the incident, we thought it was a local fight. Later, we found out it was a different case," said Rakesh Bansal, SP, Seraikela.
According to eyewitnesses and family members of the victims, Sajju, Siraj and Halim managed to flee the spot and take refuge in Padnamsai village nearby. But in Shobhapur, the policemen looked on as the mob beat Naim with rods and lathis. For over three hours, Naim, who was soaked in blood, begged for mercy until he collapsed.
At around 11 am, police dragged a critically injured and unconscious Naim to Seraikela hospital, where he died within minutes.
At around 1 pm, police picked up the bodies of Sajju and Siraj from the main road at Padnamsai. They had been tracked down by the mob, beaten, their bones broken, and their bodies set ablaze. The victims' family members claimed they had informed police officers about the location. "But they ignored our calls. The policemen didn't even go to Padnamsai until late in the afternoon to collect the bodies," said a family member.  "There was a lot of commotion. Groups of villagers were running here and there. It was difficult to ascertain what was happening," said SP Bansal. Halim's body was recovered the next day, from near Padnamsai. Syed Zabiullah, the mukhiya of Haldipokhar, said he repeatedly tried to contact the DySP of Seraikela on May 18 but was ignored.
"At around 8 am, the family members alerted me about the attack. I called officers at Rajnagar station who were at the spot. They said the situation was bad and that they were busy. Then, I got the phone number of the DySP and kept calling him. I gave him the location of the three youths who had fled the spot. But my message was ignored. I called him again and again but he cut the phone," said Zabiullah.
The mob, meanwhile, vandalised two houses in Shobhapur, including that of Halim's relative Murtaza. "They ransacked my house, and pushed and shoved the women in my family. They caught Naim while he tried to flee and broke his legs. Then, they dragged him to the main road, beating him all the while. I watched helplessly. Police were present, too," said Murtaza. On Monday, the charred frame of the car in which the victims had travelled to Murtaza's house lay nearby.
Anta Tudu, the mukhiya of Shobhapur, said, "We rushed out of our homes on hearing that the child-lifters had been caught. Police arrived in time and spoke to the villagers for a while, but there was no action on their part. It is sad that such an incident happened. The rumours had put many of us on the edge. Like in other villages nearby, people here were on guard at night. Had the police been serious, the matter could have been controlled. They could have done a lathi-charge or something, instead of standing there."
On May 18, hours after the lynching in Shobhapur and Padnamsai, a similar sequence played out in the Bagbera area, 25 km away. Again, videos show that the victims — Gautam Verma (27), his brother Vikas Verma (25) and their friend Gangesh Gupta — were lynched as police watched. One of the victims even took refuge inside a police jeep to escape the mob but was dragged out and killed. On Monday, Jharkhand Home Secretary S K G Rahate announced the suspension of Kushwaha and Amish Hussain, the inspector in charge of Bagbera police station.http://indianexpress.com/article/india/jharkhand-lynching-2-officers-30-policemen-watched-the-4-murders-4669030/