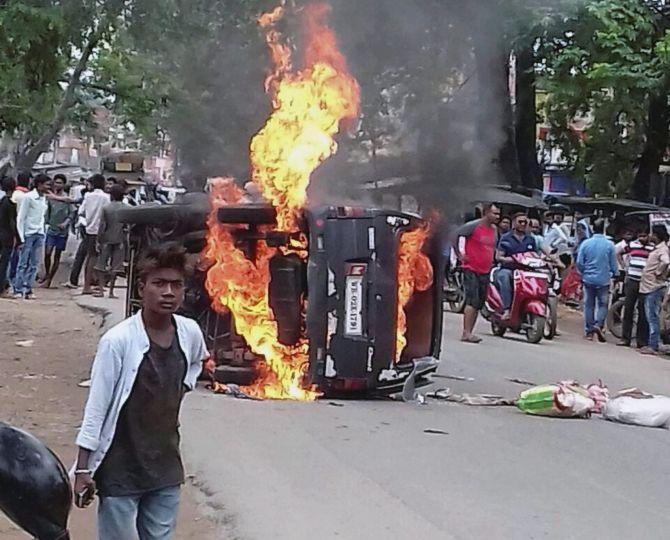 A local Bharatiya Janata Party leader was among two persons arrested while another person surrendered in court in connection with the lynching of a meat trader in Ramgarh district recently, police said.
Nityanand Mahato, the local BJP leader, and Santosh Singh were arrested in the case. Another accused Chhotu Rana surrendered in Ramgarh court, Superintendent of Police Kishore Kaushal said on Sunday.
Police has also taken a man into custody for interrogation.
A 40-year-old meat trader, a resident of village Manua in Hazaribagh district, was beaten to death by a mob on Thursday on suspicion that he was carrying beef in his vehicle.
The mob also set the vehicle on fire. The incident took place at Bazaartand locality of Ramgarh town.
The district administration had deployed additional security forces and imposed prohibitory orders under section 144 of Code of Criminal Procedure in view of the tension on Friday last. Though the situation in Ramgarh limped back to normal, security forces are still present all 33 sensitive joints of the district.
The incident in Ramgarh took place just a couple of days after a mob attacked and injured a man in Giridih district on suspicion that he had slaughtered a cow.
IMAGE: Members of a community torch a vehicle during a protest against lynching of a meat trader in Ramgarh district of Jharkhand. Photograph: PTI Photo
http://www.rediff.com/news/report/jharkhand-meat-trader-lynching-bjp-leader-arrested/20170702.htm?sc_cid=fbshare