Headman 'sanctions' retaliatory rape of Dalit girl, a village watches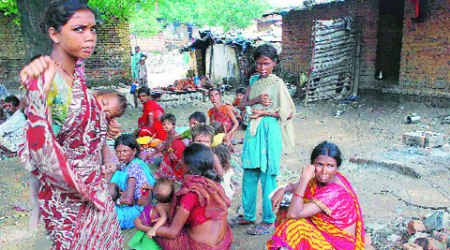 Nobody dared intervene, say villagers.
SUMMARY
Nakabandi went up to the mukhiya and demanded that he be allowed to rape the girl.
It is  a rape that no one denies. The parents and neighbours of the 14-year-old Dalit girl raped in this hamlet on July 7 evening say their caste headman sanctioned the act and that everyone watched as she was dragged away. Accused and fellow Dalit Nakabandi Pasi's wife agrees, justifying it as a revenge rape as the girl's brother had allegedly tried to molest her.
The father of the girl and a neighbour add that Nakabandi met the caste headman Ghosal, also his father-in-law, and demanded that he be allowed to perpetrate "retaliatory rape". While agreeing to the rape, Nakabandi's wife denies her father had any knowledge of it.
"The girl's brother came into my house at 12 in the  night on July 6 and tried to rape me. He forcefully tried to disrobe me and had a knife with him," she said, adding that Nakabandi was sleeping outside at the time. "The brother ran away when I started screaming. I told my husband what he had done. The next day, when the girl was walking towards the village after collecting water, my husband caught hold of her, took her into the forest and raped her," she said.
Ghosal's wife Asha Devi also claims her husband was not in the hamlet on July 7 and had gone to attend a wedding in adjoining Phusro town. Nakabandi, Ghosal and the girl's brother have since been arrested and sent to judicial custody.
While there is some disagreement over Ghosal's presence at the time of the rape, most of the girl's neighbours back her family's version. They say Ghosal was sitting under a tamarind tree that stands between where the girl's house is and where Nakabandi lives when Nakabandi approached him. "It was evening, so a lot of people were gathered around the tree.
Nakabandi went up to the mukhiya and demanded that he be allowed to rape the girl. The mukhiya gave him permission," said Sulochana Devi, as the mukhiya's supporters tried to shout her down.
"The whole village saw the girl being dragged to the spot, about half a kilometre from Nakabandi's house. Nobody — including me — dared intervene as the mukhiya is a dangerous man," said Sulochana. The girl's mother reportedly wailed and pleaded with those under the tree as the girl was taken away. Afflicted with tuberculosis, she was unable to talk, but her husband did.
The rape victim's father, who scavenges coal for a living, says he was in the coal field when, at about 4.30 pm, he heard what was happening. "My wife told me she was at home with my daughter when Nakabandi and his wife got there," he said. "The wife caught hold of my daughter's hair, dragged her, handed her to her husband and told him to seek revenge as my son had taken her honour."
The rape victim is the fourth of his five children. An hour after she was taken away, at around 5 pm, her parents found her in the woods. They walked an-hour-and-a-half to reach the Gomia police station.
Shiwani Singh, the attending doctor at the Tenughat Sub-Division Hospital where the girl is admitted, said: "She was bleeding and in pain. We discharged her after first aid. She had to be readmitted on Wednesday night after the bleeding began again. She has been struggling to walk."
The girl could be discharged on Saturday. Dalit Pasis make up the entire population of this hamlet of 100 houses in Bokaro district's Gomila block. Most of them do odd jobs, including travelling with monkeys that perform tricks.
Meanwhile, in the presence of The Indian Express, a young man claiming to represent local Congress MLA Madhav Lal Singh visited Nakabandi's family with a gift of assorted vegetables.
Read more here – http://indianexpress.com/article/india/india-others/headman-sanctions-rape-of-dalit-girl-a-village-watches/99/