Dalit leader Mevani has been raising farmers' issues and exposing the "fake" Gujarat model of BJP.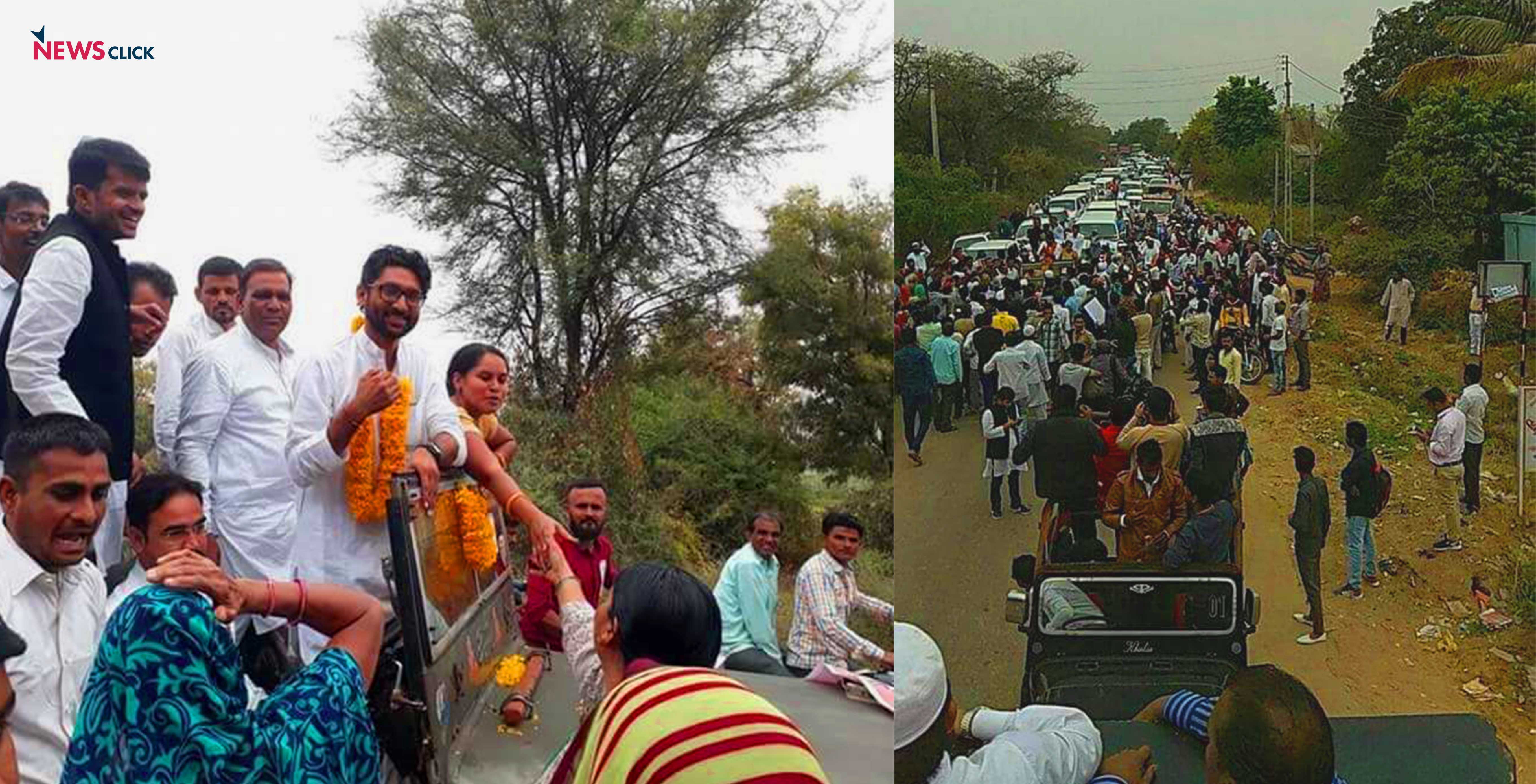 On 05 December, Dalit leader and Assembly elections candidate from Vagdam constituency Jignesh Mevani, was attacked allegedly by BJP supporters during his campaign at Patosan and Takkarwada villages. So far four such attacks on Mevani have been reported after he filed his nomination for the Scheduled Caste reserved constituency.
In the latest attack, in which Mevani had escaped unhurt narrowly, alleged BJP supporters damaged two cars being used in his campaign. In Vagdam of Banaskantha district, the contest is mainly between Mevani and Vijay Chakravarthi, BJP's candidate. Congress did not field their candidate as part of the electoral alliance with Mevani's Rashtriya Dalit Adhikar Manch. Reportedly, BJP members had also disrupted Mevani's procession in Tarakwara on the same day.
In his campaign, Mevani has been highlighting the farmer's distress in Gujarat and the problems facing by the farmers in Vagdam in particular.
Responding to the attack, Mevani said that he had "taken a direct fight by raising the issue of BJP's anti-people policies in Gujarat." He added that in his Vagdam campaign, he has been exposing the BJP's fake development model.
"That is why, instead of going to public and talking on issues, BJP is attacking me everywhere. But, the people of Vadgam have given me a lot of support. I will continue to work hard on public issues, and will keep on challenging these acts of BJP," he said.
Jignesh Mevani, 36, a lawyer by profession, has emerged as a leader of Dalit Movement in Gujarat. He is the convener of Rashtriya Dalit Adhikar Manch and Una Dalit Atyachar Ladhai Samiti. In recent times, Mevani has gained popularity among Dalit communities and Youth when he hit the streets of Gujarat raising questions about the policies of BJP government. His organization has been demanding distribution of land among landless Dalits and Tribals, a neglected policy by the BJP government in the state while fighting for the same in the state's high court.
This is not the first time that the BJP members are accused of such attacks on opposition leaders. In August, Congress vice-president Rahul Gandhi's car was allegedly attacked by BJP cadre in Banaskantha district. In the incident, stones were pelted on Mr. Gandhi's car which broke the windowpanes. Rahul Gandhi, who escaped unhurt was then in a tour meeting flood-affected families after 61 deaths were reported due to floods in Banaskantha district alone.
https://newsclick.in/jignesh-mevani-attacked-alleged-bjp-supporters-fourth-time