Jignesh Mevani said,"This is a serious matter. Two top police people are indicating that I can be killed in an encounter. I am going to file a complaint to the DGP, the home minister and home secretary."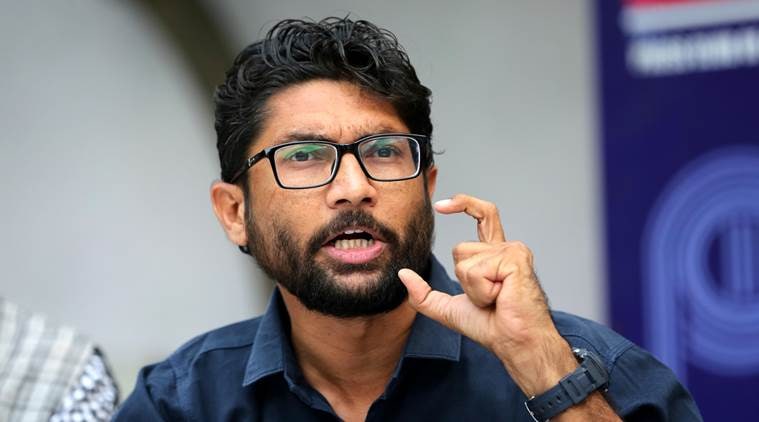 I
In the video, Mevani is seen saying "tara baap ni jagi chey," (Is it your fathers property) and 'Lakhota' to the plain clothed policemen who are trying to detain him. (Source: Express photo by Renuka Puri/File)Vadgam MLA and Dalit activist J
My life is under threat" — this is what Gujarat's Vadgam Member of Legislative Assembly and Dalit activist Jignesh Mevani has expressed after a conversation on a WhatsApp group called 'ADR Police and Media' went viral. Group members constitute many senior police officers from Gujarat and professionals from media. After posting on the ADR group, the two videos are doing rounds on the internet. In the first video, a man looking like a politician was seen being thrashed by the police and in the other video, Uttar Pradesh Chief Minister Yogi Adityanath can be clearly seen justifying his government's stand on recent police encounters in the state.
Ahmedabad's Rural DSP RB Devdha, who is also a member of the ADR Police and Media Whatsapp group has sent a message which said, "Those who call the police as lakhota and want to be the baap of the police and those who take videos of police should remember that the police will be like this with people like you. We will settle scores. Gujarat Police." But the DSP Devdha, while talking to a national daily, Indian Express, has denied the charge of wrongdoing and said the message has been misinterpreted because he had only copied and pasted a forwarded message.
This message is followed by a thumbs up emoji by the SP of Ahmedabad rural. "I just copy pasted the messages that were forwarded in another group. It has been wrongly interpreted. It was not a personal message and neither is it a threat. It was just shared from one group to the other," said RB Devdha, DySP of Ahmedabad rural.
Jignesh mevani's encounter?
Here is the link of gujarati web portal which exposes a WhatsApp communication where two top cops are discussing how I could be killed in an encounter. Can you believe this ?https://t.co/qdS8e4iHCe

— Jignesh Mevani (@jigneshmevani80) February 23, 2018
Reacting to viral whatsapp conversation Jignesh Mevani tweeted, "Jignesh Mevani's encounter? Here is the link to a web portal which exposes a Whatsapp communication where two top cops are discussing how I could be killed in an encounter. Can you believe this?" .
In a telephonic conversation with an The Indian Express reporter, Mevani said,"This is a serious matter. Two top police people are indicating that I can be killed in an encounter. I am going to file a complaint to the DGP, the home minister and home secretary."
On February 18, a video went viral in which Mevani is seen arguing with the police as he was detained just before he was to start Ahmedabad bandh. The bandh was called in protest of the death of Dalit activist Bhanu Vankar. In the video, Mevani is seen saying "tara baap ni jagichey," (Is it your fathers property) and 'Lakhota' to the plain clothed policemen who are trying to detain him.