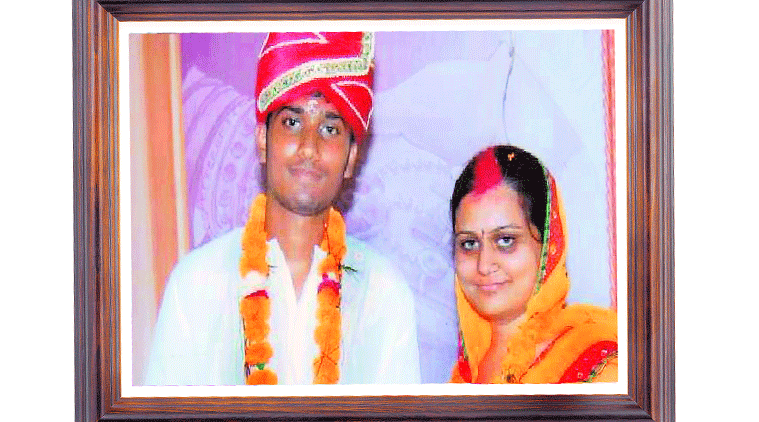 Joseph Pawar and Ayushi Wani
Written by 
Milind Ghatwai
 | Posted: October 12, 2014 12:30 am | Updated: October 12, 2014 8:13 am
Joseph Pawar and Ayushi Wani's 'marriage' was 'invalidated' after 5 days in this MP town with rising Hindu right-wing activism. With police citing a court order, the two don't know where to go for answers, says Milind Ghatwai 
Kiya hai to poora karenge (If I've loved, I'll go the distance)," says Joseph Pawar, speaking at an undisclosed location in Indore. That's what Ayushi Wani, 35 km away at a shelter home in Ujjain, is counting on.
'Married' for five days, the 22-year-old Christian youth and the 19-year-old Hindu girl were separated forcibly on October 1 and their wedding declared "invalid" after Hindu right-wing activists took to the streets protesting against the alliance. Ayushi refused to go back to her parents while Joseph was taken away and warned not to return to his hometown Jobat. Ten days later, they fail to understand why it turned out like this.
It was four years ago that the affair began, when Ayushi and Joseph were together at a coaching institute in Jobat. The two went to great lengths to hide it from their families. More than the fact that they belong to different religions, they worried about the reaction of others. Jobat is largely a town of traders, about 200 km from the nearest big city of Indore. For its population of around 20,000, nearly 18,000 of whom are Hindus, the Thursday haat is the most exciting part of their week. Everybody knows almost everybody and social pressure can be hard to fight.
A decade ago, the region had seen the campaign of the BJP and other Hindu fundamentalist organisations against alleged conversion of tribals to Christianity by missionaries using money and other enticements.
Ayushi and Joseph had heard about the tension in the town at the time. So, they hardly met outside the coaching institute, staying in touch over the phone.
Often, the difference between their families would come up for discussion — his being poor and simple, hers aggressive because of their relative wealth.
Around a year ago, they started talking of taking the next step. Ayushi was entering the final year of her B.Sc. at a Jobat college, while Joseph had begun a General Nursing Midwifery course at Indore's Index Nursing College.
By then, their families had discovered their relationship. While Joseph's sisters got around to accepting Ayushi, her family said a straight no. They also started pressuring her to marry a person they had identified.
On September 25, the two slipped out of their respective colleges and ran away to Bhopal, where they got married at an Arya Samaj temple.
The same day, after Ayushi didn't return from college, her family lodged a case of kidnapping against Joseph. Soon, members of the RSS and Hindu Jagaran Manch started protests, threatening to launch an indefinite bandh if the couple were not traced by October 1.
They demanded that Joseph be arrested and that force be used to get Ayushi back to her parents.
In the afternoon of October 1, Ayushi and Joseph, who had been traced to Bhopal, "surrendered" at the office of the Superintendent of Police, Alirajpur. By then, tension had spread from Jobat to this place 35 km away. With hundreds of Hindu right-wing activists gheraoing the Alirajpur SP's office, the police, under pressure, declared the marriage "invalid", arguing that Joseph was not a Hindu and the rituals at the Arya Samaj temple meant nothing.
When Ayushi refused to go back to her parents, the protesters demanded that Joseph convert to Hinduism, under the Freedom of Religion Act that mandates a one-month prior notice before conversion. Her parents were present at the SP's office; his relatives were not informed, though his sisters reached on their own after hearing about what had happened.
Ayushi was driven in a police jeep to Ujjain, and moved into a shelter home run by an NGO under a government scheme. Suspecting threat to his life, police kept Joseph in custody before escorting him to Indore to a relative's place in the wee hours of the following day, accompanied by his two sisters. Joseph was told not to return to Jobat.
Alirajpur became a district only in 2008 and has only two Assembly seats, Alirajpur and Jobat, both represented by BJP MLAs. The municipal bodies and cooperative societies in Jobat are all controlled by the BJP.
The town has less than 1,000 Christians and only slightly more Muslims. Among the Hindus, the dominating communities are Wanis and Rathods. The Wanis are mostly traders or advocates.
Amkut, a village in Alirajpur, last saw violence in 2004 after a minor girl's body was found on the premises of the CNI Church. Jobat MLA Madho Singh Dawar claims there have been sporadic incidents since then.
Joseph's house is located right behind the church, which is now under police protection.
He is the only son and the youngest of four siblings. Their father Sunny Jacob passed away last December, while their mother, who is paralysed, moved out of town following the protests. Joseph and his sisters had a difficult childhood as Jacob, partially disabled, struggled to make ends meet from the earnings from his flour mill.
"Our father was a simple man. He never ventured out because of his disability," says Savita Singh, Joseph's sister.
All the three sisters work as nurses, and helped fund Joseph's education. They had been planning to send Joseph to London to join his eldest sister's husband, who is also in the same profession.
While Savita works as a nurse at a government hospital in Jobat, her husband Nigam Raymond owns a poultry farm and some agricultural land. He had sought a Congress ticket in the Assembly elections of 2013 and later tried to fight as an Independent.
Less than a kilometre away lives Ayushi's family, among the more affluent families of Jobat. Her father Rajkumar Wani runs two adjacent cloth showrooms from the ground floor of his house. Ayushi, who has done her entire education in Jobat, has two younger sisters.
Joseph's sisters say they are surprised at the courage he has shown under pressure. Overweight as a child, he faced constant teasing.
The name he was given then, 'Dumdum', stuck on into youth, while on his Facebook page, he appears as a lanky youth with many posts on facing separation and opposition in love. The only departures are a photograph of a suicide note with a girl's slit wrist next to it, and Amitabh Bachchan aiming a pistol into the camera with 'DON' written underneath.
Since October 1, his Facebook page has been drawing only insults. "Jobat ke Hindu uska intzaar kar rahe hein. Yuva Sena pooch rahi laal top kha bhag gaya (The Hindus of Jobat are waiting for him. The Yuva Sena is asking whether he fled after the protest)," wrote Ashish Rathod in separate messages.
When Joseph posted a video and photograph of his wedding ceremony, he was swamped by threats. "I deleted the post," Joseph says. Ironically, he smiles, he had very few friends and most of them were Hindus.
Seeing him face such anger, Savita says: "Joseph is so timid that even the idea of an electric current makes him fearful. I don't know how and where his affair began."
Talking about the day they were brought back to Jobat and separated, Joseph says: "The protesters kept talking only about religion and caste."
Adding that his love gives him strength, he says: "They pelted stones at my house in Jobat and threatened to burn the church. My sisters received threats to their lives. But I am not going to budge. I want to be with Ayushi."
Pointing out that police did not even call them to Alirajpur after the couple "surrendered", Savita says: "In what capacity were the RSS, Bajrang Dal and BJP members intervening?"
Savita tried to make the same argument at the SP's office, reasoning with the protesters that Christians had not taken to the streets when there were cases of Christian women marrying Hindu men. She says a "leader" told her: "That's your problem. You should have protested. Then this (Joseph's marriage) would not have happened."
That was the first time the sisters actually met Ayushi, though they had seen her fleetingly around town. Savita was impressed. "My brother may waiver, but Ayushi won't. She is such a bold girl," says Savita.
However, while Joseph's sisters have accepted Ayushi, her family shows no signs of relenting. Her distraught father Rajkumar says he wants her to marry within the community. "We will wait for her to return to her senses. She even refused to recognise me at the SP office. Let her spend a few days away and she will realise her mistake," says the father, adding that Ayushi's mother is inconsolable and her blood pressure has shot up.
Ask him why they are opposed to Joseph, and the Wanis say while they are "pure vegetarian", his family eats "mutton and fish". Adds Rajkumar,
"Had we known of her affair, we would have long nipped it in the bud."
More than the Wanis, though, it is Hindu right-wing activists who are in the forefront of the protests, insisting on talking on behalf of the family.
"Christians are bad people," says Shailesh Wani, a right-wing activist who claims to be Ayushi's cousin. "They roam around doing nothing. Joseph does not earn anything. If his sisters stop giving him pocket money, how will he and Ayushi survive?"
Vani also demands action against the Arya Samaj. "Shouldn't they be banned for conducting such marriages despite the court judgment?" he asks.
Other activists allege that unions like the one between Joseph and Ayushi are a conspiracy to increase the Christian population. While Ayushi is an adult now, she was "brainwashed" when she was 15 or 16, they allege.
Jobat MLA Madho Singh Dawar backs the charges, accusing Christians of luring away Hindu girls. "Inka kaam hi hai (that's what they do)," he says. When asked about relationships between Hindu boys and Christian girls, he says, "The boys don't marry, but just 'keep' the girls."
It is statements such as these that worry CNI pastor Emmanuel Ariel. "The right-wing groups feel emboldened now, thinking they won't be harmed either by the state or Centre. The Congress used to comment on such matters before but after losing elections, they have stopped raising their voice. There's no one to keep such groups in check."
The pastor, who sought police protection, says the activists threatened to harm the church. Wary of the fallout on the larger community, the church didn't get involved, he says. "Even we are against inter-religious marriages because they create friction. But Hindu right-wing activists should have protested before Joseph's house and not before the church. We did not want to get involved because it concerns an individual, not the community."
The spokesperson of the Catholic Bishops' Conference, Madhya Pradesh, Fr Johny P J, however, asks how the police can declare a marriage between two adults invalid. Even the Church conducts such marriages without asking for caste certificates, he says. "The only condition is that children born out of wedlock are raised in the Christian faith."
Retired district judge Renu Sharma backs this, saying only courts can declare a marriage valid or invalid. "Police may have segregated the couple to restore law and order, but the girl, who is a major, was free to go anywhere. There was no offence even if the marriage was declared invalid," she notes.
Even if the high court has issued a guideline for marriages at Arya Samaj temples, and the procedure was not followed in this case, only courts can take a call on the matter, not police, she adds.
Joseph's family is thinking about moving the Madhya Pradesh High Court to seek Ayushi's custody. Joseph claims that after the marriage at the Arya Samaj temple, they had also gone to the Bhopal Municipal Corporation to get it registered, suggesting it made it legal.
He won't talk about whether he would convert to Hinduism, as demanded by the Hindu right-wing.
Ayushi says he doesn't need to, just so to please others. "What right do they have to interfere?" she adds, talking about the protesters, some of whom even threw stones as she was being taken away from the SP's office in a police jeep.
Sharing space at the shelter home with two minors whose partners are in jail on "kidnapping" charges, Ayushi says: "Some of them used to tease me by dropping hints about our affair. I knew something would go wrong, but did not imagine things would come to such a pass."
When she refused to return to her parents, her relatives and the activists told her Joseph could never provide for her, and that he lived on Rs 2,000 given to him by his sisters. Ayushi says money does not matter to her and that she would rather live with Joseph than go back to her parents who, according to her, want her to marry someone else. "They would have confined me to the house and never allowed me to step out again."
Smiling and crying in equal measure, Ayushi points out that she has neither the clothes nor the jewellery of a new bride. But she is resolute that she took the right step. Had she kept mum before the police or gone back to her parents, she fears what the protesters would have done to Joseph. "They wanted me to implicate him… They want Joseph behind bars," she says.
Both Ayushi and Joseph worry about the future, and how they would find a way back together from where they are now. "I never thought something like this would happen to me," says Joseph.
Ayushi stresses she is ready to "do anything to go back to him". And, if that is what it takes, "I am ready to practise both religions."
THE LAWS
Freedom of Religion Act
An amended form of the previous anti-conversion legislation. The new law, brought in the state by the BJP after it came to power, requires those seeking to convert and the priest presiding over the conversion to notify a district magistrate a month in advance. The police station concerned then has to find out if force was used or money offered for conversion, on the basis of which the district magistrate would allow conversion.
Arya Samaj order
In May 2013, the Madhya Pradesh High Court issued guidelines for the Arya Samaj management to follow before allowing weddings on their premises. Arguing that marriages without parents' consent were creating social problems, the court said the management should take written applications from a would-be bride and groom, before fixing the wedding date for a week later. The management should then inform the parents, through registered intimation, the date and venue of the proposed ceremony, and five relatives each from both sides should be present for it. The court also ordered that the police station and collector of the district where the groom and bride live should also be notified.
Special Marriage Act
A Central legislation, it allows couples to marry irrespective of the religion they belong to. Under it, marriage is a contract. Once the couple apply, a notice, inviting objections within a month, is displayed at the office of the collector concerned.
– See more at: http://indianexpress.com/article/india/india-others/jobat-a-hate-story/#sthash.sYdTzyiu.IFGdXxBS.dpuf