CJ Chandrachud urges judges to interpret laws wisely as "many have been laid ages ago"; CJI talks of "crisis of credibility".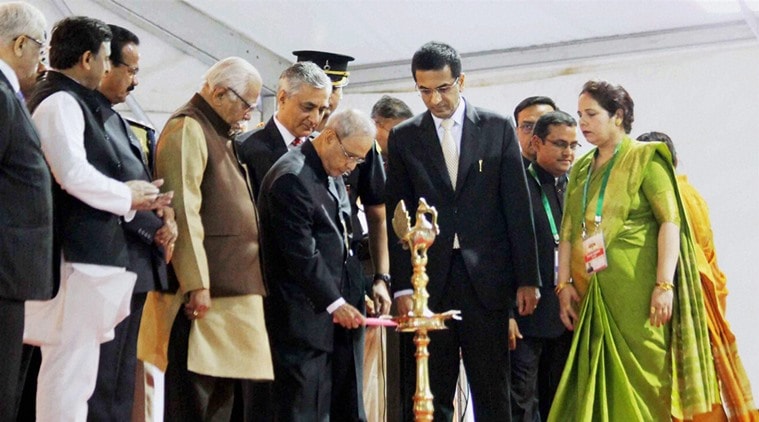 President Pranab Mukherjee, CJI TS Thakur, Minister of Law and Justice DV Sadananda Gowda, UP Governor Ram Naik, UP Chief Minister Akhilesh Yadav and Chief Justice of High Court Allahabad Justice D Y Chandrachud at the inauguration of "150th anniversary" Sesquicentennial Celebrations program of Allahabad High Court in Allahabad on Sunday. (Source: PTI)Chief Justice of Allahabad High Court D Y Chandrachud on Sunday called on the judiciary to promote dialogue and protect dissent because both are essential for democracy to function.
According to a PTI report, Justice Chandrachud, while delivering the welcome speech in the presence of President Pranab Mukherjee and Chief Justice of India T S Thakur at a function to mark the 150th anniversary of the High Court, also said that judges should use their powers wisely, considering that many laws were laid down ages ago to deal with challenges of that time.
Justice Chandrachud quoted from Nobel Laureate Amartya Sen's book The Idea of Justice to differentiate between law and justice, PTI reported.
"Judges, in the administration of justice, ought to make wise use of judicial powers. They need to discharge their duties in a manner that promotes dialogue and protects dissent. This is because dialogue and dissent are essential for any democracy to survive and function," Justice Chandrachud was quoted as saying by PTI.
"Law tends to follow precedents. But it must be kept in mind that administration of justice also necessarily involves interpretation of laws, that may have been laid down ages ago, in accordance with contemporary needs and challenges," he said, according to PTI.
Justice Chandrachud's comments assume significance against the backdrop of the sedition law of 1870, under Section 124(A), that has been applied against JNU student leader Kanhaiya Kumar, and the debate over Section 377 of 1860 that deals with criminalising homosexuality.
Justice Chandrachud said Amartya Sen had "eloquently stated that law is not all about 'niti', which is the Sanskrit word for rules", PTI reported. "It is also about 'nyay', which entails enforcement of law in a manner that is just. The principles of dialogue and justice are a yardstick against which the justness of enforcement of a law could be gauged," the PTI report quoted him as saying.
Speaking on the occasion, Chief Justice of India Justice T S Thakur expressed concern over the large number of cases pending for disposal in different courts across the country. He warned that the judiciary, as an institution, may face a crisis of credibility if the pendency of cases is not reduced.
Justice Thakur also urged judges to be conscientious in performing their duties and ensure that cases are disposed of with commitment and dedication.
Stating that benches often do not get desired cooperation from the bar, Justice Thakur urged bar members to contribute in disposal of pending cases in the next one year. He proposed that if bar members agreed, benches would hear cases on Saturdays, too.
Inaugurating the celebrations, President Pranab Mukherjee said the judiciary was yet to fully meet people's aspirations for "speedy and affordable" justice, with courts across the country burdened with a backlog of more than three crore cases.
Stressing on the need to maintain people's faith and confidence in the judiciary, Mukherjee said that for justice to have a meaning for the people, it must be "accessible, affordable and quick".
He added that increasing the number of courts, judges and judicial officers at all levels was the first step towards achieving the objective of timely delivery of justice.
"Justice delayed is justice denied….The governments, judges and lawyers must work hand in hand to make justice a living reality," said Mukherjee.
Also present at the function were Uttar Pradesh Governor Ram Naik, Chief Minister Akhilesh Yadav and Union Law Minister Sadananda Gowda.
See more at: http://indianexpress.com/article/india/india-news-india/judiciary-should-back-dialogue-protect-dissent-for-democracy-allahabad-hc-cj/#sthash.JahLNeXk.dpuf