A teenage girl was stabbed in an unprovoked attack by a white man. Her death has become a powerful symbol of American racism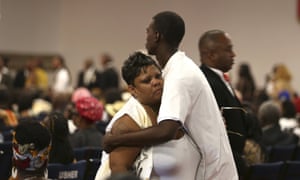 Nia Wilson wondered what would happen if she ever became a hashtag.
The 18-year-old Oakland woman loved rapping and makeup and wanted to join the army or become a paramedic. She was also passionate about police brutality and other injustices facing African Americans, and her family said she talked about how they should respond if she ever became a victim.
"She would say if something was to happen to her, don't let nobody get away with it," said her cousin Tijanae Lafleur, 19. "She would want us to fight for her."
Wilson's loved ones faced this unthinkable scenario last week when a stranger on a train platform fatally stabbed the teenager, turning #NiaWilson and her family's pain into a viral story overnight. The shocking unprovoked killing by a 27-year-old white male suspect quickly became a powerful symbol of racial violence and the abuse of black women in Trump's America.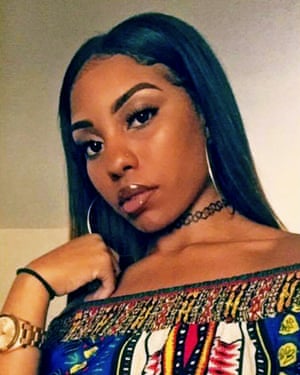 Wilson, who was honored in a packed memorial service on Friday, would have wanted more than just a protest march, said her cousin Byron Brown, recounting her recent remark that "justice is never served" when black people were killed.
She would have wanted her death to be different, he said.
'Black bodies under attack'
At 9.30pm on 22 July, Wilson was with two sisters headed back to Oakland from their aunt's Sunday barbecue when they were attacked. Police said the suspect, John Lee Cowell, rode the Bay Area Rapid Transit (Bart) train with the sisters for six stops before they exited to transfer at the MacArthur stop. There, he stabbed both Wilson and her sister, Letifah, 26, in the neck.
Letifah survived. Nia bled to death.
Their father Ansar El Muhammad rushed to the station to find his youngest daughter's body covered in a tarp: "I want justice for my daughter. Please help me," he pleaded to a local TV station, as someone wailed in agony in the background.
Wearing white bandages on her neck, Letifah told reporters the next day they had been "blindsided by a maniac" and that she had held her sister as she passed away, saying: "'I got you, baby.'"
In the morning, Oaklanders began calling the attack an act of white supremacist violence and questioning why it was taking so long for Bart police to capture the suspect – or even publish surveillance photos of his face.
By the afternoon, police publicly identified Cowell, a parolee recently released from prison for second-degree robbery, who had numerous restraining orders and drug, assault and theft arrests on his record.
At around 6.30pm, Cowell was arrested at another Bart station. He had reportedly been riding the trains back and forth.
Debate immediately erupted about whether it was a racially motivated crime. Prosecutors said there was no evidence linking Cowell to white supremacist groups. Cowell's family said he was mentally ill. But activists and Wilson's relatives said the context of anti-black racism in America could not be ignored.
"It's impossible and unreasonable for people to expect black folks to take the murder of Nia Wilson outside of white on black violence dynamic," said Cat Brooks, a longtime Oakland activist and mayoral candidate who helped organize a vigil the day after the murder. "Black bodies have been under attack by agents of white supremacy for over 400 years."
Diamond Rogers, a 19-year-old cousin of Wilson, said it was important to "call it what it is … a hate crime to black women".
Oaklanders screamed "Stop killing our kids!" and "Stop killing black people!" at the emotional march outside the MacArthur Bart station, shortly before Cowell was arrested. Amplifying their anger was the fear that Cowell might not be the only racist menace in Oakland that day.
Social media rumors had rapidly spread suggesting that members of the Proud Boys, a far-right organization classified by some as a racist hate group, were planning to gather that night in the city – two miles away from the station where Wilson was killed.
'She was our protector'
By the time she graduated high school, Wilson had overcome numerous hardships.
"Everything made Nia a stronger person," said Rogers, recounting how Wilson dealt with the death of her high school boyfriend, who drowned in 2016. Outside of his funeral, she witnessed another tragedy: a 16-year-old girl who had danced at the ceremony was shot and killed. Wilson tried to help the girl as she died, Rogers said.
There were adversities, but Wilson was ambitious and motivated, her family said. She and her cousins made music as part of a group they called Girlz N The Hood, and after her death, they released a new music video that Wilson had previously recorded.
Wilson did not think the video was ready, but Rogers, who rapped with her in it, thought the world should see it, adding, "We can't redo it."
Wilson recently wrote a verse to a new song, but Rogers said she never got to hear it. They were supposed to meet up this week to practice.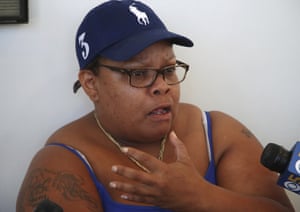 Brown, a 27-year-old cousin, also known as Young Lee, recorded Wilson at his music studio: "She took pride in everything she did. If I was saying, 'Nia, I need five songs by the end of the day,' she'll sit there all day to try to get them done."
Marrika Lopes, who taught Wilson in high school last year, recalled how she would often speak up in class and inspire others: "I feel like her energy really spread and got other young ladies willing to try."
Lafleur, a 19-year-old cousin who also performed with Wilson, described her as "the cousin I would call whenever I had a problem", adding, "She was our protector."
Lafleur, who also goes by TiTi, laughed recalling how Wilson would take hours to do her makeup, but also got emotional recounting her cousin's eagerness to be an independent adult.
"She didn't want to be mediocre," Lafleur said, noting that Wilson had a job interview lined up. "She had her whole life ahead of her."
'Not the city I grew up knowing'
Hate crimes rose sharply in California last year, with reports of more than 300 anti-black offenses, according to state data. Despite its liberal reputation, the Golden State is also home to neo-Nazi and far-right groups that have violently clashed with counter-protesters in recent years.
Tensions have been particularly high in Oakland, the historically black city near San Francisco and the birthplace of the Black Panther movement. African Americans have been rapidly displaced amid gentrification, and white residents have recently been caught on tape targeting black locals with calls to police and other kinds of harassment.
Although the Proud Boys said the rumors that they had planned a meet-up in Oakland the night of the stabbing were false, a violent fight broke out when a march for Wilson collided with a protest against the rightwing group.
Combined, the recent events added to the sense that black residents in Oakland were under attack, some said.
"Everything is like, 'Get the black people out,'" said Jerri Martin, a 44-year-old cousin, who recalled braiding Wilson's hair when she was a little girl. "We are not a threat. We are not the enemy."
Martin recalled the Black Panthers decades ago giving out free breakfasts to youth not far from the MacArthur Station: "It's not the same city I grew up knowing."
Lopes, who taught Wilson, recalled the discussions she would have with the girls in the class about their safety, sharing tips like talking on the phone while in an Uber or walking in the middle of the street at night: "These little things are second nature to young ladies, because we are aware of what is possibly out there."
But those lessons weren't much use on the Bart platform where police saidCowell carried out a random "prison-style attack".
Martin said it was difficult for the family to confront the fear some of them were now experiencing in public spaces. She said her 22-year-old daughter became terrified while on an elevator with two white men recently and FaceTimed her to feel safe.
"As a mother that really hurts," she said. "I try not to make her afraid of everybody and everything. I let her know you have to be cautious of your surrounding, because you don't know what's going on in somebody's mind."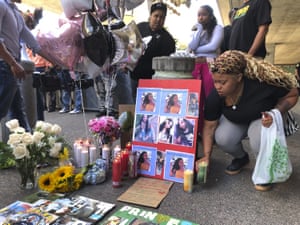 Saying goodbye
From the start, the #JusticeforNia fight was not just focused on urging law enforcement to take the death seriously. Supporters also had to battle the media.
At the noon broadcast the day after the killing, local station KTVU (Channel 2) aired a photo of Wilson holding what appeared to be a gun, but was likely just a cellphone case. The choice sparked intense backlash and a newscaster's apology, with critics citing a pattern of the media criminalizing black victims by selecting photos that make them seem dangerous.
"It's not just Channel 2," said Theo Williams, an Oakland native who organized a protest outside the station. "The history of putting up derogatory images of African Americans is a long one … Black women are so dehumanized."
Video of Cowell's arrest also sparked outrage. Two police officers appeared to calmly handcuff him while he stood up, providing a sharp contrast to local law enforcement's treatment of black people accused of more minor offenses or simply deemed suspicious, activists said.
Glenn Katon, a local civil rights attorney, called it the "Dylann Roof phenomenon", referring to the Charleston mass shooter who slaughtered nine black churchgoers and was later arrested without incident.
The family on Thursday also announced plans to sue Bart for negligence.
Jada Rogers, Wilson's 15-year-old cousin, said she wanted to see justice in the courtroom, but did not know if he would be fairly sentenced.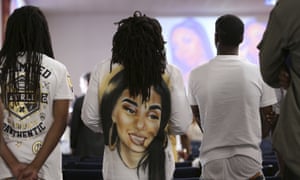 Jada said she had also been struggling to even process the reality that her cousin was gone. They talked on the phone often, sometimes daily, and Jada looked to her for advice about growing up. Wilson was supposed to teach her how to do her eyebrows.
Hundreds turned up to the memorial at an East Oakland church, where many wore white, some with jackets featuring large photos of Wilson's face and painted angel wings. The crowd, which included the US congresswoman Barbara Lee, repeatedly shouted "Say her name!" during the service.
Some in the audience broke down when Wilson's young niece took the mic, saying, "Nia, oh, how I miss you. Since you've been gone, I've been so confused … Can I just see you one more time?"
The young girl struggled to finish her remarks while saying, "Can you promise to come visit me in my dreams?"
Julia Carrie Wong contributed reporting
https://www.theguardian.com