An icon
---
 One of our finest has gone. Justice Rajinder Sachar has left us, fairly suddenly without too much notice except that delivered by age.
A mentor, a friend, a man whose doors were always open he will be sorely missed. He did not really care—unlike Delhi's famous—whether he was invited to speak or not, if he supported the cause he was there in the audience, listening attentively. For many of us he was the person we turned to when the times seemed very bleak and dark, just to hear Justice Sachar tell us that it will get better. The wisdom of experience and age gave his voice authority, and lifted spirits when little else would.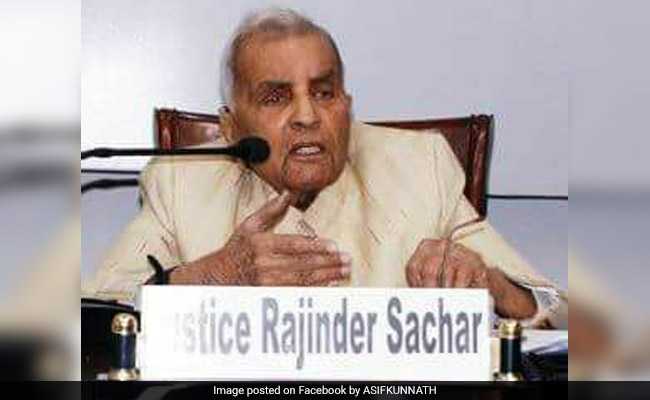 He was a Judge who set an example. That after retirement Judges did not need to go into holes, and in fact were required to play a major role in keeping India on the Constitutional track. He spoke fearlessly, boldly, did not look for favours from the establishment regardless of who was in power, and as a result rubbed all the wrong way saying when we used to laugh, "well I am with the people and thats all that matters."
That certainly did. He was popular, always in demand, very respected and admired and loved. How many people can claim that as they cross 80 years into the twilight zone of life where all this counts more than government patronage and corrupt wealth.
One does not really know where to begin, or for that matter end this tribute. Does one remember him for the Sachar report on the status of the Muslim community in India that created a storm as it was an honest and starkly revealing document; or for his stand on civil liberties for all; or for his criticism of established political parties; or for his love for the Indian Constitution that was always so visible; or for his gentle enquiries when he knew an individual was troubled; or for his willingness to walk the extra mile at any time of the day or night to help a person in need or for a cause; or for his consistency in advocating peace in South Asia; or for his fearlessness in taking on the communalists; or for his strong support for gender equality and justice.
By the end Justice Sachar was visibly frail, a little bent with age, and clearly with many off days that he made sure none of us really knew about. This would not prevent him from attending meetings, signing statements and organising fact finding reports till his last days. One never heard him complain about his health. One never heard even a note of pessimism in his voice. One never heard him talk about his ailments or his problems. He was always there for everyone else, for India and her people.
In these years one did, however, hear some pessimism in his voice. A 'what will happen to our country' tone, with worries that he would share occasionally. Excerpts from an article he wrote for The Citizen in December 2017:
"Now that Prime Minister Narendra Modi has won theGujarat elections though with a much smaller margin, will he reflect on how low he took politics when he made the wild charge that there is a conspiracy that Congress and elements in Pakistan may be working in cahoots to prevent a B.J.P. victory in Gujarat.
I am troubled as to how low the BJP could fall, all this because of a dinner at Mani Shankar Aiyars residence, where former Prime Minister Manmohan Singh and high ranking former Indian diplomats and High Commissioner of Pakistan were also present. There is a certain amount of decorum and decency which is never crossed in politics. But clearly all limits have been transgressed with this charge hitting the lowest denominator.
There is certainty a banter and a serious dig at the competency of political rivals but never false charges. The banter between Gladstone and Disraeli are classic , when the later said; "If Gladstone fell in the Thames, that would be a misfortune. But if someone fished him out again, that would be a calamity."
Previously such limits were never crossed even amongst sworn political rivals in India. It is well known that Dr.Ram Manohar Lohia after coming back from Germany, had worked in the Central Congress office with Pandit Jawaharlal Nehru who was the president of the Congress party at the time. When our Socialist party walked out of the Congress in 1946 Dr. Lohia was the bitterest opponent of Nehru. But their relations never touched such a low"
Justice Sachar's admiration for Ram Manohar Lohia spanned his life, never diminishing. But he never allowed that to come in his way of relationships with those who were perhaps, very critical of his mentor. As he said, "your view is yours, mine is mine." And would then tell us stories about the differences between Jawaharlal Nehru and Lohia that never came in the way of mutual respect.
There are not many left now who say it like you did Justice Sachar, without mincing words, or looking over your shoulder, or bothering how the chattering classes would react. You looked for no favours, no positions, no awards.
Respect Sir, Always!!!
Seema Mustafa in  http://www.thecitizen.in/index.php/en/NewsDetail/index/9/13584/Justice-Rajindar-Sachar-1923-2018-Our-Finest-Has-Gone