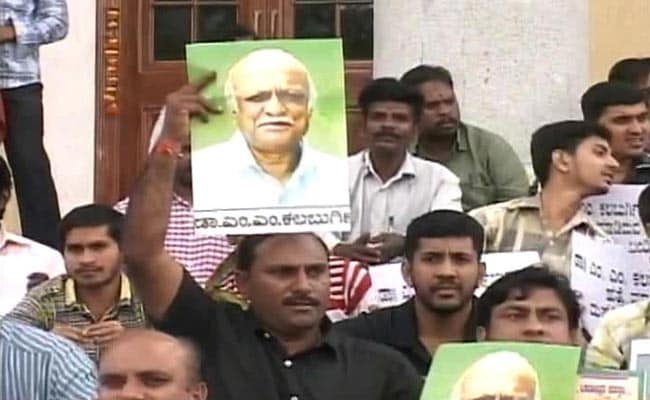 MANGALORE, KARNATAKA:  A former Sri Ram Sene activist has been arrested for reposting a threatening tweet put out after the murder of scholar MM Kalburgi.
Prasad Attavar, who recently quit the fringe group notorious for moral policing, was questioned by the Mangalore police before being taken into custody.
77-year-old Professor Kalburgi was shot dead on Sunday at his home in Karnataka's Dharwad on Sunday morning by gunmen who came on a bike.
Professor Kalburgi, a well-known rationalist, had upset many rightwing Hindu groups with his views on religion. He had received many threats to his life, allege family and friends, and he had been given armed escort, which had been withdrawn recently on his request.
After the murder, Bajrang Dal activist Bhuvit Shetty had posted a controversial tweet, which he had deleted later. Mr Shetty was arrested on Monday but released.
The Bajrang Dal, which is affiliated to a group of organisations led by the BJP's ideological mentor Rashtriya Swayamsevak Sangh, had held several protests against Professor Kalburgi.
The Sri Ram Sene came into the national spotlight in 2009, when its activists were caught on camera thrashing women at a pub and dragging them by their hair, accusing them of denigrating their culture.
http://www.ndtv.com/india-news/scholar-mm-kalburgi-murder-sri-ram-sene-activist-arrested-over-threatening-tweet-1213897
Dharwad (Karna), | 03 September, 2015
Representational image (Getty Images)
The CID has begun investigation into the murder of noted Kannada scholar and researcher M M Kalburgi, who was shot dead by unknown men at his residence here on August 30.
CID is also probing whether there was a "larger conspiracy" to eliminate rationalist and progressive thinkers.
"We are no more in possession of the case. It has been handed over to the CID yesterday. CID has begun investigation," Hubbali-Dharwad Police Commissioner Pandurang Rane said here.
The Karnataka government had decided to hand over the case to CBI, but CID will investigate into the incident till it is taken over by the central agency.
Rane said Superintendent of Police D C Rajappa, who is leading a CID team, visited Kalburgi's house and interacted with his family members to get preliminary leads to crack the case.
When contacted, Rajappa declined to throw much light on the investigation saying, "I am busy with investigation."
Rane said Maharashtra police had visited Dharwad on August 31 to exchange data and sketches of suspected murderers of anti-superstition activist Narendra Dabholkar and veteran Communist leader Govind Pansare at Kolhapur in Maharashtra.
Police sources said that Karnataka police also visited Maharashtra to collect vital clues, if any.
Both Maharashtra police and Karnataka CID team are trying to see if there is any link between Kalburgi's murder and the killings of Dabholkar and Pansare, Rane said.
"Karnataka CID team and Maharashtra police are probing whether the killings of Kalburgi, Dabholkar and Pansare are part of a larger conspiracy to eliminate rationalist and progressive thinkers," Rane said.
Read more at http://www.thestatesman.com/news/latest-headlines/kalburgi-murder-cid-begins-probe/87185.html#5l1bcJdyrzf9k4sd.99