Narendra Nayak
, President of Federation of Indian Rationalists Association (FIRA) has openly challenged the organization involved in Mid Brain Activation that he would pay Rs 5 lakh to the organization that demonstrates a child's ability to read after being blindfolded by him.
It was the winter of 1993. A sick patient was wrapped up in a dripping wet cloth. In Chhota Jagulia, a village 30 km from  Kolkata in West Bengal, a 'holy man' often known as 'Fakir Saheb' was offering miracle cures, and was quite a rage in the state. On the morning, people had gathered at the premises hoping to see a miracle cure. Fakir Saheb had begun the show, chanting and throwing hands full of dust at the patient.
In his other hand he held a small metallic stand that had a small fire burning. The dust seemed to light up on its own. Suddenly, in the middle of this performance, a group of five lads led by a man of around 45 entered the premises.
They thrust their hands in their trouser pockets in a threatening gesture, suggesting the draw of firearms. The older man grabbed the centre stage, inspected the dust and found camphor mixed in it. As he demonstrated the same fireball trick in front of the people gathered, there was chaos and soon the Fakir Saheb, Sheikh Punjab Ali, was arrested by the police.
The 45-year-old who exposed the fakir was Prabir Ghosh, now 68 and president of the Kolkata-based Science and Rationalists' Association of India. Over the years, Ghosh has had similar run-ins with miracle-men, but it's the one in Chhota Jagulia he recollects most vividly. He had the police with him as well as a BBC television crew team led by noted producer Robert Eagle.
"As we entered the temple the fakir's men pointed me out as a 'dangerous man'. Such a reputation helps," he says, stressing that carrying of firearms is mandatory for activists.
Even today Ghosh laments the death of his  activist friends  Mahesh and Sarita, who were shot dead in 2004 in a village called Shabdo, near Gaya in Bihar, on the eve of Republic Day. Ghosh had met them a week earlier and had for the umpteenth time asked them to keep firearms for self-defence.
While Sarita and Mahesh were social sector activists, Ghosh shares Sarita's ultra-leftist roots. Both had worked with the Maoist and Marxist-Leninist organisations. "I left the CPI (ML) because I realised that many of the leaders were God-fearing men," says Ghosh, who has armed himself with lethal weapons in his chosen battle against superstition.
Dealing in Deaths
A couple of years ago Ghosh could have been easily branded an extremist, especially in India where activism is often expected to have Gandhian roots. However, after the murder of three well known rationalists in a space of two years, Ghosh's strategy starts to make sense. "Why couldn't Narendra Dabholkar carry a gun," asks Ghosh. Dabholkar was the first prominent rationalist to be shot dead in Pune on August 20, 2013, at age 68.
In February this year, in Kolhapur, it was the turn of Dabholkar's mentor Govind Pansare, 83, and his wife. Pansare, a rationalist and a CPI leader, succumbed to the bullet wounds. And then, last week, further south in Karnataka, MM Kalburgi, 77, a rationalist scholar and a former vice-chancellor of Hampi University, was shot dead by two assassins on a motorcycle.
Three murders of elderly rationalists, in two years, in three towns that almost form a north-south 400-km long straight line, by assassins who seem to disappear after the crime, is alarming enough. However, there could have been more.
Shyam Manav, an old compatriot of Dabholkar based in Mumbai, says that he himself has faced at least two assassination attempts. Kolkata's Ghosh talks of nine attempts on his life. Narendra Nayak, president of the Federation of Indian Rationalist Associations based in Mangaluru, says the cable of his two-wheeler has been tampered with twice.
Sanal Edamaruku, 60, another wellknown rationalist, had to pay a price for revealing that the miracle of holy water dripping from a statue of Jesus Christ in Mumbai was due to bad plumbing and that the water itself was probably from a toilet.
Edamaruku says: "I heard that 27 cases were filed against me in various police stations using a Colonial law against blasphemy. On online forums, statements were made that if I spent even one night in jail, any amount would be paid to a fellow inmate to kill me." Edamaruku fled to Finland in 2012 and has been there ever since.
Like Edamaruku, Bangladeshi writer Taslima Nasreen has also been living in exile in India for many years for writing against the tenets of Islam. Even while in India she faced hostility in Kolkata from Islamic organisations and had to shift her base to Delhi. She told ET Magazine in an interview that if the government protects religious leaders it must also protect the people who point out bad effects of blind faith.
The year 2015 in Bangladesh has been a bad one for atheists like Nasreen. At least four atheist bloggers have been hacked to death (one more death was reported in the first week of September).
Ghosh laments that none of these bloggers thought of arming themselves.
"If you have a pistol no one will think of attacking you with a knife," he says.
While Bangladesh has suffered for the rise of an extremist brand of Islam that has altered the original secular DNA of the nation born in 1971, the battle between the atheist bloggers and fundamentalists is clearly a symptom of a nation at war with itself.
India isn't anywhere near that same path but, then, why are old men, easily in the twilight years of their lives, being silenced?
Dabholkar had been at the forefront of the antisuperstition movement in Maharashtra for at least two decades. He founded the Maharashtra Andhashraddha Nirmoolan Samiti (MANS) in 1989 and had made fighting superstition and miracle-making his life's mission. His challenge to miracle-healer Narendra Maharaj is the stuff of legends. The spiritual leader has a substantial following in the areas adjoining Pune and Dabholkar had worked to debunk all claims about miracles performed by him. He had also helped the state government draft a law against superstition that was promulgated as an ordinance the day after he was killed.
Raids on the Faith Factory Pansare was a fellow-rationalist, apart from being a trade union leader. He had actively opposed Hindu rituals in the region that supposedly lead to the birth of a son and had written books against black magic.
After the murder of Kalburgi, a Bajrang Dal activist actually tweeted a warning for another scholar KS Bhagavan. A tweet he later deleted. Bhagavan, another Karnataka-based scholar, had called for burning of some lines from the Bhagavad Gita and had challenged the Pejawar seer to an open debate on the holy book.
Roughly a year ago, Kalburgi had read out in a public function UR Ananthamurthy's autobiography where the author spoke about his own experiments at denigrating idols as a boy and seeking divine punishment. Kalburgi had suggested the audience could try similar experiments themselves.
Bhagavan, a former professor of English at Maharaja's College in Mysuru, remains unfazed. "These threats are not something new.
I had received them when I published my works on Shankaracharya, too. I welcome discussion but, unfortunately, there is no discussion," he says.
G Ramakrishna, an associate of Kalburgi, talks about an interview he had done with Pansare after Dabholkar's death, where Pansare had stressed that since all his writings were based on material and incontrovertible evidence, there was nothing to fear. While that is the way for logic or reason, miracle-makers have a different view of reality.
Ramakrishna puts it succinctly. "When you start tackling the irrational, those who stand to gain through irrational beliefs will fight against you."
One of India's holy men who has been controversial for his penchant for miracles was Sathya Sai Baba, who passed away in April 2011.
It was common for him to conjure up gold chains and other such goodies for his devotees, ostensibly out of thin air. Rationalists alleged these were cheap magic tricks.
A Anantharaman, a  spokesperson of the Sri Sathya Sai Central Trust, says these miracles were performed to attract people so he could spread his message. He says: "Sai Baba himself had explained about these materialisations when he said 'I will give you what you want so that you will want what I have come to give you'." The goal, Anantharaman claims, was to achieve transformations at a much deeper human level.
Sathya Sai Baba, whose followers have ranged from Sachin Tendulkar to the  late jazz pianist Alice Coltrane, has been a favourite for challenges by rationalists, the most famous being that by magician PC Sorcar Junior, who matched the holy man trick for trick, before being evicted. Ghosh too had once challenged the followers of Sathya Sai Baba who had claimed gold coins would be formed inside the stomach of anyone ingesting the holy ash that was distributed by the Baba. The stunt fell through after Ghosh insisted that the ash has to be scientifically examined for poison. In Kolkata, Ghosh also questioned the miracles of  Mother Teresa and the legacies of Sri Ramakrishna Paramahansa.
Emails ET Magazine sent to the Hindu Janajagruti and Sanatan Sanstha, which had taken up cudgels with Dabholkar and Kalburgi, were not responded to. The police had questioned members of the Sanatan Sanstha after the Dabholkar murder but the investigation did not make much progress.
Nigel Barrett, spokesperson for the Archdiocese of Bombay, responded to questions on the holy water controversy and Edamaruku's exile.
He stressed that the Catholic Church respects the views of rationalists who speak out against miracles. About the complaint against Edamaruku, Barrett emphasises that the church itself never filed a complaint against him. "Those individuals who did file the complaint were advised to withdraw it in the spirit of Christian reconciliation. However, they cannot be compelled to do so as it is their personal choice to accept the advice or not," he added.
Divided by God
Edamaruku's plight also calls out the lack of heft in the rationalists movements in India — especially as it has never been a single or united movement. There are various labels that they go by, sometimes as rationalists, and at other times as science activists and then humanists.
Within the movement there is a dilemma on whether to accept God or to negate religion totally. There are organisations aplenty. Ghosh himself heads three.
Most are built around a powerful personality. Shyam Manav and Narendra Dabholkar were together in their early days in this fight but parted when differences of opinion surfaced.
Many like Dabholkar have roots in the Pune-based Rashtra Seva Dal with socialist leanings. Others like Ghosh (and Pansare) also have close links with the leftists.
However, the movement seems to revolve around the activities of the 'stars' who take it upon themselves to personally confront gurus and godmen.
Federation of Indian Rationalist Associations, for instance, has close to 1,00,000 members but they are all volunteers and may not all be active, says Raksha Kumar, a journalist who is wrapping up her documentary film An Invisible Minority: Rationalists In Contemporary India. The well known local chapters include the Maharashtra Andhashraddha Nirmoolan Samiti, founded in 1989 by Dabholkar, and Kerala Yukthivadi Sangham ( Kerala Rationalist Association), formed in 1969.
Then there is the theist/atheist divide. Avinash Patil, who has taken over as the  executive president of Dabholkar's MANS, feels that rationalists should not try and negate religion itself and believes that common people need religion and one should not question their basic belief.
There is often confusion about the term rationalism itself. "Rationalism is a way of looking at things while atheism is a conclusion," says Narendra Nayak. G Ramakrishna describes it as an evaluation of things on the basis of a methodology prescribed by logic, whichever sphere it is — not just religion.
"But it's largely been understood as fighting against known superstitious beliefs," he says. Raksha Kumar, too, says the rationalist way of thought goes much beyond myth-busting and is a way of life.
People are drawn to this way of life for various reasons. Some have progressive families that encourage such thinking, while others turn to rationalism when they get disillusioned with their society's conservative practices.
Nayak says he became an atheist at age 10 and a rationalist at 18, when he decided he needed to investigate things before accepting them. But the sacrifice of a 12-year-old girl in a village in north Karnataka made the former professor of biochemistry at Manipal University quit and devote all his time to rationalism, travelling extensively and conducting demonstrations to burst the bubble of superstitious beliefs.
"For the common man, what matters is seeing his neighbourhood baba dipping his hand in boiling oil. When you show that anybody can do this, you convince people and they start thinking about these things," says Nayak, whose current target is a scam titled "mid-brain activation" the proponents of which claim to train children to be able to see through a blindfold.
However, scholars like Kalburgi or Bhagavan are again in a different league, taking the question to a more philosophical level. Though a theist, Kalburgi never hesitated to speak his mind, especially when it came to researching the history of the Lingayats, the dominant caste to which he belonged, and coming out with conclusions that drew their ire, including death threats. But being philosophical did not help Kalburgi stay alive.
A New Resistance
Kalburgi's assassination, however, may have served a purpose, with the rationalist movement seemingly getting a fresh lease of life.
For one, the draft of the proposed antisuperstition bill in Karnataka, which Kalburgi supported, has been dusted and brought out of the closet.
G Ramakrishna had chaired the committee at the National Law School of India University in Bengaluru tasked with drafting the Karnataka Prevention of Superstitious Practices Bill, 2013.
The focus, he says, was against superstitions that undermine the dignity of an individual, practices used for monetary exploitation and anything that amounts to inflicting violence on oneself or others. But those opposed to it started whipping up public sentiment against the bill, claiming women would not be allowed to wear vermilion or a mangalsutra.
Ultimately,  the bill was not even tabled in the Assembly.
However, in clear signs of a break with the past, on Monday, August 31, the seer of the Nidumamidi Mutt seminary, Veerabhadra Channamalla Swamy, demanded that the Congress government in the state introduce an anti-superstition bill in honour of Kalburgi. Bringing in wider support, on Friday, September 4, Sahitya Academy award winner for 2011  Uday Prakash decided to return the award and said this is no time to stay silent.
Avinash Patil, from Dabholkar's organisation, travelled to Dharwad earlier this week with the goal of forging deeper ties between rationalist forums across Maharashtra and Karnataka. Both Nayak who heads the Federation and Edamaruku who heads Indian Rationalist Association, are confident that the rationalist movement is gaining momentum, helped by social media.
Edamaruku says that after Kalburgi's murder, he received several mails from people asking how they could become part of the rationalist movement. But the reality is stark; as Edamaruku points out, no rationalist had been killed in India before 2013. The culture of intolerance has been nurtured in our country, almost consciously, says Ramakrishna.
"Earlier, we had been talking about rationalism mostly at the intellectual level and there was no harm if it is confined to such debates." Not any longer. Three murders in the past two years are evidence of the harm rationalists are up against.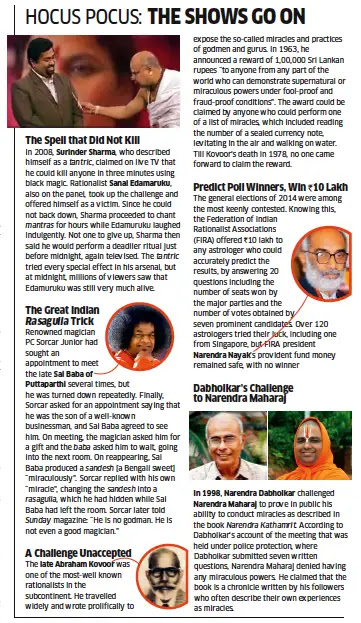 MM Kalburgi shot dead: How many deaths will it take till we …