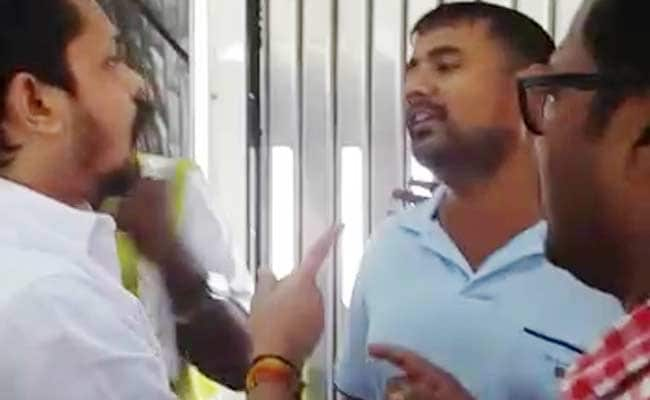 MUMBAI: 
HIGHLIGHTS
Co-passenger tried to strangle me on board Jet Airways flight, he alleged
Both Kanhaiya Kumar and the man deplaned, alleged attacker detained
Didn't try to strangle him, a publicity stunt to defame me: Manas Deka
Kanhaiya was subsequently offloaded from the plane in Mumbai by Jet Airways staff on safety ground, forcing him to take road route to Pune
A file photo of JNU student leader Kanhaiya Kumar. Photo: PTI
Mumbai: JNU student leader Kanhaiya Kumar on Sunday alleged that a co-passenger tried to "strangle" him inside an aircraft before a flight from Mumbai to Pune, a charge dismissed as "cheap publicity" by the man who was detained in connection with the incident.
"Yet again, this time inside the aircraft, a man tries to strangulate me," Kanhaiya tweeted after the alleged incident which took place when he was inside a Jet Airways aircraft at the airport here.
Kanhaiya was subsequently offloaded from the plane by the airline staff on safety ground, forcing him to take road route to Pune to attend an event there.
The Maharashtra government has ordered a probe into the matter.
Following the incident, the man, identified as Manas Jyoti Deka (33), an employee of TCS in Pune, was detained and a non-cognisable offence filed at Mumbai airport, police said.
Prima facie it appears an argument broke out between two groups over seating onboard the flight and Kanhaiya was part of one of them, a senior police official said. Sahar police is in the process of registering the complaints of both the parties, he added.
Deka dismissed the charge of attack and dubbed it as a "cheap publicity" stunt by the 29-year-old student leader. "My hand just happened to brush his neck as I was trying to balance myself on an aching leg. I do not know him personally though I have seen his pictures. This is being done for cheap publicity," Manas told reporters in Mumbai.
He said he was returning to Pune from Kolkata to report for work. Following the incident, Maharashtra minister of state (Home) Ram Shinde said Kanhaiya was trying to malign the image of the BJP-led state government. Nevertheless, the state government has ordered a detailed inquiry into the episode, he said.
"He had been provided full security by the state government till the time he boarded the aircraft. Nobody can be given security once inside the plane. I, too, do not get security while I am flying," Shinde told PTI.
"Kanhaiya Kumar was travelling with three other persons. He had been allotted a window seat and thus, while crossing over a passenger who was seated in the middle, he got into a fight with him. The other passenger did not even know this man was Kanhaiya Kumar and he, too, is alleging he was beaten up by the student leader," Shinde said.
Shinde said that he has asked Joint Commissioner of Police (Law and Order) Deven Bharti to conduct a detailed inquiry into the incident and bring out the facts. Yesterday, Kanhaiya was in Mumbai where he lashed out at the Modi government during a conclave organised by Left student outfits.
Shinde said, "Kanhaiya is indulging in theatrics to hog media limelight".
"He is only trying to defame the BJP-led state government inspite of we giving him full security. A personal fight is being used to portray that people are out to kill him," he said.
Meanwhile, CPI leader Bhalchandra Kango said in Pune that the alleged attack on the JNU student union president was a "pre-planned conspiracy by undemocratic forces to prevent Kanhaiya from coming to Pune to address a rally". Kanhaiya is associated with the student wing of CPI.
Earlier, All India Students' Federation national president Syed Waliullah Kadri said Deka's attempt to attack Kanhaiya was thwarted by his colleagues who were on the same flight.
"Kanhaiya, I and two others from JNU had boarded the flight from Mumbai. This man suddenly got up and tried to attack Kanhaiya," Kadri claimed.
Following the ruckus, the four approached Mumbai Airport authorities to file a complaint in this regard. "After the incident @jetairways staff completely refuses to take any action against the man who assaulted me," Kanhaiya alleged in another tweet.
Hitting out at the airline further, Kanhaiya also said that it sees no difference between "someone who assaults and one who is assaulted". He appeared to also suggest that the one who is attacked will be "deplaned" by the service provider "if he complains about it".
"Basically @jetairways sees no difference between someone who assaults nd d person who is assaulted. They will deplane you, if you complain," the student union leader said in another tweet.
Following the incident, Jet, in a statement, said some guests on board flight 9W618, Mumbai to Pune, were offloaded in the interest of operational safety.
"Some guests on board Jet Airways fight 9W618 from Mumbai to Pune have been off loaded at Mumbai airport in the interest of operational safety. At Jet Airways, the safety and security of our guests and crew is always of prime importance," the airline's spokesman added.http://www.livemint.com/Politics/6PvzVNNqwdSLWUyUfVc5HL/Kanhaiya-Kumar-claims-attack-by-TCS-employee-inside-aircraft.html