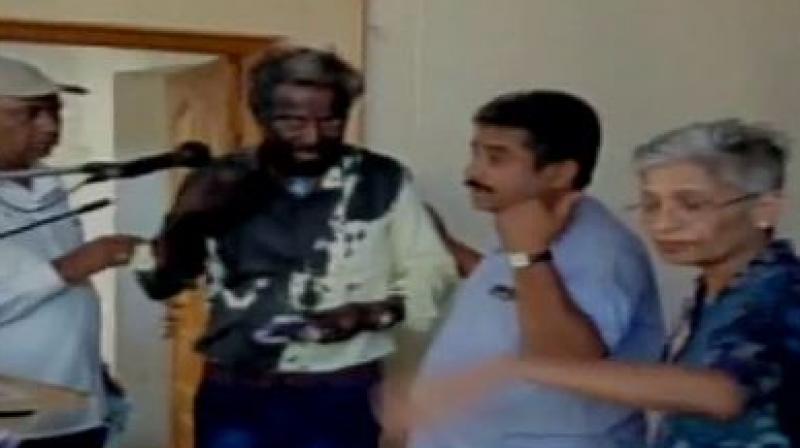 A "progressive" writer's face was smeared with black ink here, allegedly by right wing activists who also warned him of "dire" consequences if he dare write against Hindu gods, said a senior police official. Yogesh Master was attacked by eight or nine persons who smeared his face with black ink and fled, when he was having tea at a nearby stall here yesterday, Davanagere Superintendent of Police Bhimashankar Guled told PTI.
He said Yogesh, the author of controversial Kannada novel "Dundhi," was here to attend a book release function organised by Gauri 'Lankesh Patrike,' a Kannada tabloid. Journalist Gauri Lankesh runs the weekly. Yogesh was warned of dire consequences for writing against Hindu gods, Guled said, adding that the suspects shouted "Jai Sri Ram" before fleeing. Two persons have been arrested, he said.
The participants and organisers, including Gauri Lankesh, held a protest march to the police station and registered a complaint, Guled said. CPI state general secretary Siddanagouda Patil also participated in the march, he added.
The protesters alleged that the attackers were right wing activists and demanded a thorough investigation into the incident and stringent action against them, Guled said.
Guled said several police teams have been formed to probe the matter. Yogesh was arrested in August 2013 after local Hindu outfits lodged a complaint against him for allegedly hurting the Hindus' sentiments by depicting Lord Ganesha in poor light in his novel 'Dhundi
 http://indianexpress.com/article/india/progressive-writers-yogesh-master-face-smeared-with-black-ink-4567860/