ALL INDIA PEOPLE'S FORUM ( AIPF)
A LABOURER CHHOTAN INJURED BY MOB IN KASGANJ BATTLES DEATH IN ICU IN ALIGARH
INNOCENTS FROM BOTH COMMUNITIES IN JAIL WHILE RIOTERS ARE FREE
AIPF FACT-FINDING TEAM EVICTED BY POLICE FROM KASGANJ
A Fact-finding team of the AIPF comprising senior journalists and activists John Dayal and Kiran Shaheen, activist Leena Dabiru, AIPWA Secretary Kavita Krishnan, Kisan Mahasabha Vice-President Prem Singh Gehlawat (all of whom are members of the Central Campaign Team of the AIPF) as well as student activists from AISA, JNU – Vijay Kumar and Tabrez Ahmad.
The fact-finding began on 5 February but was interrupted on 6 February around noon after police waylaid the team near the Kasganj District Jail, accused it of violating Section 144, detained it in a Mahila Police Thana for about an hour and then escorted it out of the district. After this, the team also visited Aligarh and met Akram, who lost an eye in the mob attack, and Chhotan, who lies unconscious since 28 January 2018 in JN Medical College Hospital Aligarh.
The main findings of the team are summarized below. 
A LABOURER BATTLES DEATH IN ALIGARH HOSPITAL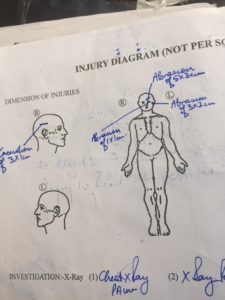 Chhotan, aged 45, left his home in Ganj Dundwara near Kasganj on the afternoon of 28 January 2018 on his cycle to earn a living by setting up a stall selling chicken. He had not been able to do so for the past two days because of the disturbance, and he urgently needed to earn to feed his family. He is the sole earning member in a household that includes his wife Shehnaz, his own small son and daughter, as well as the three children of his deceased brother. When he failed to return by nightfall, his wife alerted neighbours who set out in a jeep to search for him. They found him lying in bushes on the road side in Chittera – his assailants apparently fled thinking the jeep was the police.
Chhotan has a grievous head injury and has been unconscious since then. He is in the ICU of the JN Medical College Hospital, Aligarh. He has had to have head surgery, and was on a ventilator. He is now off the ventilator but is still in critical condition and unconscious.
An FIR has been filed in the case – but what efforts and progress have the police made to find the perpetrators of this murderous attack on Chhotan – a defenseless labourer who was not part of any procession or riot, and whose only fault that he is a poor Muslim who needed to earn a living? What has the District Administration and Government of Uttar Pradesh done to compensate Chhotan and his family, for whom survival as well as medical care has been dependent on charity since the sole earning member lies unconscious and, even if he survives, is unlikely to be fit for work for several months?
THE INCIDENT OF 26 JANUARY
All whom we spoke to – both Hindus and Muslims – told us that Muslims were hoisting the tricolour at Abdul Hamid Chowk when the 'Tiranga Yatra' by ABVP, Sankalp Foundation and VHP arrived, and insisted the Muslims hoist the saffron flag, and shouted inflammatory slogans including 'Hindi Hindu Hindustan, Katue Bhage Pakistan'. After this a scuffle ensued, and the ABVP-VHP-Sankalp-Foundation rally dispersed in disorder, many of them leaving behind their bikes which are now impounded by police and kept in the police station. The ABVP rally began with firing of shots at Prabhu Park – yet the police neither accompanied the rally nor ensured it maintained its officially-sanctioned route. Instead the rally came and attacked the Muslims' Republic Day event which had official permission but no protection!
The ABVP cadres then regrouped at Bilram Gate Chauraha, where BJP leaders including the local MLA and BJP District President were present and instigated them further. They then collected more arms and ammunition and marched and rode towards kotwali via the Gali Niaryan. On the way they shot Naushad in the thigh. They stopped at the tehsil, where Chandan is supposed to have received the bullets that killed him.
POLICE BIAS – 
DIFFERENT STROKES FOR DIFFERENT FOLKS
There were numerous instances of caste and communal bias on part of the police that the team documented. Many told us that youth were being indiscriminately arrested by the police, and the religious and caste identity of the youth determined which sections they would be booked under. 'LRs' (Loda Rajputs) and other upper caste Hindus would generally be booked under Section 151 and released on bail; OBCs and Dalits would be booked under Sections 147, 148, 149, 336, 436, 427, 34 IPC and Section 7 of the UAPA; and Muslims would, in addition to the above sections, also have Sections 307 (attempt to murder) and in some cases 302 (murder) booked against them. When there is no evidence whatsoever of any pre-planned murderous intent and organized violence on part of Muslims why are they being booked for the murder of Chandan Gupta and attempted murder of others? Akram lost an eye, Naushad got a bullet in his thigh, Chhotan survived a murderous attack – yet no one has been booked on attempt to murder charges for these attacks – why?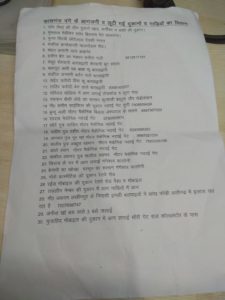 The team was given a partial list of 30 properties (shops, homes, mosques) that were subjected to arson, vandalism, and loot; there are reportedly at least 15 more. We were told that in most of these cases, the police is refusing to file FIRs. The district administration is however doing a survey of what shops have suffered damage – for the purpose of compensation. The question is, if the district administration is admitting damage by doing a survey, why is it blocking efforts to file FIRs in most of these cases?
Note that Hindus and Muslims alike told us that NOT A SINGLE HINDU SHOP OR TEMPLE was subjected to any arson or any violence whatsoever. Clearly the communal violence – against persons on the basis of their faith identity alone – was completely one-sided against Muslims. Chandan's killing – heinous as it is – has to do with his presence as a member of an armed communal political mob and not because he was a Hindu. Any reports of Muslims firing or pelting stones was in retaliation to violence by the RSS-VHP-ABVP mob, and such retaliation was not by Muslims alone: for instance, parents of both communities reportedly pelted stones at the violent and armed saffron mob to defend their children whom they had come to collect from the GGIC school.
We could not meet anyone who actually saw any Muslim armed with a gun; even those who assumed that Chandan was shot dead by Muslims in the tehsil area, did not say they had seen any Muslim with a gun, whereas they all testified to seeing the Sangh political mob armed with guns when they arrived at the tehsil area.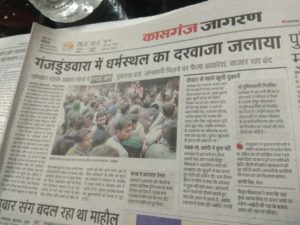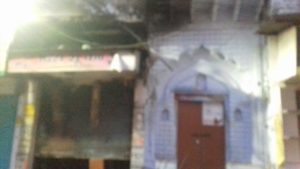 At least 3 mosques have been burned. On the morning of 5February also, a mosque at Ganj Dundwara was burnt down – the incident is reported in local papers of 6 February 2018. We were told that Hindus and Muslims together had joined hands to protect the mosque from further damage by the communal assailants. 
POLICE BIAS- AND A HEART-WARMING FRIENDSHIP
One of the most startling cases of police bias was that of two friends Khalid and Pradeep, both from Badayun. Their advocate Hasin Ahmad told us that Khalid (son of Munnan Khan) and Pradeep (son of Chaturi), both from Shahbazpur, thana Sahawasan, district Badayun, were riding through Kasganj on a scooter, going to see Khalid's grandmother at Bilram Kasba. They were stopped by the police. Khalid (FIR number 59/2018) was booked under sections 307, as well as 147, 148, 149, 336, 436, 427, 34 IPC and Section 7 of the UAPA; while Pradeep was booked under 151 CrPC only and offered to be released on bail. Pradeep, however, refused to accept the release and opted to go to jail with his friend Khalid.
INNOCENTS JAILED
The team visited the Kasganj District Jail, where the jailer and district administration refused either to let the team meet prisoners or even to speak to the team themselves. But the team met family members who were waiting outside to meet relatives who had been booked for rioting and jailed. All of them said that the jail administration was making it very hard for people to meet their relatives in jail – they would wait hours before being told that they would not be allowed to meet their relative. They all wanted the jail administration to issue passes till a given time in the morning, so that there was transparency about the norms and timings for meeting prisoners.
We met several Hindu and Muslim families whose relatives appear to have been jailed in spite of being completely innocent and uninvolved in the violence.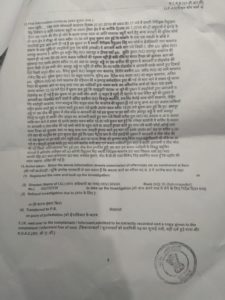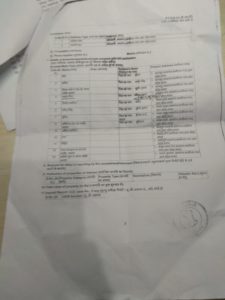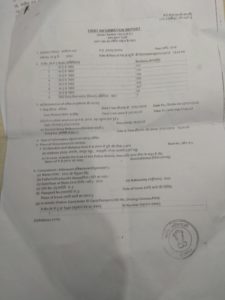 Alok Tomar told us that his brother Anuj Tomar was picked up from near his home in Canara Bank lane, Luvkush Nagar, Kasganj, in the afternoon of 27 January 2018, when he had stepped out to buy medicine for their ailing father. Anuj had spent the holiday morning of 26 January sleeping, and had been warned by friends and his boss not to venture outside because of the trouble. He had stepped out on 27 January to the medical store nearby to buy medicine which had run out, when he was told by cops stationed there that all shops were closed so he should return. As he turned back, some police cars drove up and picked him up. He was taken away without informing his family. The FIR where the SHO Ripudaman Singh is the complainant, claims that Anuj was identified and arrested on 27 January at 11.40 am where he along with a mob had indulged in arson and vandalism of a furniture shop at Amapur Adda.
Rajvir Singh Yadav told us with tears in his eyes that his son Raj is a compounder at Dr Naveen Gaur's clinic. On 27 January he and another compounder there were closing the shutters of the clinic after being warned that it would not be safe to keep it open, when the police came and arrested both. But Raj's colleague who belongs to the Loda Rajpur (LR) caste – the same caste to which the sitting BJP MP Rajbir Singh and the VHP State President Pramod Jaju belong – was booked under Section 151 and released on bail, while Raj was booked under Sections 147, 148, 149, 336, 436, 427, 34 IPC and Section 7 of the UAPA. The same FIR by SHO Ripudaman Singh claims that Raj was identified and arrested at noon at Ghantaghar where he along with a mob had been involved in arson and vandalism at a shoe shop. Rajvir Singh points out that while the FIR claims Raj was 'identified', it does not mention his father's name or full address, simply saying 'Raj, Paisoi, Soron, Kanshiram Nagar).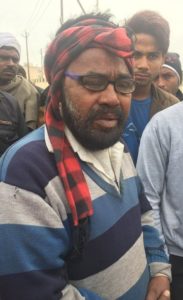 Firoz wept inconsolably as he told us that his son Imran Khan, who runs a meat shop and hotel at Bilram Gate, was picked up by police on the street. Firoz is a labourer in Gujarat, and has rushed home because of this calamity. Firoz says Imran neither participated in the flag hoisting event at Abdul Hamid Chowk nor in any violence whatsoever.
WHO RODE THE ABANDONED BIKES?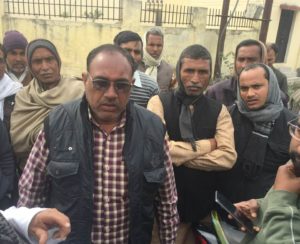 Rajvir Singh, son of Raj who is in jail, had this to say when we asked him who the real culprits were: "The ABVP-Sankalp men rode motorbikes in the 'Tiranga Yatra' and came and demanded that the Muslims hoisting the tricolour at Abdul Hamid Chowk must also hoist the saffron flag. The Muslims refused and there was a clash, in which the ABVP mob (which at that point did not have guns) was forced to beat a retreat: several of whom abandoned dozens of motorbikes (reportedly around 60) which are now at the police station. The same people later met BJP leaders and regrouped, armed themselves with guns and sticks, and rode to the tehsil where Chandan's body was found. Why has the police not yet arrested even one of the men who own those abandoned motorbikes? Those men were surely part of the violent mob who have destroyed our Kasganj and its peace, and if these men are caught they can identify their other companions also. Instead, the police is just picking up innocents."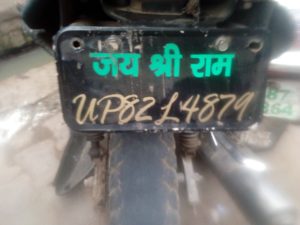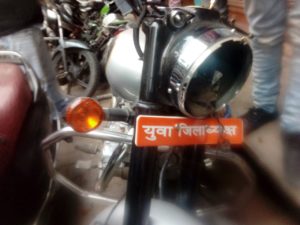 The team has photographs of number plates of around 50 of those motorbikes that are now lying at the police station. We concur with Rajvir: locating the owners of those bikes is key to identifying the real perpetrators of the trouble at Kasganj. Some photos are attached in this post.
OTHER INNOCENTS
Two young sisters Mahiru and Mehak told us that their father, 65-year-old Nasiruddin 'Chawal vale' was at his rice shop when he was picked up by the police on 28 January 2018. Their 16-year-old brother who had been having a bath, was made to dress and was also taken away on the pretext of questioning. Both have been booked under Sections 302 and 307 among others, and jailed. It appears that the 16-year-old has also been kept in the adult jail in violation of the JJ Act, since we noted at the District Jail that the enclosure for Juveniles was locked and reportedly had no occupants. Their mother has been paralysed for the past 4 months and since the arrest, has been unconscious.
One rickshaw puller Shamshad has also reportedly been falsely accused – eyewitnesses aver that if the CCTV cameras outside St Joseph's School for 26 January are checked, he can be seen dropping kids off at the school for the Republic Day celebrations.
One youth – tempo driver Mohsin – picked up from a mosque was reportedly beaten up by some prisoners in the jail. 
All the above claims demand verification and follow-up enquiries – best done by a judicial enquiry.
WHO KILLED CHANDAN GUPTA?
Many questions surround the death of Chandan Gupta.
Many told us that no blood was found at the actual spot where Chandan's body was reportedly found, near the tehsil

Eyewitnesses said that on 26 January, the ABVP-Sankalp mob rode up to the tehsil on their bikes, wielding guns and other weapons, and shouting communal slogans. They did not proceed past the tehsil.

There is a girls' school – the GGIC school – opposite the main accused Salim's house, where parents of both communities had gathered to collect their daughters. The parents of both communities, seeing the ABVP mob firing shots, had feared for their children's safety and had pelted stones at the mob, forcing it to retreat.

Salim and two of his brothers, owners of the Barki Cloth Shop are accused of Chandan Gupta murder – only Salim has yet been arrested. But many questions surround this allegation also.

Police claim that the bullets that killed Chandan were fired from Salim's balcony or rooftop – but the distance from Salim's house and the spot where Chandan's body was found makes that difficult to believe. Moreover, the manner in which the bullets reportedly entered Chandan's body also make it unlikely that the bullets were fired from a rooftop so far away.

We were told that police – in the presence of journalists – picked up and brandished something in Salim's house claiming it was a 'US made gun' that was used to shoot Chandan. Later, also in the presence of journalists, the 'gun' turned out to be a toy lighter. Two licenced guns belonging to Salim were also taken from his house, but the bullets found in Chandan reportedly may not match these guns, which are 12-bore guns. The police since then has reportedly claimed that Chandan was killed with a Desi Charra/Katta (local gun): such a gun would lack the power to shoot such a distance, and the question also is why a man who owned two licenced guns would choose to use a less powerful desi katta instead.

There are photos of Salim at the Republic Day celebration at a Ch. Mehdi Hasan School on Mulka Road. He was reportedly far away from the scene of the confrontation at the tehsil near his home. His brother Waseem, also accused, is reportedly away for the past one and a half months on a 'jamaat' (religious journey) with a group of others and was in Aurangabad, Maharashtra on 26 January.

Many alleged that Salim, Naseem and Waseem are falsely being implicated in the killing of Chandan Gupta because of business rivalry – their shop Barki Cloth Shop is very successful.

While all concerned said that Chandan must get justice and his killers must be punished, they also pointed out that Chandan has a criminal history. He was reportedly released on bail just a few weeks before his death – he was jailed on the allegation that he participated in the burning of his sister-in-law for dowry. He is known to be an ABVP-Sankalp cadre, but the claim about his having been in jail needs verification. Our team was unable to do so because police officers refused to speak to us or answer any questions and prevented us from visiting Chandan's family and neighbourhood to pursue enquiries.

AKRAM – HELPED BY HINDUS, LOST AN EYE TO SAFFRON MOBSTERS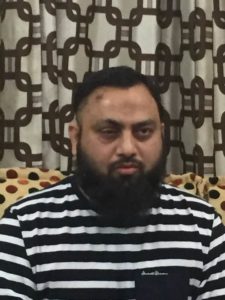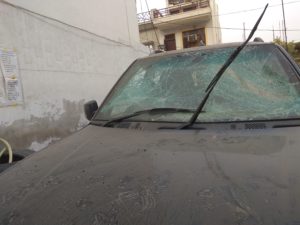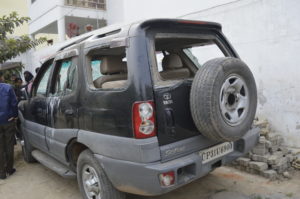 The team met Akram Siddiqui at his in-laws' home at Aligarh, where his wife delivered a baby girl after he was attacked on 26 January.
Akram told us that he was on his way from Lakhimpur Kheri to Aligarh with a young domestic worker in his car, driving down to be in time for his wife's delivery. When he entered Kasganj, he stopped at a tea shop: it was Friday and he needed to read namaaz at 6.45 pm. The tea-shop owner, clearly a Hindu because his shop displayed a big photo of Shankar, welcomed Akram into the inner room of the shop and asked him to read namaaz there as he prepared tea. Later, he told Akram that there had been some disturbance in the town. Asked about the nature of the disturbance, he said it was a 'Hindu-Muslim riot', and both men exchanged smile at the irony that Akram, a Muslim, had just read Namaaz in a devout Hindu's shop while some others indulged in motivated communal violence. Akram drove on, and near Nadri Gate he saw a police barricade and a crowd, and slowed down, assuming the police had stopped traffic. He opened the window and asked a man on the street if he was on the right road for Aligarh. Seeing his beard and clothes and realizing he was Muslim, the man (a Hindu) told him 'There are rioters ahead, turn back quickly.' So, Akram had evidence of the goodwill of conscientious and secular Hindus on the same day that he lost an eye to a politically motivated communal mob.
Before Akram could turn the car, the mob was upon him, saying they would kill him to avenge 'two Hindus' whom they said had been killed by Muslims. Akram pleaded in vain that he was just a traveler in the area, on his way for his wife's delivery. The mob beat his eye with the butt of a gun, smashing it. At some point, some members of the mob said 'Enough' and the violence stopped.
The police stationed at the barricade watched all this without lifting a finger to disperse the mob, arrest the attackers or save Akram. When Akram went to the police and said 'Please help me', one policeman said 'No help for you today.' But some senior officer then came up and directed his men to take Akram to the hospital. Akram refused to abandon his car, and so drove to the hospital himself. After receiving first aid, he drove back to Aligarh with just one eye functional – a courageous feat.
Akram said he was grateful to the almighty that he had one eye left to see his newborn daughter the next day. He said he only felt hurt at one thing, "I'm an Indian, why has not a single person from the district administration of Kasganj, Aligarh or Lakhimpur-Kheri visited me or enquired after my welfare?"
OUR DEMANDS
A judicial enquiry is urgently needed, along with judicial monitoring of the investigation. If not, it is clear that the main perpetrators are going to be let off, since most of the FIRs involving violence against minorities are unnamed.

Arrests of people the police know well to be innocent is a hindrance to justice. Such people against whom there is no credible evidence must be released and cases against them withdrawn.

The families of those injured must be compensated immediately, and perpetrators of the violence identified and arrested

The owners of the bikes abandoned at Abdul Hamid Chowk on 26 January, as well as those ABVP-Sankalp men visible brandishing weapons in video footage of the tehsil must be arrested without delay. Leaders of these organizations must be arrested and booked for masterminding the violence. BJP leaders including the MP of Kasganj who made inflammatory speeches must also be arrested and booked without delay.

A team of juvenile justice board members as well as social activists and lawyers must be allowed to meet all those jailed without delay, so that it can be verified whether any juvenile is in the adult jail; and whether any prisoner has been attacked by any other prisoner.
All the people we spoke to told us that Kasganj has been remarkably peaceful and free of communal violence – even in 1992 after the Babri Masjid demolition, there were only two instances of violence. Kasganj has one of the best nursing colleges in the region. It is very clear that the RSS and BJP chose 26 January – India's Republic Day – to assert the saffron flag as India's national flag and thus foment violence by seeking to brand Muslims as "Pakistani" for refusing to hoist the saffron flag. This is a very deliberate attack on the Republic and the Indian Constitution, and an attempt to divide Kasganj and divide India too. The team stresses that while the situation in Kasganj is still tense and the minorities still extremely fearful, there have still been many instances of Hindus protecting Muslims in Kasganj. The situation in Kasganj can be normalized only if the perpetrators from the ABVP and Sankalp are arrested, and concerted efforts made to allow Hindus and Muslims to interact with each other peacefully, healing the wounds left by the violence.
 Contact: [email protected]