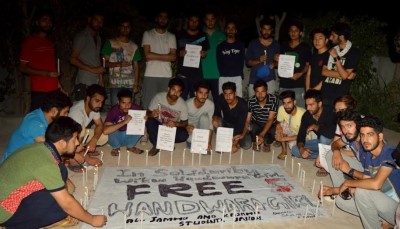 Chandigarh, May 08 (Only Kashmir): To express sympathy and solidarity with the family of the Handwara Girl, All Jammu and Kashmir Students Union (AJKSU) Sunday evening organized candle light vigil in different colleges of Punjab. The students on the occasion condemned the "continuous house confinement" of Handwara Girl an eye witness of the North Kashmir killings occurred in last month.
Apart from dozens of Kashmiri students the students from other states too participated in the vigil, AJKSU expressed deep shock over the spate of what they said "continuous detention of the girl by Jammu & Kashmir police."
The protesting students said that after the government indulged in "shameful character assassination" of the minor girl, where a video of doubtful authenticity was circulated all over the internet by the J&K Police, in order to prove that the accusations of molestation are false. "The minor girl and her father have been detained. All of this is deeply troubling."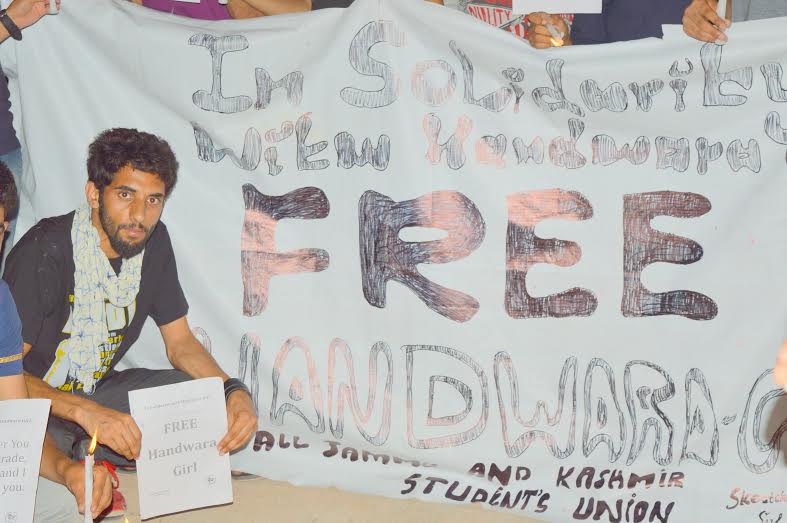 Commenting over the continuous detention of innocent girl, President AJKSU Syed Tajamul Imran said the need of the hour is to free the girl and remove all the cases in which she has been involved by the police and other agencies and stern action against the culprits should be taken involved in crime.
"Her access to her family and legal team has not only been prevented but also controlled by the state authorities. The continued detention of the minor girl and her family members violates their civil liberty and basic rights too. The continued police detention also means a threat to her physical and psychological well being," Tajamul Imran Added.
http://onlykashmir.in/kashmir-students-in-punjab-held-candlelight-vigil-in-solidarity-with-handwara-girl/