Friday, 10 April 2015 – 8:35pm IST | Place: Srinagar | Agency: PTI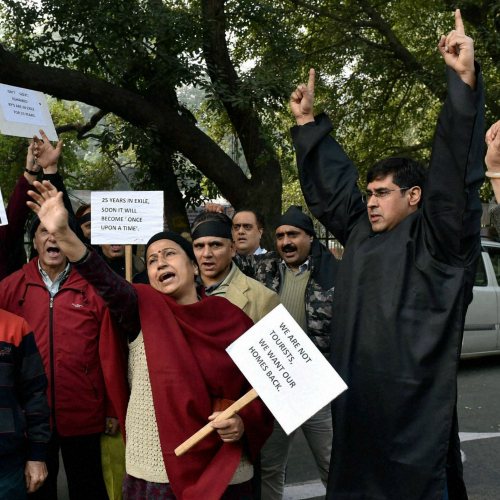 In a surprise development, a group of Kashmiri Pandits living in the Valley today joined separatist JKLF-sponsored protest against the proposed setting up of an exclusive township for the migrant minority community.
Educationists Pandit Vishin Jee, Pandit Moti Lal Bhat, social worker Kumar Jee Wanchoo, businessman Moti Lal Dhar and several women of the community joined JKLF chairman Mohammad Yasin Malik in the protest at Maisuma here after Friday prayers.
"The procession marched towards Lal Chowk chanting slogan 'Sang Sang Jiyain Gay, Sang Sang Marain Gay' (we will live together and die together)," a JKLF spokesman said.
The Kashmiri Pandits told reporters there was no need and no use of making separate colonies. "These colonies may benefit somebody's politics but can never benefit Pandits," Vishin Jee said.
He said only the majority community can ensure safety and security of minorities and making separate homeland will create more wedges between communities. "Pandits living in Muslim Mohallas face no threat which is evident by our presence here today," he added.
Malik said Kashmiri Pandits, Sikhs and people of all other faiths were a part and parcel of Kashmiri society and owners of this land just like the Muslims of the Valley. "We are not opposing their return to Valley but we are opposing the conspiracies of erecting walls of hatred in the name of separate homeland colonies and Israeli type settlements," he said.
However, the procession was broken by the personnel of law enforcing agencies at Budshah Chowk. They resorted to cane-charge and tear smoke shelling.
Later, a group of youth started pelting stones at the police and paramilitary personnel, leading to clashes which lasted nearly one hour.
Police officials said normalcy was restored in the area and no one was hurt in the clashes. Separatist groups including JKLF and Hurriyat Conference have called for protests against setting up of separate township for Kashmiri Pandits in the Valley.
Chief Minister Mufti Mohammad Sayeed has cleared in the state legislative Assembly that there were no plans of setting up separate township for the Kashmiri Pandits but steps will be taken for return of the minority community to the Valley.
 http://www.dnaindia.com/india/report-kashmiri-pandits-join-jklf-protest-against-separate-township-2076453