The students said NEET instructions did not refer to the removal of inner wear but school authorities were adamant.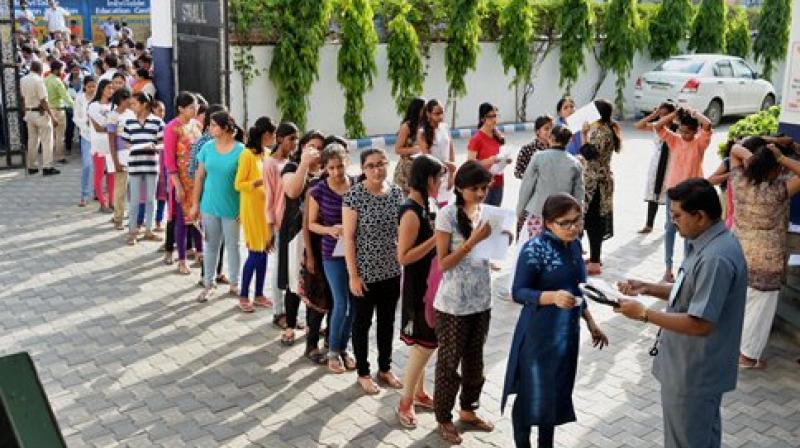 Kannur: In a shocking incident, girl students were made to remove their inner wear with metal buckles at a NEET exam centre in a remote village in Kannur on Sunday.
Speaking to Deccan Chronicle on condition of anonymity, a girl student from Kasaragod who attended the examination at the TISK English Medium School, Kunhimangalam near Koovapram in Payyannur, said the officials asked her to remove her brassiere when the metal detector made a beep sound because of its steel buckle.
"They asked me to change the innerwear, but this is mentioned nowhere in NEET instructions," she said.  "It was already 9.20am and I had only 10 more minutes to enter the hall. I asked them to permit me use the toilet to change, but they refused. There were no houses nearby. Thankfully, only lady invigilators and staff were present at the entry point. So I removed it from there itself."
The officials also asked her to remove the slippers, which too was not a NEET rule. "I have allergy problem and I cannot walk without slippers," she said. "The incidents shattered my confidence in attending the examination, for which I had been preparing for a year."
It is reported that many other girls also faced similar situations and many started crying. The students pointed out that NEET instructions did not refer to the removal of inner wear but the school authorities who had conducted the examination remained adamant and forced the girls to remove them at the entry point to the examination hall.
"This is entirely due to the ignorance and lack of common sense from the part of the people who were assigned to conduct the exam," said V. Rajesh Nambiar, a parent and a witness to the incident. He said he would complain to the authorities. "No student should face such a bad experience anywhere in future," he added. Kannur district collector Mir Mohammed Ali said the administration is aware of the incident. "But we haven't received any formal complaint so far," he told DC. "If they (parents and students) can just write a detailed complaint, it would help us start an inquiry.
BANGALORE – No hair bands, long sleeves, it's tough NEET
DECCAN CHRONICLE.
The three-hour exam began at 10 am and it included Physics, Chemistry and Biology.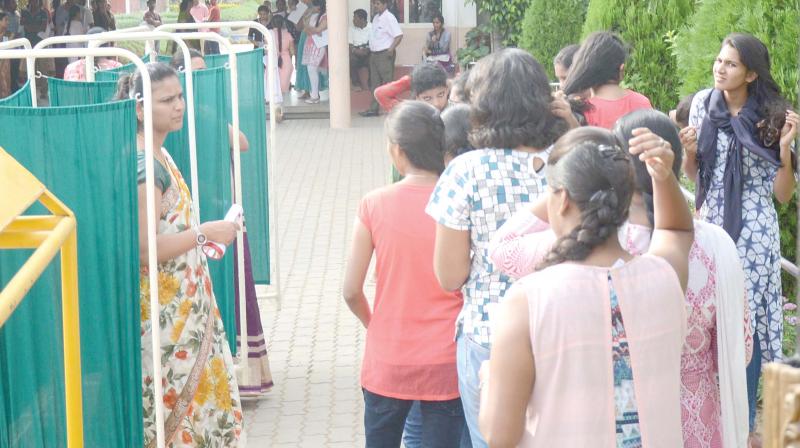 Bengaluru: There was high drama before the commencement of National Eligibility cum Entrance Test (NEET), for medical and dental courses, at various centres in the city on Sunday. However, the test went off smoothly without any glitches.
There was elaborate frisking of candidates, and those who turned up after 9.30 am were sent away, leading to heated exchanges between students/parents and guards.
Female candidates were told to remove hair bands, earrings and some even had to cut the long sleeves of their dress before entering the exam centre!
"Six candidates were not allowed as they came post 9:30 am. I live in HSR Layout, but my centre was in Hebbal. We were not allowed to choose the test centre," said Preasa Pravasi, a candidate from Narayana PU College.
Students from Mysuru, Ballari, Hassan and Tumkuru had to come all the way to Bengaluru, as the list of centres in their hometowns were announced much later and they were unable to change it. "Many girls were made to remove hairbands, hairclips, high heels and earrings. We couldn't carry our Aadhar cards into the exam room either," said Pratyusha Pallacholli, who claimed her centre was a two-hour drive from home.
She, however, said there were no delays or glitches, it all went smoothly. "The paper was moderately difficult, with physics being the hardest. It was similar to the mock test we had in school," Pratyusha added.
The three-hour exam began at 10 am and it included Physics, Chemistry and Biology. Some found Physics tricky and lengthy with too many calculations.
However, Professor Venkata Suresh of BASE said, "The physics paper was moderate, with only four of them being lengthy and time consuming. They were all from the NCERT framework."
Chemistry Professor Vincent John of BASE said, "The Chemistry section was moderate with most questions being direct. A well prepared student can score about 80 per cent marks."
Biology Professor Dr C Krishna Poojar of BASE said, "There was no apparent ambiguity in the paper."
CHENNAI : NEET candidates forced to cut off shirt sleeves, abandon footwear
Some students claimed that they were not allowed inside the test centre though they were late only by a 'few minutes.'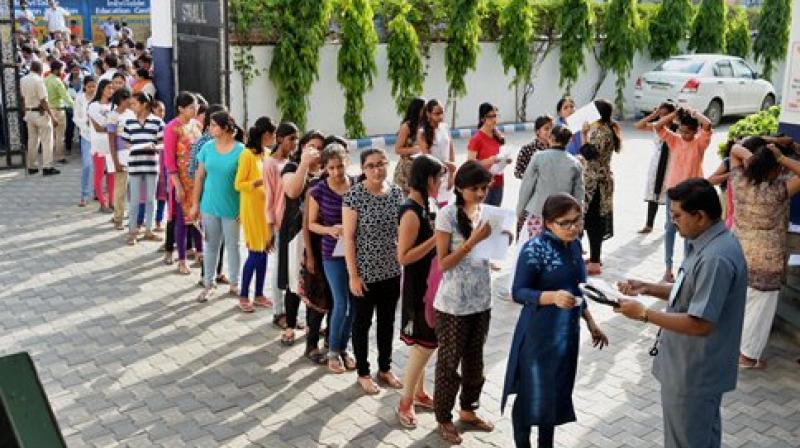 Chennai: Unaware of the do's and don'ts,many aspirants who appeared for NEET for the first time today, faced a piquant situation in parts of Tamil Nadu, with some even forced to resize the sleeves of their shirts and abandon their footwear to meet the norms.
Several boys who came to attend the National Eligibility Entrance Test wearing full sleeve shirts were taken aback when they were told that only half-sleeve shirts were allowed in the examination hall. Left with no choice, they had to "customise" it by cutting it to size by using a scissor.
Also, some who had come wearing shoes had to dump it and hastily opt for the sandals of their parents.
Girls had to hurriedly take away hair pins, and bands and ornaments like earrings and nose-pin as these accessories were not allowed.
Some who had brought stationary items like pen, and pencil had to leave it with their parents.
The Central Board of Secondary Education, which organises the exam, has already mentioned that pens will be provided to candidates at the test centres.
Though it had given a list of do's and don'ts as part of measures to prevent malpractices, many aspirants were not aware of it.
The don'ts included big buttons, brooches and high-heeled shoes as regards female candidates and kurta-pyjama for male aspirants. Mobile phones and gadgets like bluetooth devices were also barred.
The Do's included "bring Admit card," "reach on time" at the exam centre with "only the required documents."
Some aspirants had other complaints too. A section of them said that they had a tough time locating the test centre and wanted more information and landmarks to easily reach the centres. Some students claimed that they were not allowed inside the test centre though they were late only by a "few minutes."
NEET was held in Chennai, Coimbatore, Madurai, Salem, Tiruchirapalli, Namakkal, Tirunelveli and Vellore and about 89,000 students took the exam in about 51 centres in these cities.
http://www.deccanchronicle.com/nation/current-affairs/070517/tn-neet-candidates-forced-to-cut-off-shirt-sleeves-abondoned-footwear.html