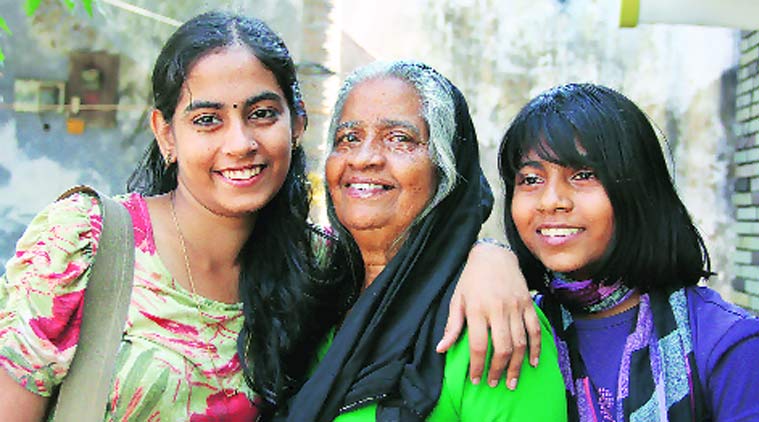 Ami and Savera with their grandmother Nafeeza, in Thrissur.It'S a calm afternoon at Shyna Manzil, a day after the Kerala government confirmed the arrest on Friday of the state's most wanted Maoist couple by Andhra police outside a bakery in Tamil Nadu.
But behind that calm, inside the Thrissur home of Roopesh and Shyna, is their 17-year-old daughter who says her struggle has just begun.
"I will bring them out. My parents are not meant to be locked up in a room somewhere,'' says Ami T R.
The arrest of her parents has hit headlines across the country. But Ami, who has completed Class 12 and wants to pursue a career in law, is engaged in a serious discussion with a group of youngsters about the next edition of Padantharam, a monthly magazine launched in March that focuses on the education sector. She is one of its sub-editors.
"I have grown hearing more slogans than lullabies," says Ami, adding that her mother had carried her along when she was just 50 days old to a protest venue, placing her inside a makeshift cradle nearby.
Then again, in 2010, Ami and her younger sister Savera were caught by police when they were attending a meeting to discuss a new political movement — they were later made witnesses by the National Investigation Agency (NIA) that took over the case, Ami says.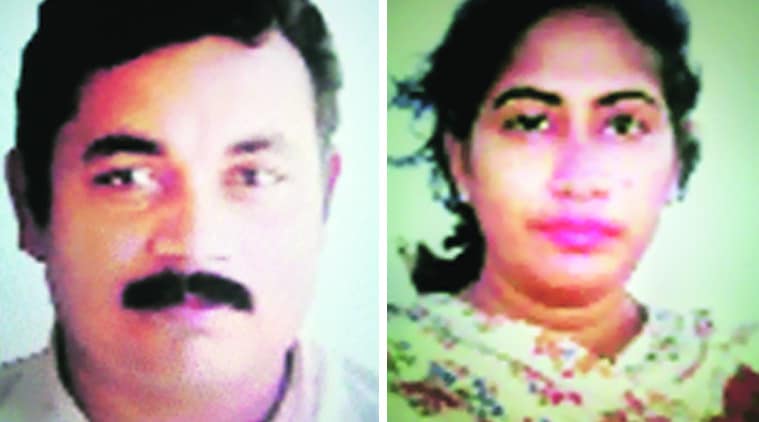 Roopesh, in-charge of the Western Ghats zone of the Communist Part of India (Maoist), had been leading the Maoist movement in Kerala along with his wife."Police wanted to know whether I had sexual relations with the others arrested in the case. They even tried to force me to undergo a virginity test. But I stood firm. I have the right to go wherever I want and do whatever I want,'' she says.
Apart from Ami and Savera, the third member of this "family" is 70-year-old Nafeeza, a widow and the mother of Shyna. For her, the arrest of Roopesh and her daughter has come as a bit of a relief.
"Everyday, we used to scan the newspapers for reports of a fake encounter,'' says Nafeeza, a former employee of the state government's health service.
But Savera, a Class 7 student, collapsed after hearing the news of the arrest. "She feared that police would torture our parents. But she regained her composure after I spoke to her,'' says Ami.
Ami recalled that Savera was five years old when Shyna handed the two children over to Nafeeza in January 2008, along with a power of attorney.
Shyna, then a clerk at Kerala High Court, went on to write a letter to the then Kerala CM V S Achuthanandan about the alleged atrocities committed by security forces, saying, "Your police made me a Maoist.''
Ami says Roopesh has been a "rare visitor to our house" ever since he left the family to actively join the Maoist movement in 2003. "He has not returned to the house after 2007,'' she says, adding that the two sisters have travelled to different parts of Kerala to meet their father thereafter.
Yet, it has not been easy for Ami and Savera. Their home in the coastal village of Valappad has always been under police watch, says Ami. "My schoolmates were afraid to mingle with me. Many parents have prevented their children from speaking to me. The police had even come to the school where I studied to inquire about me,'' she adds.
So what now, after her parents' arrest? "New leaders will emerge. I have an attachment towards the ideology. But I cannot predict whether that impression will stay with me as I grow up,'' says Ami.
Her grandmother is not so sure about the path her daughter took, though.
"Shyna met Roopesh at college during their early college days. Then, activists of ultra-Left outfits started visiting our house. I did not like it, so I send her to Kollam to study pharmacy. But she continued her relation with Roopesh and the ultra-Left agitations," says Nafeeza.
She added that the couple studied law after their marriage. "After practicing in Kerala High Court for a while, Shyna got a job as a court clerk," she says.
Roopesh, meanwhile, got involved in a case related to providing shelter to Malla Raja Reddy, a leader of the erstwhile Peoples War Group, just when he about to enroll as an advocate.
And things have never been the same for this family of five ever since.
"Like other politicians, my parents didn't cheat anyone or loot public money. They are fighting for the future of every citizen, including mine. When we think about that… we forget all our sorrows," says Ami.
See more at: http://indianexpress.com/article/india/india-others/teen-daughter-of-maoist-couple-vows-will-get-parents-out/#sthash.G8WhpQLa.dpuf
–