Two decades after Badshah Khan passed away, a young activist from Farrukhabad, UP, Faisal Khan, found in him an inspirational figure who could show youth a path that transcends communal passions of politics.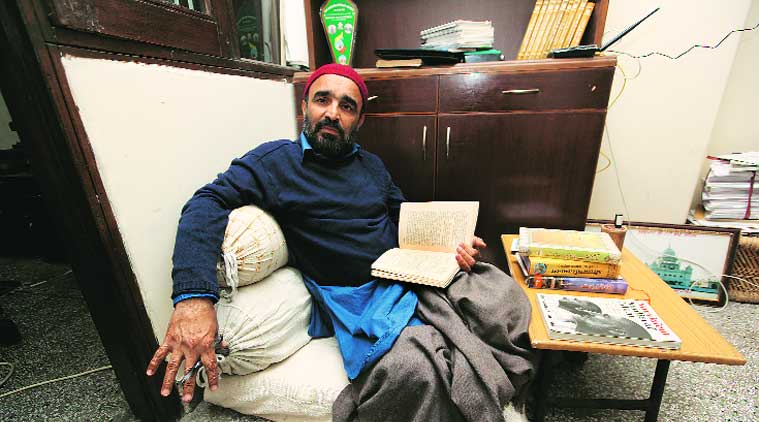 Faisal Khan at his residence in New Delhi
Written by 
Amrith Lal
 | New Delhi | Published on:February 15, 2015 1:00 am
He is the Gandhi India lost when the subcontinent was partitioned. Khan Abdul Ghaffar Khan, Frontier Gandhi to Indians and Badshah Khan to Pathans of the Af-Pak region, is a near-forgotten figure in the subcontinent. His 125th birth anniversary on February 6 was uneventful. People in the Khyber-Pakhtunkhwa region, his home, have abandoned his credo of ahimsa. In the neighbourhood where he set up schools in the last century, the Taliban shot 132 children on December 16, 2014. After 1947, he lived mostly in Pakistani prisons, detained by an Islamabad that never forgave him for opposing the Partition.
Two decades after Badshah Khan passed away, a young activist from Farrukhabad, UP, Faisal Khan, found in him an inspirational figure who could show youth a path that transcends communal passions of politics. On January 30, 2011, he revived Khudai Khidmatgars, the army of non-violent activists that Badshah Khan raised in 1929 to free Pathans from the British domination and the culture of violence. Four years since, Khudai Khidmatgars has volunteers in 14 states and, according to Faisal, an Aligarh Muslim University alumnus, they number about 10,000. On January 20 this year, the Gujarat unit was launched at the Sabarmati Ashram and about 10 days ago, the Karnataka unit in Bangalore.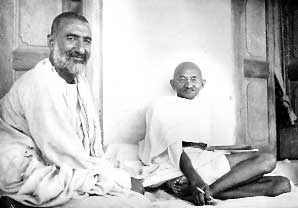 Frontier Gandhi and Mahatma GandhiFaisal was attracted to Badshah Khan because, like Gandhi, Khan was intensely spiritual and interpreted religion to convince the faithful to be servants of god and eschew violence. The language of politics is important, Faisal points out. Secular politics would fail in the subcontinent if it ignores religion. "If I refuse to speak about Meera in Rajasthan and instead talk about say Cuba, no one is going to listen," he adds. "When we abandon symbols of religious tolerance, others appropriate them, like with Gandhiji's legacy now," he says. So, Khudai Khidmatgars went to the Kumbh Mela to talk about religious tolerance and service to god. "Protestors in Jantar Mantar don't read our pamphlets, but at the Kumbh people were curious," he adds.
Badshah Khan envisaged Khidmatgars as a spiritual body of volunteers drawn from all religions. Anyone who took its oath, which included allegiance to non-violence, service without reward, willingness to forgive even the oppressors, be fearless and be prepared for any sacrifice, could join. This oath continues to be the testament for the Khidmatgars. Associated with the National Alliance of Peoples' Movement, a coalition of new social movements, since 2000, Faisal aims to build a movement of volunteers, capable of defusing communal tension and addressing social and educational issues.
Khidmatgars were active in Muzaffarnagar, UP, after communal violence wrecked the social fabric, holding peace campaigns and running relief camps. "We ran two temporary schools and a Kasturba centre for women in Muzaffarnagar after the communal violence and provided legal and educational support to victims of
the riots," he says.
In Faisal's view, Muslims are a marginal presence in the civil society because the discourse within the community is centred on victimhood. Muslims are indeed victims of violence in many places, but they need to look beyond. The victim framework, he believes, has stalled social reforms. Everything can't be blamed on a conspiracy by Americans or Jews, he adds. He says there is appreciation among people, especially students, for groups that aren't religious but respect religion. The AMU, for instance, has a strong Khidmatgars unit with many girls leading the movement.
Mustafa Muhammad, a builder from Kozhikode, now works with Khudai Khidmatgars and helps run a school in Kandla near Khairana, UP. He observed the organisation closely for about six months and found it genuine and joined. Ganga Sagar, a 22-year-old college student from Bikaner district, was an RSS activist when he came across Khidmatgars three years ago. He now leads Ram-Rahim Shanthi Sena, part of Khudai Khidmatgars, and campaigns against alcoholism and for communal harmony.
Rajmohan Gandhi, who wrote Badshah Khan's biography, says the idea of Khudai Khidmatgars and Badshah Khan's legacy needs to be supported. Writer Dilip Simeon says religion for Gandhi and Khan meant a source of spiritual exploration and philosophical inquiry. For others, religion is a political baggage, like it was for the Muslim League in the 1940s. The two concepts of religion, Simeon outlines, is centred on the question: does a people define a nation or a nation define the people? The idea of a nation defining the people, he says, is a recipe for ethnic cleansing. It is a battle that continues to be fought in India and Pakistan.
Badshah Khan died in Peshawar in 1988 when the Soviet-Afghan war was at its peak. The warring parties declared ceasefire for a day as thousands walked the distance through the Khyber Pass to Jalalabad in Afghanistan with his remains. Heads of nations from India, Pakistan and Afghanistan were present at his burial. One last time, he had made the borders drawn by nation states irrelevant
http://indianexpress.com/article/india/india-others/khudai-khidmatgars-frontier-gandhis-non-violent-army-gets-a-new-life/2/