Driver from Bareilly gets new life from friend whom he taught driving, helped with cash during his daughter's birth.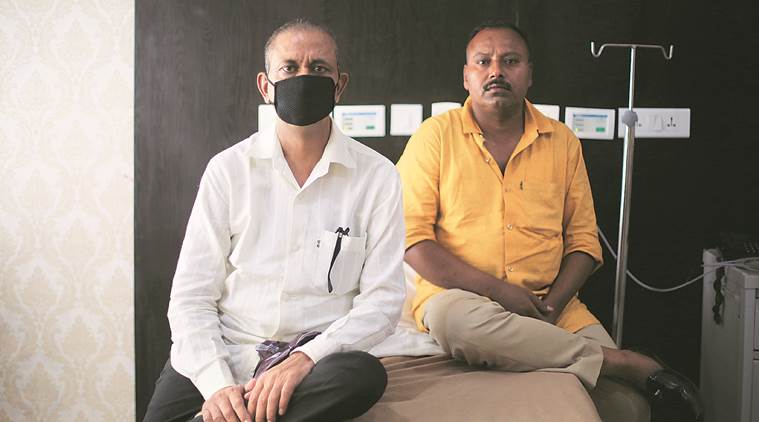 Under the country's laws, only blood relatives, including the spouse, are accepted as "living near-related donors".
When he first walked into the nephrology OPD at a Delhi hospital in May last year, Mansoor Rafi, 45, a driver from Bareilly, carried two files with him. The first contained his medical reports, which showed that his kidneys were failing, and the second file had a set of photographs.
"He was medically fit as he was undergoing dialysis regularly. However, I told him that there was an urgent need for a kidney transplant. I asked if he had blood-related donors who would volunteer to donate a kidney," recalled Dr Vikram Kalra, Senior Consultant, Nephrology and Renal Transplant, VPS Rockland Hospital in Delhi.
"I told the doctors that my brothers were not willing to donate, and my wife's blood group was different. But I told them that I have a friend who had volunteered to donate his kidney," said Rafi.  Dr Kalra's first response was that it would be "highly impossible" to accept such a donor. "However, I told him that if he could prove that he had a longstanding emotional relationship with the donor, there was a small chance… You have to prove that you were emotionally attached before the illness was diagnosed," he said.
Rafi then showed them the second file — of photographs taken 12 years ago, when he and his friend, Vipin Kumar Gupta, 44, had visited the Khwaja Moinuddin Chishti Dargah in Ajmer with their families. "I told them that both our families had visited the Dargah. We also visited the Balaji Temple on our way back. Some of the photographs also showed our neighbours, who are witness to our relationship," said Rafi.
The case was then referred to the state authorisation committee. "The authorisation committee checks if any financial transaction was involved. It also examines if the donor is willing," said Dr Kalra.
Over the next one year, Rafi and Gupta were rejected thrice by the authorisation committee. Till the approval finally came in May this year, and Rafi got a new kidney earlier this month — one of the few cases of organ donation cleared on grounds of "affection and attachment".
"Both the donor and the recipient are drivers, roughly earning the same salaries. Rafi could barely afford his treatment. So, it was well established that there was no financial transaction. This was a genuine case, where a friend had a special reason to donate his kidney," said Dr Ambar Khaira, who carried out the transplant.
Under the country's laws, only blood relatives, including the spouse, are accepted as "living near-related donors". While a "near relative" can be approved as a donor, citing "affection and attachment towards the recipient or for any other special reason", it is very rare for a friend to be cleared in this category.
Explaining their relationship, Gupta said: "He is my guru. In 2001, I used to work in my father's sweet shop. Rafi used to visit us. I told him that I wanted to learn to drive. For months, he took out time to train me. Today, if I am able to provide for my family, it is because of him. This is just a small gesture," said Gupta.
The first hurdle, he said, was to prove to the committee that he was "mentally fit". "They told me to get a certificate from a hospital in Bareilly. The staff at the hospital said I would have to be admitted for 15 days. I told them I only wanted to prove that I was mentally fit… This was their first case. They asked me if I could differentiate between a bird and an aeroplane," recalled Gupta. "After two more visits, they finally gave me the certificate."
Gupta and Rafi also had to make over six visits to the SDM's office. "The authorisation committee rejected us thrice. Each time, we had to visit the SDM's office or the tehsil office to get the required documents. We stood for hours outside the office to get the documents," said Rafi.
Each time the committee rejected their papers, the tehsil office would delay the required visit to their houses. "The committee asked us to get documents to prove that our residences had been surveyed. However, no official would come. Gupta would miss a day's work and remain at home to wait for them… It is because of his patience that the committee finally gave its approval," said Rafi.
Last week, Rafi was discharged from hospital. He said Gupta had given him a new lease of life.  But Gupta said they were indebted to Rafi. "Seven years ago, my wife suffered a complication during my daughter's delivery. I did not have money for her treatment… It was Rafi who took care of everything… The kidney donation is just a small gift," he said.
http://indianexpress.com/article/cities/mumbai/kidney-donation-token-of-rare-friendship-4842700/