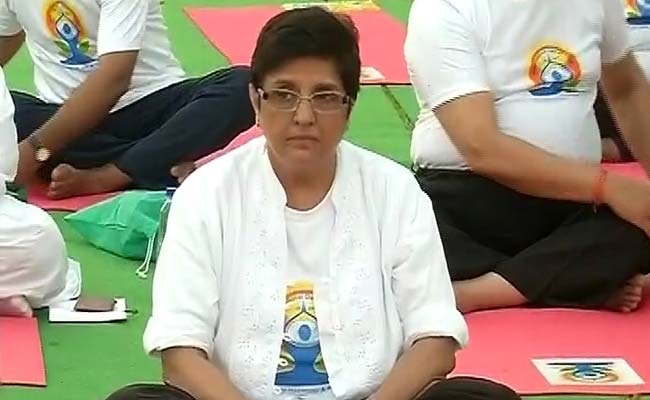 NEW DELHI:  Before Prime Minister Narendra Modi led nearly 37,000 people in yoga asanas on a mat in the heart of Delhi, he said the worldwide celebration of International Yoga Day would herald "a new era of peace." Spiritual leader Sri Sri Ravi Shankar said, "Yoga is not just asanas, it is a state of mind where you have a sense of responsibility for the whole planet."But the potential of yoga was stretched thin by the BJP's Kiran Bedi, who tweeted that the mass outdoor yoga session had delivered a break for the scorching capital.
The reactions, reductively, were – seriously?
Moments after Prime Minister Narendra Modi left Rajpath following a mega event marking the first International Yoga Day , weather in Delhi turned pleasant on Sunday. Moderate winds accompanied by scattered rain provided much  needed relief to Delhiites from scorching heat. The met department had predicted pre-monsoon showers for the capital city. But for BJP leader Kiran Bedi, it was the mega yoga event which brought relief from severe heat.
Bedi, who had contested the Delhi Assembly polls on a BJP ticket against Aam Aadmi Party leader and chief minister Arvind Kejriwal, took to Twitter to describe her point of view. "Miracle of collective chant of  Shanti, Shanti, Shanti by millions brings pre-monsoon showers in Delhi. Reduces heat and cools even the trees," the former top cop tweeted.
Miracle of collective chant of Shanti,Shanti,Shanti, by millions brings pre-monsoon showers in Delhi.Reduces heat and cools even the trees
 Bedi also praised Prime Minister Narendra Modi for "gifting yoga to the world". "It was a treasure of energy you have now given to all for peace," her tweet said.
The BJP leader's remark attracted immediate attention on the social media website with people ridiculing her for giving such unscientific statements.
Oh Kiran Bedi. You give lectures at Harvard and then also make such statements. Your balancing act.
http://indiatoday.intoday.in/story/international-yoga-day-kiran-bedi-narendra-modi-monsoon-in-delhi/1/446008.html