Kirti Azad on DDCA scam: We are fighting corruption, not any individual
"There is no personal animosity against anyone. My campaign is against corruption," said Azad in the conference which was also attended by Bishan Singh Bedi.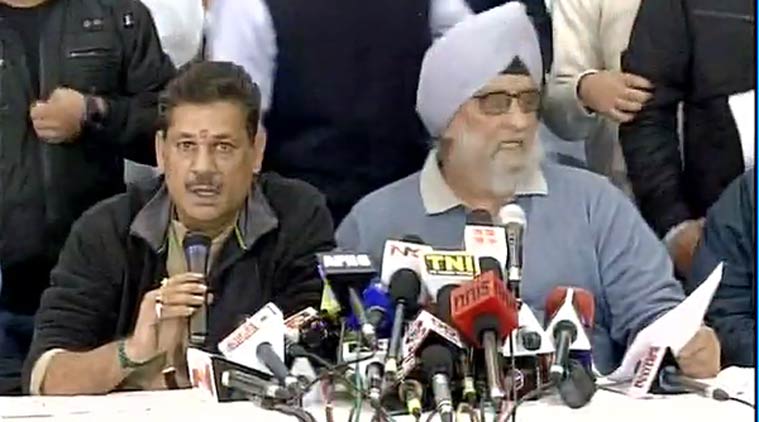 Kirti Azad and Bishan Singh Bedi during the press conference.BJP MP Kirti Azad, who has been campaigning against alleged corruption in Delhi's cricket body, on Sunday addressed a press conference here but did not take the name of Finance Minister Arun Jaitley, under whose charge as president of DDCA he claimed there were financial bunglings.
Azad insisted that there was no personal fight with any individual and his fight was against corruption in cricket. "This is not a fight against any individual, we are only fighting against corruption," said Azad.
He also said that he is a big fan of Prime Minister Narendra Modi and praised his government's action against corruption.
"I'm a big fan of our PM and his campaign against corruption. Steps that he has taken against corruption should be lauded. There is no personal animosity against anyone. My campaign is against corruption," said Azad.
The NCT Cricket Association, fighting against alleged corruption in the DDCA, showed the footage of 2011-12 AGM of the association where Azad can be seen questioning Jaitley, who was in the chair, on numerous issues.
On his meeting with party president Amit Shah, Azad played it down saying,"I had a good breakfast with him. He offered me idlis. I said it was very good."
Former cricketer Bishan Singh Bedi, who was also present in the press conference, didn't name Jaitley but said culture is something which flows from top.
"Culture flows from top, and trickles down to the bottom," said the former Delhi and India stalwart.
Azad urged to not politicise the issue and said his fight has been on even before the Aam Aadmi Party was formed, and even before it came to power.
"Ye meri ladai hai, mai saalo se ladta aa raha hu. AAP have just got into it. So let's not politicise or give it a political swing," said the former cricketer.
See more at: http://indianexpress.com/article/sports/cricket/we-are-fighting-corruption-not-any-individual-kirti-azad-on-ddca-row/#sthash.MkDD75jh.dpuf